Competition in online sports betting is fierce — and not profitable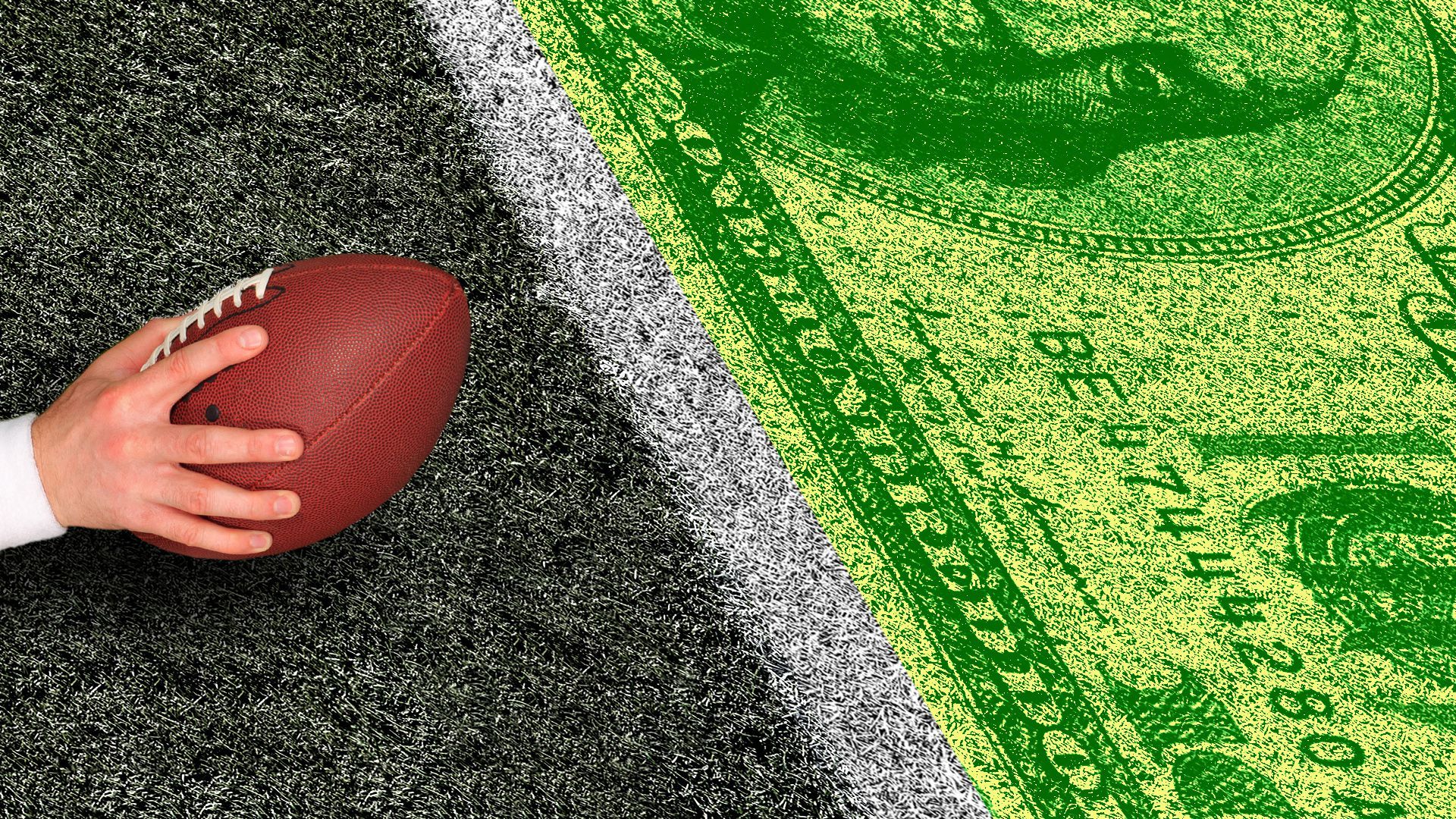 The growth potential in the nascent market for American sports betting is huge. But for now, operators are still losing money — a lot of it.
The big picture: Sports betting is taking a page from the playbook of tech giants like Netflix, Amazon and Twitter, sacrificing profitability in the early days in the hope of ingraining themselves in customers' lives.
Even if you're not a sports fan, you've probably seen or heard the deluge of ads from online sports betting companies offering major financial incentives to use their apps.
What we're watching: This NFL season will go a long way in determining which companies live to fight another day in the ultra-competitive sports betting arena.
"This football season is crucial, as more states legalized sports betting going into this season, and football is really the culmination of the U.S. market," Barry Jonas, equity research analyst at Truist, tells Axios.
Where it stands: The Supreme Court only opened the door to widespread legal, online sports betting in 2018, and the sector is still in its infancy.
So far, a total of 21 states, representing 40% of the population, allow online sports betting, according to a Wells Fargo research note. Another 8 states allow in-person betting.
State of play: The weekly fantasy sports operators — FanDuel and DraftKings — have taken the lead with market shares of 33% and 19% respectively, in the first half of 2021, the Wells report says.
DraftKings, which went public in 2019, is currently valued at $19 billion.
Legacy casino companies are also in the running, most notably MGM's brand, BetMGM (13%), and Caesars Casino & Sportsbook (4%) which just formally launched in August.
Those companies are shoveling money into marketing and promotions, sometimes including hundreds of dollars of free bets.
"DraftKings and FanDuel are really customer acquisition platforms, operating as sports books," Jed Kelly, equity research analyst at Oppenheimer, tells Axios. 
"It's going to be highly promotional right now ... The beginning of football season is the peak in terms of customer acquisitions," Daniel Politzer, senior equity analyst at Wells Fargo, tells Axios.
What's next: The operators are chasing a market that has massive growth potential — Politzer estimates annual U.S. sports betting revenue could grow to $11.3 billion in 2025, compared to $3.8 billion estimated this year.
"At some point you have to start to show profit. But we're so early that investors are willing to pay a decent multiple for revenue growth over profit. That's where we're at," Kelly says.
Yes, but: Analysts think consolidation is ultimately the most likely endgame, with 3 to 4 players all but dominating the field.
Amy Howe, CEO of FanDuel, last week told the FT (perhaps self-servingly) that the level of marketing spending that's happening right now is unsustainable, and that many companies won't make it.
There's a Catch-22 for sports books: Making too little money is obviously bad for business, but if they start making too much money — it may attract the attention of regulators.
"Certainly, states don't want to see too much problem gaming and social consequences," Jonas says.
And there are lots of regulators — a gaming commission in each state, as well as potentially the federal government.
The big question: Whether regulators become concerned about the gamification of the old in-person betting process — too easy, too fun, too instantaneous — similar to the scrutiny that Robinhood's received for gamifying stock trading.
Go deeper