Updated Oct 19, 2021 -

World
Man with bow and arrow kills 5, wounds 2 in Norway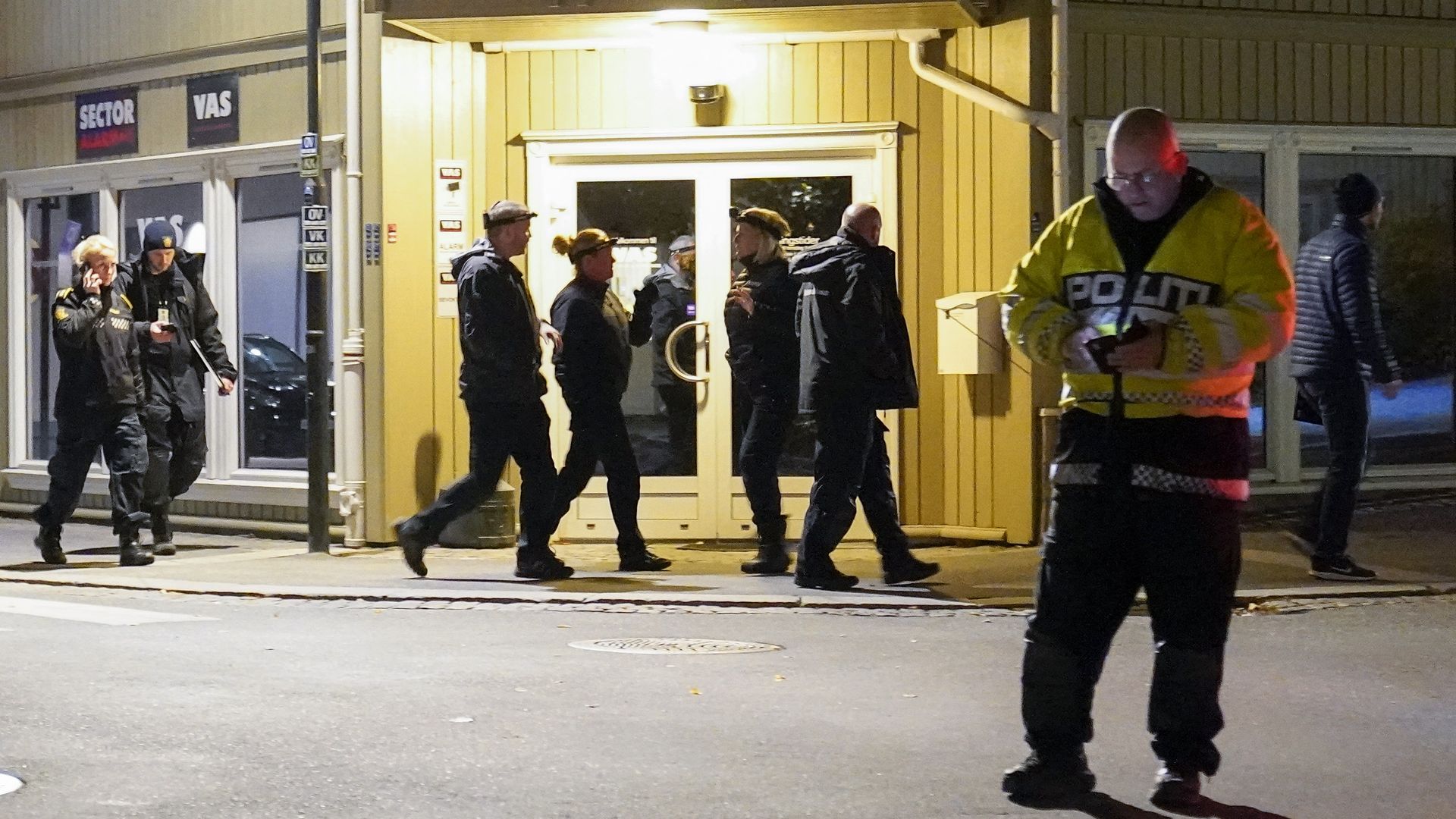 Police accused a 37-year-old Danish man on Monday of using "stabbing weapons" and a bow and arrow in a rampage that left five people dead and two others wounded in Norway last week.
The latest: Norwegian police said in a statement Monday that they have confiscated unspecified weapons, clarifying that the suspect seems to have first shot at some people with a bow and arrow, but then killed them with "stabbing weapon" in the town of Kongsberg.
Police said the suspect, Espen Andersen Braathen, has confessed to last Wednesday's killings and has been charged with five counts of murder, but more charges were likely, AP reported.
Of note: The attack, southwest of the capital of Oslo, is the deadliest in Norway since 2011, when a far-right extremist went on a shooting rampage and killed 77 people.
The big picture: The suspect, who lives in Kongsberg, was taken into custody and charged soon after the attack and transported to the nearby town of Drammen, according to a police statement. Police did not immediately disclose what he's been charged with.
The attack happened over a large area of the town, according to The Guardian. Several parts of the town have been temporarily cordoned off by police, per the BBC.
Norway's national security agency, known as PST, said Thursday that the attack appeared to be "an act of terrorism," but authorities now believe "the suspect's apparent mental illness was the likely cause for the attack," AP notes.
For the record: Police were temporarily ordered to carry firearms in the wake of the attack, breaking with the norm as Norwegian police are typically unarmed, the New York Times noted.
"The police currently have no concrete indications that there is a change in the threat level in the country," the police directorate said in a statement.
Editor's note: This article has been updated with new information throughout, including to reflect that police believe that a bow and arrow was not the only weapon used in the attack.
Go deeper