Blue Origin launches William Shatner, 3 others to space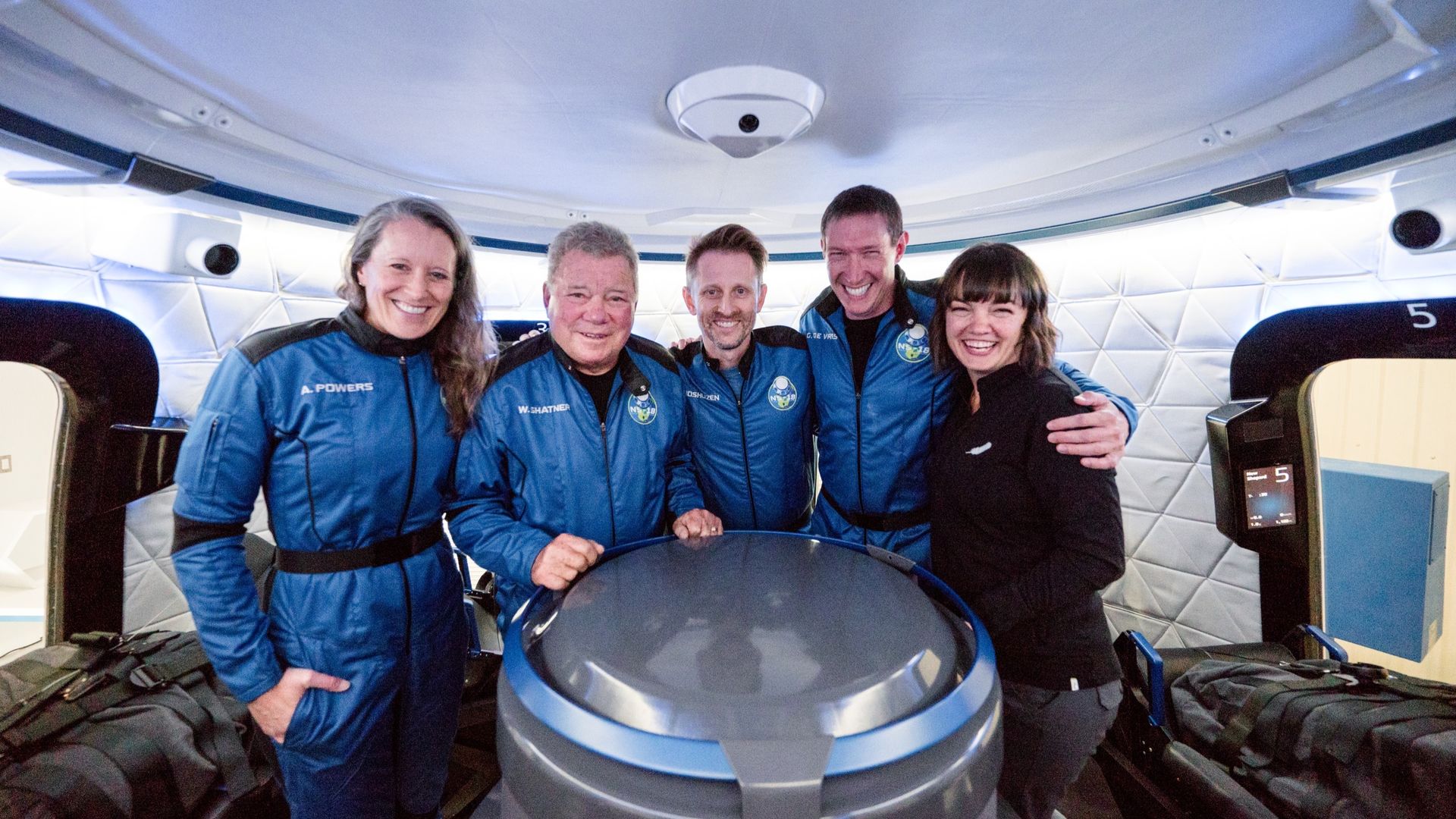 Jeff Bezos' Blue Origin successfully flew William Shatner — Captain Kirk himself from "Star Trek" — and three other astronauts to space for its second human mission on Wednesday.
Why it matters: The launch was another step toward proving the company can safely launch people to suborbital space and bring them back to Earth.
Details: Shatner was joined for the flight by Blue Origin's Audrey Powers, satellite company Planet's co-founder Chris Boshuizen and Medidata co-founder Glen de Vries.
Shatner, 90, became the oldest person to fly to space, surpassing Wally Funk, who was aboard Blue Origin's first human flight in July at the age of 82.
What they're saying: "This experience is something unbelievable," Shatner said after returning to Earth and exiting the capsule.
"What you have given me is the most profound experience I can imagine," he said to Bezos. "I'm so filled with emotion about what just happened. It's extraordinary."
"I hope I never recover from this. I hope that I can maintain what I feel now. I don't want to lose it. It's so much larger than me and life."
How it works: Blue Origin's New Shepard space system is designed to bring a capsule carrying its passengers about 62 miles above the surface of the Earth.
The capsule separates from the rocket and the booster comes back down to Earth to land.
People inside the capsule experience a few minutes of weightlessness before the craft descends back to Earth under parachutes for a landing in Texas.
The big picture: Wednesday's launch came as Blue Origin faces major questions about how it treats its employees and how its culture may impact the safety of its systems.
"That culture has also taken a toll on the mental health of many of the people who make Blue Origin's operations possible," a letter written by current and former employees released earlier this month says.
"Memos from senior leadership reveal a desire to push employees to their limits, stating that the company needs to 'get more out of our employees' and that the employees should consider it a 'privilege to be a part of history.'"
Go deeper: Blue Origin employees accuse company of mishandling harassment allegations
Editor's note: This story has been updated with the details on the successful launch.
Go deeper