Judge rules New York must allow religious exemptions in health care worker vaccine mandate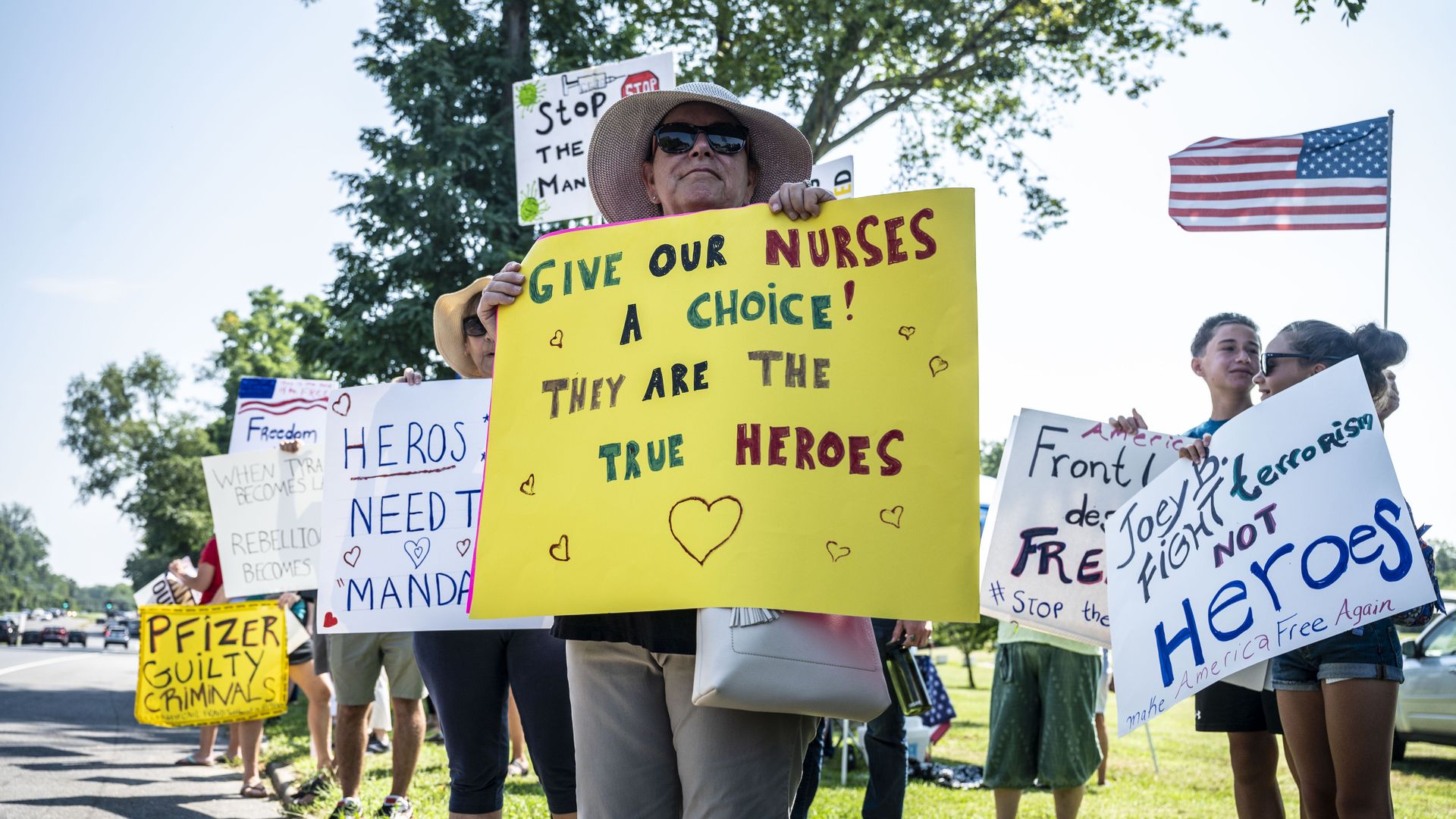 A federal judge ruled Tuesday that New York state must allow for religious exemptions in its COVID-19 vaccine mandate for health care workers.
Why it matters: The move is a new obstacle in the course of Gov. Kathy M. Hochul's effort to require inoculation for all health care workers.
The ruling comes the same day unvaccinated employees were to prevented from working, per the New York Times.
Catch up quick: New York's initial vaccine mandate for health care workers —passed under former Gov. Andrew Cuomo — included religious exemptions, but an updated mandate under Gov. Kathy Hochul did away with the exemptions, the ruling noted.
The vaccine mandate for health care workers went into effect at the end of September.
That same month, a federal judge extended a temporary restraining order preventing the state from enforcing the mandate against 17 health workers who had sued over the lack of religious exemptions, until Oct. 12.
The big picture: Judge David N. Hurd granted an injunction Tuesday preventing the Department of Health from enforcing a ban that does not allow for religious exemptions or interfering with the granting of such exemptions.
"These conclusions have nothing to do with how an individual employer should handle an individual employee's religious objection to a workplace vaccination requirement. But they have everything to do with the proper division of federal and state power," Hurd wrote.
What they're saying: "My responsibility as Governor is to protect the people of this state, and requiring health care workers to get vaccinated accomplishes that. I stand behind this mandate, and I will fight this decision in court to keep New Yorkers safe," Hochul said in a statement Tuesday evening.
"With this decision the court rightly recognized that yesterday's 'front line heroes' in dealing with COVID cannot suddenly be treated as disease-carrying villains and kicked to the curb by the command of a state health bureaucracy," Christopher Ferrara, a lawyer for the workers at the Thomas More Society, said in a statement.
Go deeper