Hospitals overhaul climate prep after a relentless year of damages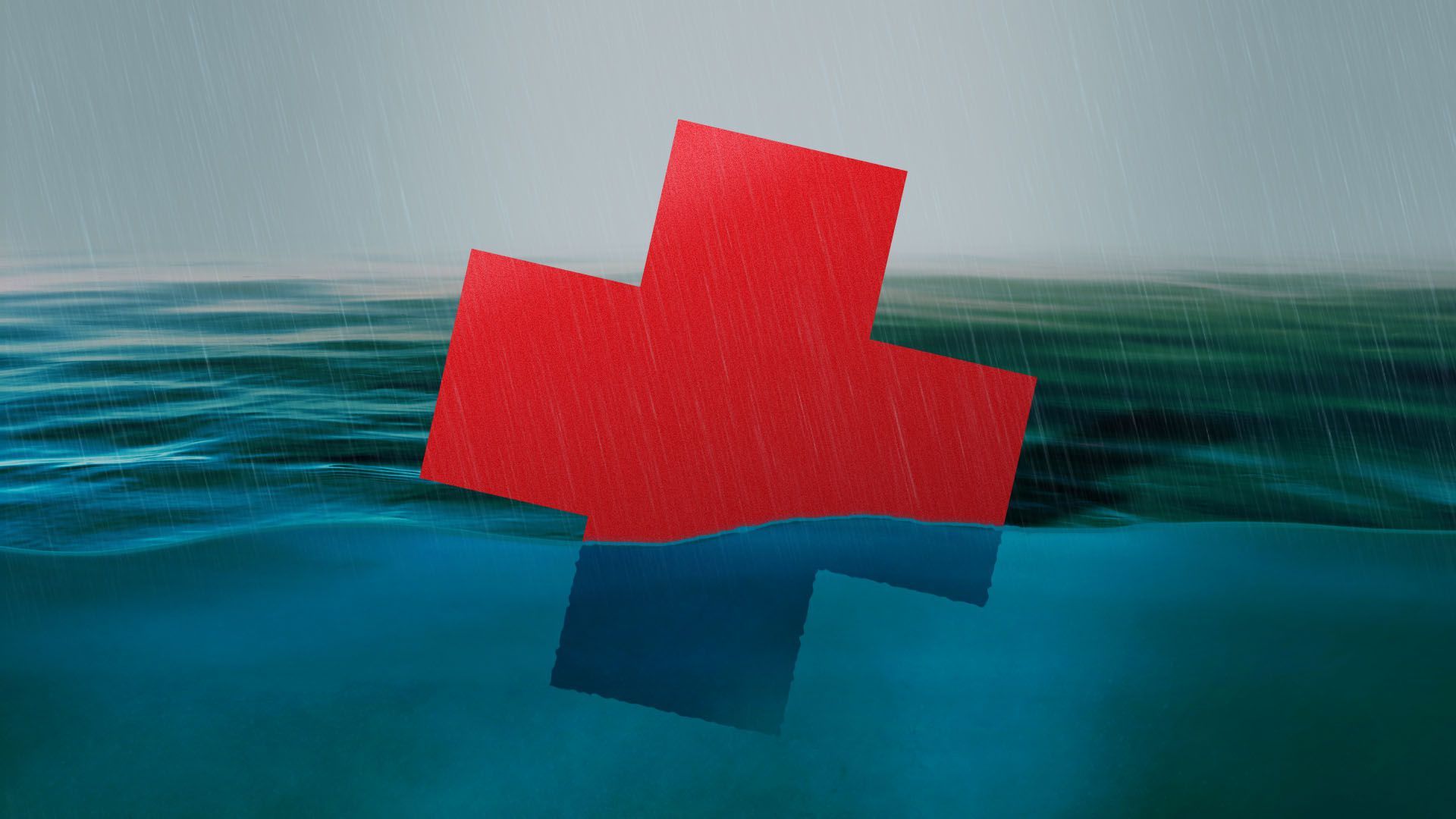 A growing part of the U.S. will face an increased risk of critical infrastructure, like emergency services and hospitals, being rendered inoperable due to severe flooding linked to climate change over the next 30 years, a report out Monday from the First Street Foundation shows.
The big picture: Hospital systems are increasingly being disrupted due to climate-fueled weather disasters like more intense hurricanes, flooding, heatwaves and, in some cases, cold snaps, and have to harden their infrastructure.
In one example, Houston already has 770 hospitals, public utilities and water treatment plants at risk of flooding above their operational threshold this year, per the First Street Foundation report.
There were 22 natural disasters in 2020 that each exceeded $1 billion, the most ever. The U.S. is close to breaking records in costs this year with 18 disasters costing $1 billion or more so far.
Climate change has been tied to more than $820 billion in health care costs per year, per a May report from the Natural Resources Defense Council.
Be smart: Massive infrastructure changes brought about after damage from extreme weather events show how hospitals can improve their emergency preparedness and resilience.
For instance, NYU Langone Hospital had major flooding, power outages throughout the hospital and lost its main communication system and its emergency system from Hurricane Sandy in 2012.
The system's repairs helped it stay open during Hurricane Ida, which caused massive flooding up and down the East Coast.
Some hospitals are incorporating a more "holistic approach" in their climate investments to prevent at-risk populations from going to the ER during extreme weather events, Jessica Wolff, U.S. director for climate and health at Health Care Without Harm, tells Axios.
"I don't think there's any hospital that's doing it comprehensively, but we're seeing a lot of interest in that and we're seeing a lot of interest in how do you multi-solve, how do you look at shared solutions," she said.
What to watch: As U.S. hospitals invest in protecting their infrastructure, they're starting to address their own contribution to climate change, too.
After seeing the Pacific Northwest's degraded air pollution, Intermountain Healthcare announced last week a utility-scale solar project will supply 20% of the health system's total electricity needs.
"The visual elements [of poor air quality] had really brought this home for a lot of people, realizing that we have a negative impact on air quality which has negative impacts on the climate," Glen Garrick Intermountain's director of sustainability, tells Axios.
Kaiser Permanente in California this year is looking to change its diesel generators into solar-powered batteries not just for urgent care facilities but for medical centers for dialysis patients and others so these groups don't overflow emergency departments during blackouts.
Yes, but: Experts say moving to renewable energy or providing securities for residents must have local partners. Rural hospitals, especially have a difficult time with buy-in and preventative measures, Wolff said.
"So many health facilities invest in affordable housing as part of their community benefit, but they also have to be thinking about ... are those houses well weatherized, could they be powered by renewable energy?" she added.
Go deeper