Pent-up travel demand could lead to holiday headaches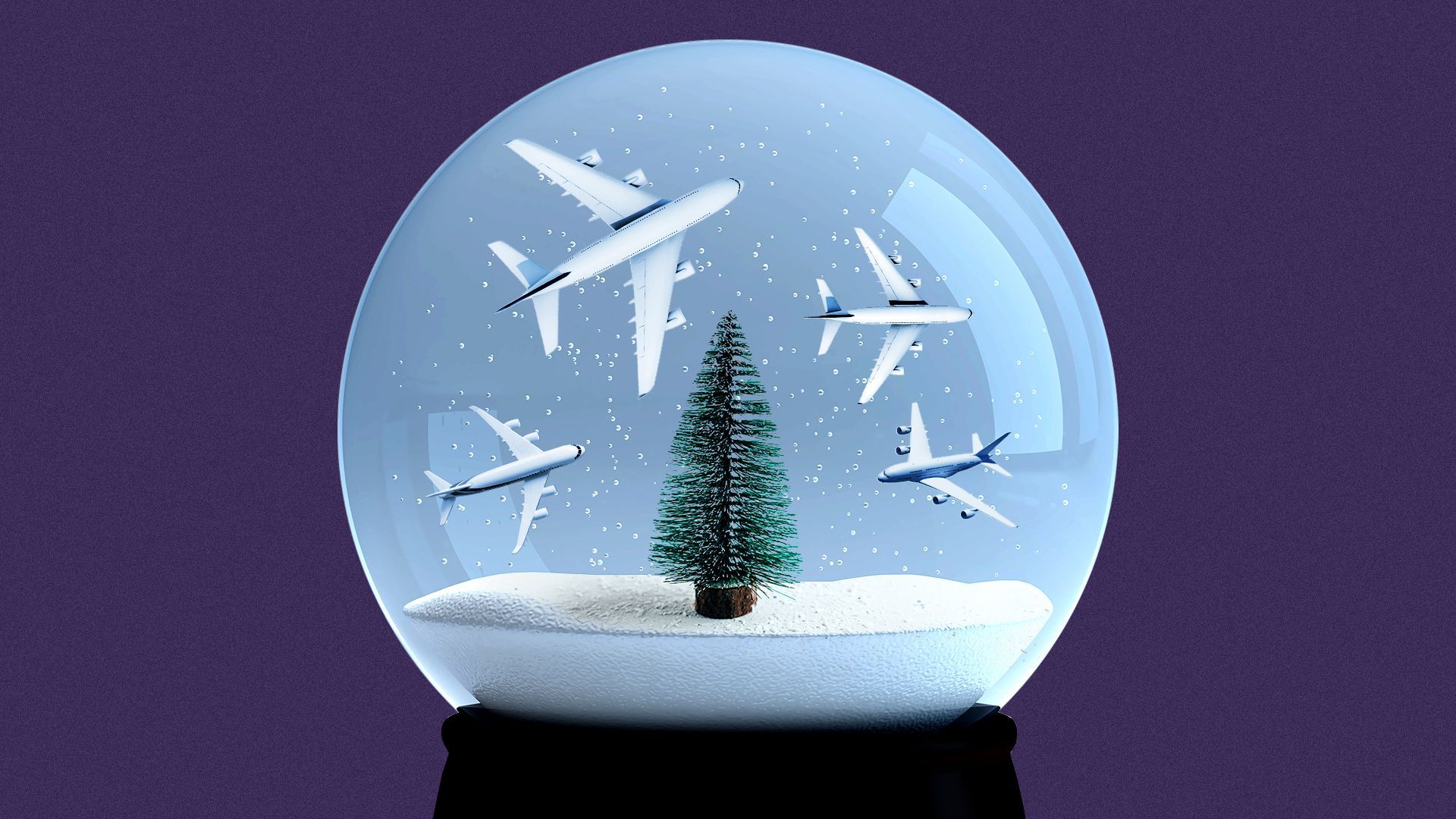 Significantly more people plan to travel during the holidays this year than in previous years, according to a new PWC survey — but that pent-up demand will strain airlines still trying to recover from last year, industry analysts warn.
Why it matters: While many airlines are adding flights to popular destinations, consumers are likely to find higher prices and limited availability. Airlines could also face staffing shortages over newly issued vaccine mandates.
By the numbers: Roughly a third of the population typically travels during the holidays, most to visit family and friends, previous PWC data showed.
That was true even last year, when many travelers took road trips instead of flying.
This year, however, 52% of respondents said they plan to travel — far more than the typical one-third. Most will travel by car (72%), although 57% of those with household incomes above $150,000 said they plan to travel by air.
They're going to spend more getting there too.
Holiday travel spending is projected to increase by 69% in 2021 compared with 2020, per PWC.
Even compared with pre-pandemic 2019, average travel spending is set to increase 24%, to $461 from $372.
The catch: Travel demand is likely to outstrip supply of available airline seats and rental cars.
"Airlines can't add capacity fast enough," said Jonathan Kletzel, leader of PWC's airline and travel practice.
Unless you book your trip early, "there will literally be no seats available to get to your destination," he said.
A shortage of rental cars means you could pay the same amount to rent a Ford Fiesta from a rental agency as you would to rent some guy's Maserati on a car-sharing site like Turo.
There's even a shortage of luggage.
What's happening: Some airlines are scrambling to add more flights and larger planes to meet the expected surge.
United Airlines said last week it would fly its busiest schedule since the start of the pandemic, adding December flights to cities like Las Vegas and Orlando, Florida, and ski resorts like Aspen, Colorado.
"We're seeing a lot of pent-up demand in our data and are offering a December schedule that centers on the two things people want most for the holidays: warm sunshine and fresh snow," said Ankit Gupta, vice president of network planning and scheduling at United.
Yes, but: with more than 3,500 daily flights, United's December schedule is still at just 91% of its domestic capacity compared with pre-pandemic 2019.
American Airlines will announce its winter schedule soon, but told Axios it's adding larger planes and additional flights to the Caribbean, Mexico and South America to meet increased demand.
The bottom line: Brian Kelly, CEO of the Points Guy travel website, says if you plan to travel, don't dally.
Normally prices fluctuate quite a bit, but those patterns will be off this year, Kelly says. "Book early."
"Use those (frequent flier) points you've been hoarding," he adds. "It's easier to get refunds if you book with points."
Go deeper