COVID is here to stay. So what does "victory" look like?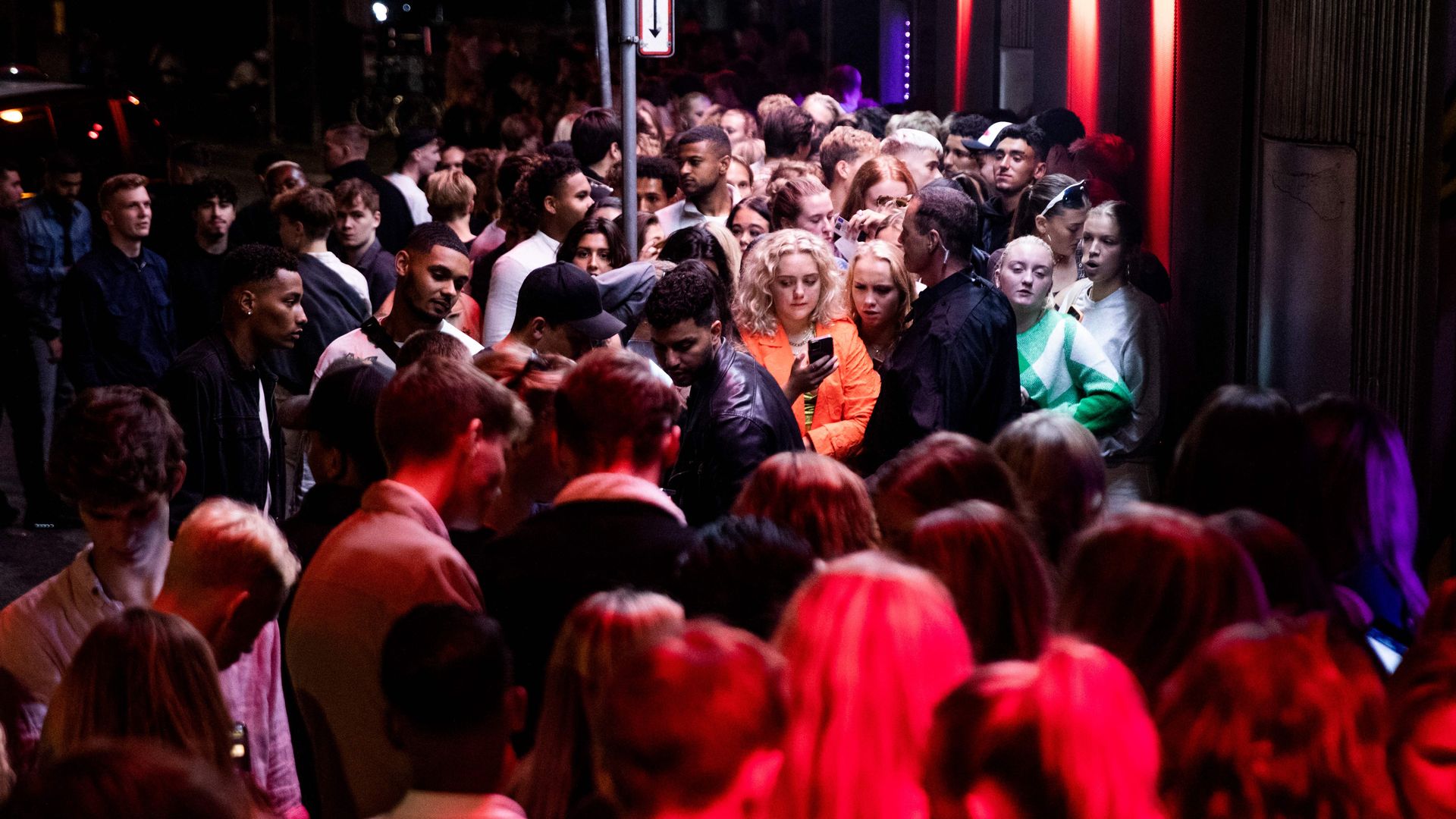 After 18 months of wondering when this will all be over, it's increasingly clear that there will never be a moment of victory for vaccines against variants or humanity against the virus.
The big picture: Case counts remain stubbornly high even where just about everyone who wants a shot has had one. Countries like Australia and New Zealand that had sought to keep out COVID-19 altogether are now learning to live with the virus.
The world map is a checkerboard of varying pandemic restrictions, border policies and case counts. The daily global tallies of cases and deaths are around where they were one year ago.
The question: What would finally "beating" COVID-19 actually look like?
Between the lines: According to Jeremy Farrar, a leading authority on infectious diseases and director of the Wellcome Trust, it looks like Denmark.
The government there has lifted all restrictions, thanks primarily to a high vaccination rate (76% of the population and 87% of over-12s). The virus is still spreading, one to two Danes are dying each day on average. But serious cases are relatively rare.
"This virus will be here, I think, forever," Farrar said. "We won't get to zero deaths."
But with near-universal vaccination, natural immunity, and better testing and treatments (as well as ready access to booster shots and second-generation vaccines down the line), wealthy countries can reach a point where the danger is limited.
The flipside: With a lower vaccination rate and high levels of migration, the U.S. will have "a bumpier course," Farrar said.
Then there are countries like India, which has given one dose to nearly half its population but has 700 million people still to go — not to mention Afghanistan or the Democratic Republic of the Congo, where hardly anyone has had a first shot.
Australia, New Zealand and some Southeast Asian countries that have never had major outbreaks also face "a bumpy exit" because they have little natural immunity and, thus, "their only way of exiting is really close to 100% vaccination."
Looming over all of this is the threat from variants.
"If you wanted to conduct an experiment of how to encourage this virus to go down a variant pathway, it would be to have ... some countries with very high vaccine uptake, some with very low, some countries with a lot of natural immunity, some countries with little natural immunity," Farrar says.
"We're giving an evolutionary advantage to this virus, which I hope it doesn't exploit."
Of note: Farrar, who serves on the scientific body that advises the United Kingdom's government, thinks countries like the U.K. should therefore offer a third dose to those who are immunosuppressed or otherwise particularly vulnerable, but otherwise opt for the "benevolent self-interest" of sharing doses globally.
The vaccines are still serving their main purpose of preventing hospitalizations and deaths, he contends, but "the domestic pressures, driven in some degree by fear, would be to vaccinate all of us a third time, a fourth time, a fifth time."
Farrar likens the booster dilemma to debates on climate action.
The bottom line: Farrar envisions a future in which, as with car accidents, COVID-19 will be an unfortunate fact of life.
It won't be possible to eliminate deaths, but it will be possible to limit them, "and that will be a trade-off that society comes to accept."
Denmark seems to have reached that point. The rest of the world has a ways to go.
Go deeper