More than 100,000 Poles demonstrate in favor of EU membership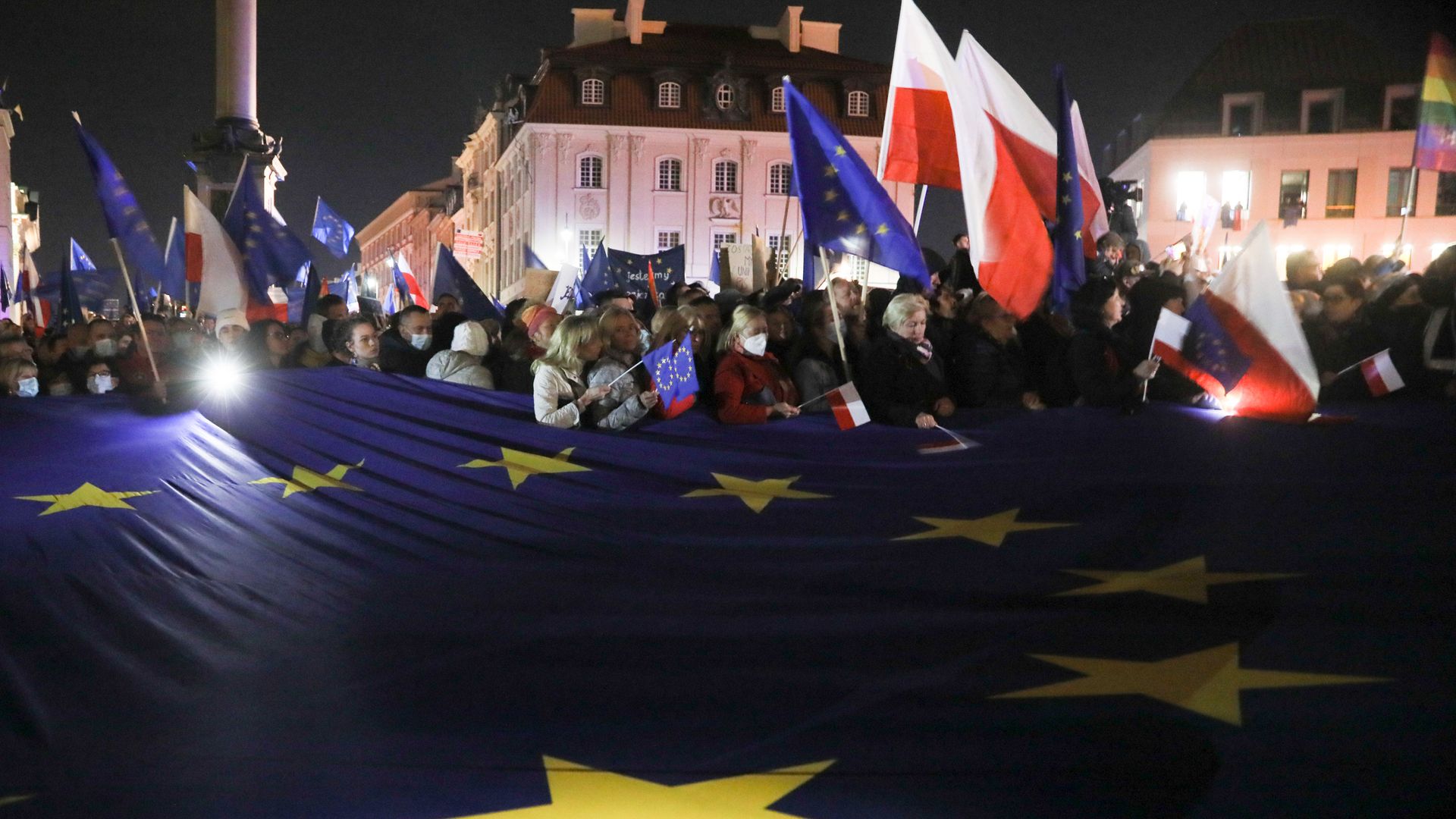 Tens of thousands of people attended demonstrations all over Poland Sunday to show support for the country's European Union membership after a constitutional court ruling sparked fears of a possible exit from the union, Reuters reports.
Driving the news: Days earlier Poland's constitutional court ruled that the country's constitution can take precedence over some EU laws, per AP.
Why it matters: By challenging the primacy of EU law over national ones, the move threatened the "legal bedrock" upon which the EU is based, noted Politico.
State of play: Dozens of towns and cities across Poland hosted protests on Sunday. Between 80,000-100,000 people turned out in the capital of Warsaw alone, chanting "we are staying," and waving EU and Polish flags, Reuters reports.
Donald Tusk, former Polish prime minister and ex-president of the European Council, had encouraged people to come out to demonstrate in favor of remaining in the EU, per AP.
Tusk, currently the country's top opposition leader, told the crowd in Warsaw that the "pseudo court" and the ruling party want to leave the E.U. "in order to violate citizens' rights with impunity, to violate democratic principles and to steal without restraint."
The big picture: Thursday's ruling by Poland's constitutional court prompted outrage from EU leaders.
European Commission President Ursula von der Leyen said she was "deeply concerned" and vowed to work to ensure the primacy of EU law, according to Reuters.
Jean Asselborn, Luxembourg's minister for foreign affairs, warned that Poland was "playing with fire," per Reuters.
"The primacy of European law is essential for the integration of Europe and living together in Europe," Asselborn added. "If this principle is broken, Europe as we know it, as it has been built with the Rome treaties, will cease to exist."
But, but, but: Not everyone in the EU is upset. Hungary's strongman leader, Prime Minister Viktor Orbán, backed the ruling and urged the EU to "respect member states' sovereignty," per Politico.
Go deeper