Used car prices are increasing again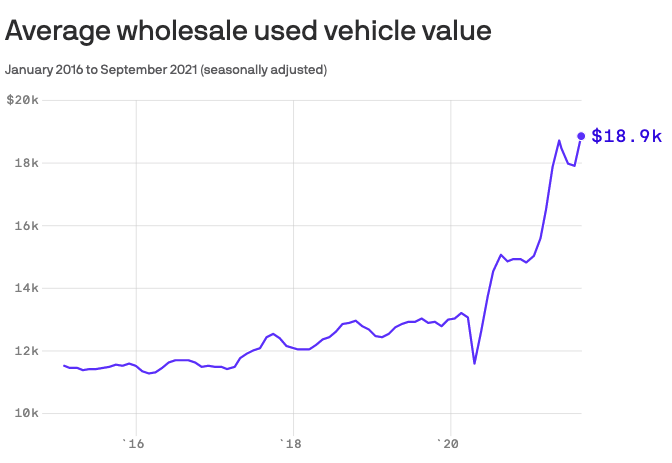 Used cars are the poster child of the pandemic economy — and prices are on the way up again.
Driving the news: After two months of cooling wholesale used vehicle prices (what dealers pay), costs increased 5.3% in September from their August levels.
They're 27% higher on average than a year ago, according to the Manheim Used Vehicle Value Index released Thursday.
Why it matters: Inflation trends are under the microscope as the Federal Reserve weighs taking its foot off the economic gas pedal to prevent markets from overheating.
Soaring car prices are one of the biggest drivers of inflation indexes this year. But the cost increases are almost completely a result of global supply chain problems, as opposed to loose monetary policy.
Catch up quick: A chip crisis that originated in Asia manufacturing facilities last year and is now a full-blown supply chain nightmare has led to a shortage of new cars.
As an alternative, customers sought used cars in droves, sapping supply and sending prices through the (sun)roof.
Eye-popping stat: The individual model that's seen the biggest jump this year is the 2020 Toyota Corolla four-door sedan, with an average value of $19,450 on Oct. 1, compared to $13,600 a year ago (43% increase).
What's next: Used cars will continue to defy history and behave like appreciating assets — in the short term, anyway.
Manheim anticipates that by December, average vehicle values will be up 30% for the year.
Go deeper