U.S. economy adds just 194,000 jobs in September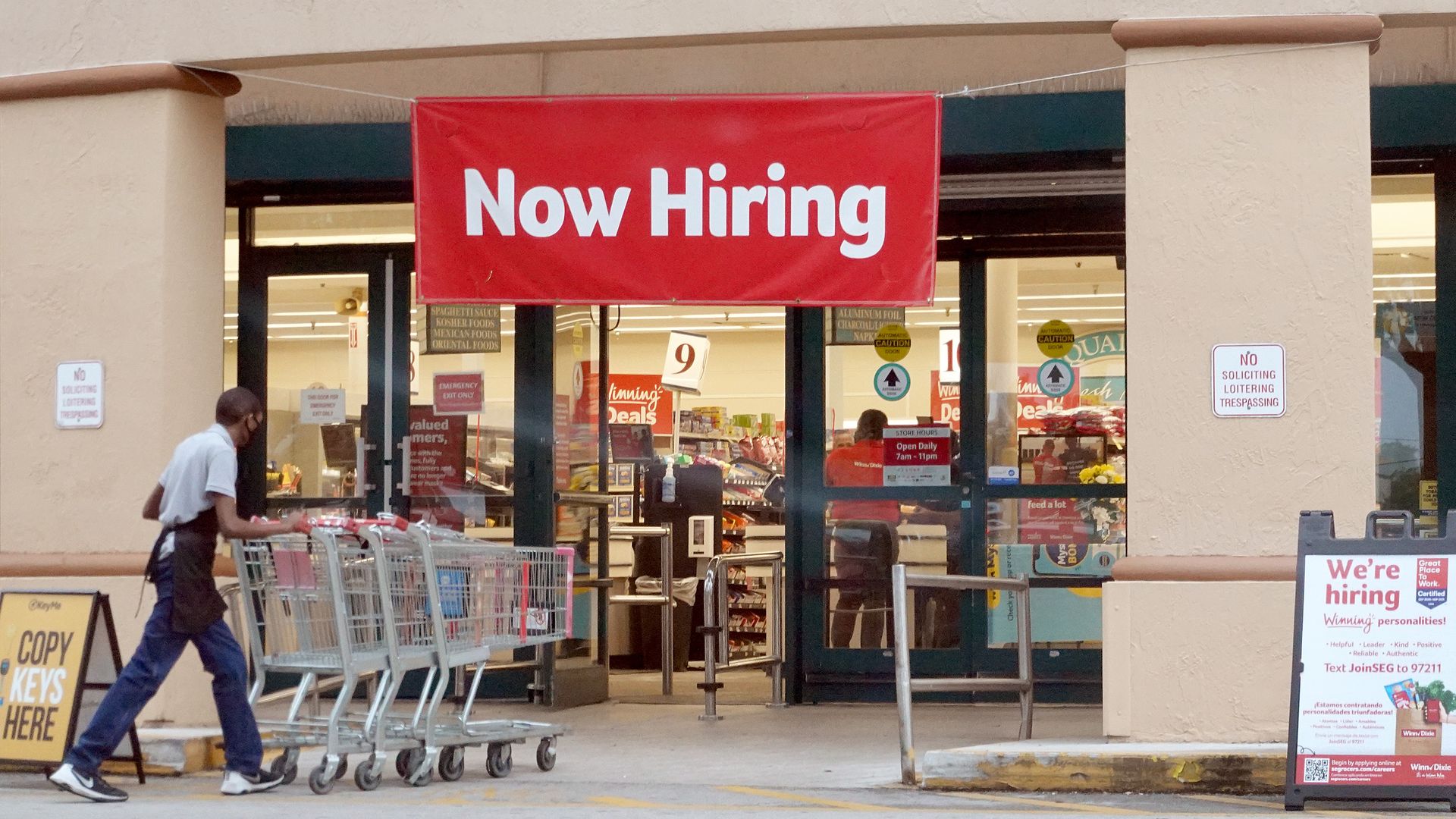 America registered disappointing job growth for the second month in a row.
By the numbers: Just 194,000 jobs were created in September, a significantly slower pace than the 366,000 number a month earlier. Economists had been hoping and expecting to reach at least 500,000 this time around.
The good news, such as it was, came with the unemployment rate, which dropped sharply to just 4.8%, from 5.2% in August. Unemployment for Black Americans dropped even faster, to 7.9% from 8.8%.
The big picture: Private-sector employment growth was OK, if not great, in September. The big disappointment came in the public sector, especially teachers. Women dominate the teaching profession, and they've been leaving the job market.
Local government school districts lost 144,000 jobs in September, with a further 17,000 job losses at the state level.
Those numbers are seasonally adjusted — schools simply didn't add the number of teachers at the beginning of the academic year that they normally do.
Bars and restaurants saw essentially no growth in September, repeating their weak showing from August. They had been driving the recovery this year, with an average gain of 197,000 jobs per month from January through July.
What they're saying: "The recovery has stalled," tweeted economist Justin Wolfers. "We're missing about 8 million jobs, and at this rate, we're not bringing them back any time soon."
President Biden later on Friday said the pandemic and fears over the Delta variant contributed to the disappointing jobs report.
"Today's report is based on a survey that was taken during the week of September 13. Not today, September the 13th — when COVID cases were averaging more than 150,000 per day," Biden said. "Since then, we've seen the daily cases fall by more than one-third and they're continuing to trend down, and we're continuing to make progress."
Biden also touted the unemployment rate saying, "today's report has the unemployment rate down to 4.8%, a significant improvement from when I took office and a sign that our recovery is moving forward even in the face of a COVID pandemic."
What's next: After two successive disappointing months of job growth, economists are now pinning hopes on the October job report to show what the economy is capable of as the Delta variant recedes.
But the low unemployment rate can be taken as a warning that not a lot of Americans are looking for work. It's hard to add net jobs if no one particularly wants to come out of unemployment to fill them.
Editor's note: This story has been updated with additional details throughout.
Go deeper