Federal judge temporarily bars enforcement of Texas abortion ban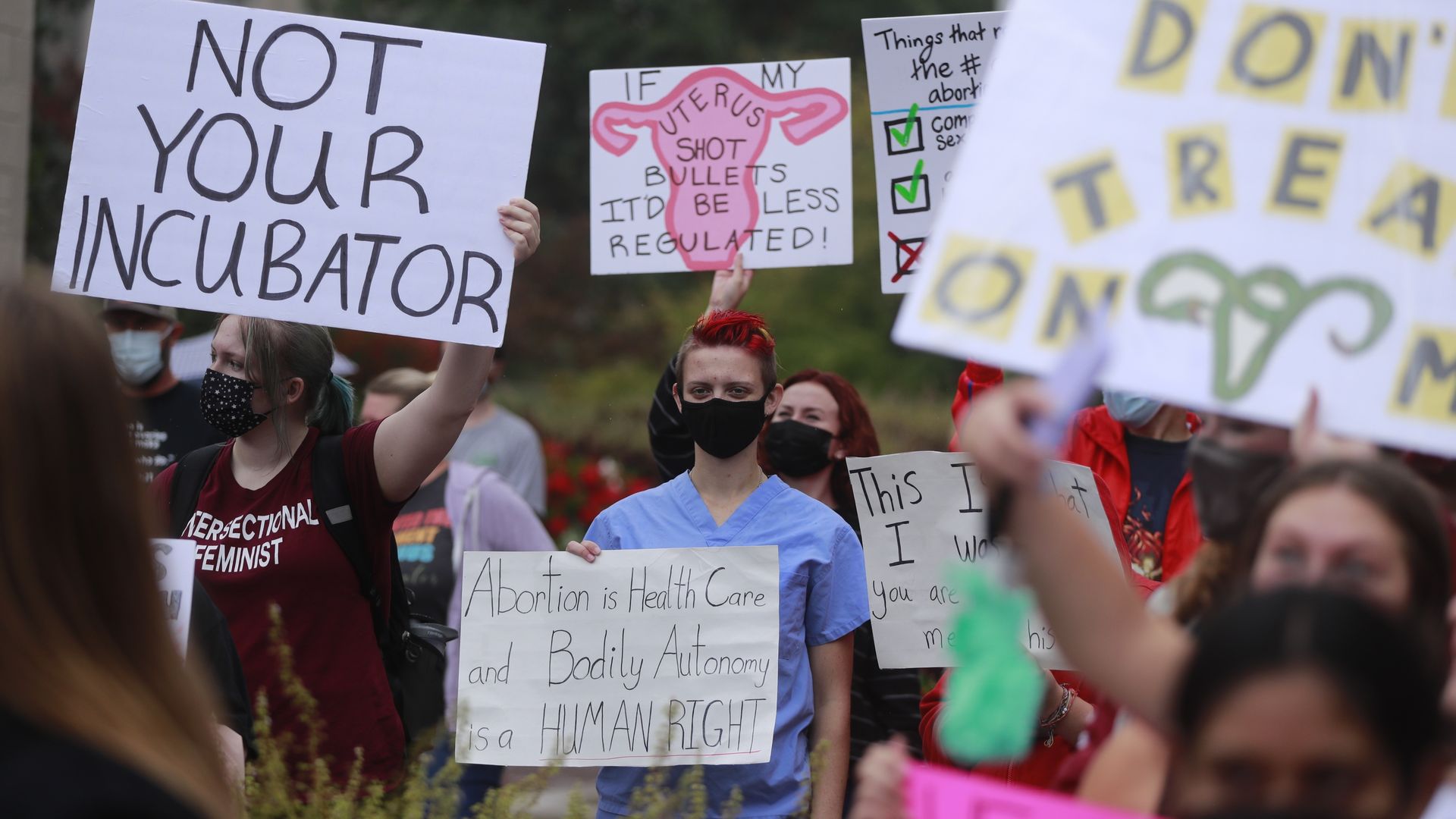 A federal judge on Wednesday evening granted the Biden administration's request to temporarily block enforcement of Texas' controversial abortion ban.
Why it matters: The ruling means that medical professionals can offer abortions in Texas even after about six weeks of pregnancy without fear of facing a lawsuit by members of the public, at least for the moment, Bloomberg notes.
Details: "A person's right under the Constitution to choose to obtain an abortion prior to fetal viability is well established," U.S. District Judge Robert Pitman wrote in the ruling.
"Fully aware that depriving its citizens of this right by direct state action would be flagrantly unconstitutional, the State contrived an unprecedented and transparent statutory scheme to do just that."
What they're saying: White House Press Secretary Jen Psaki said in an emailed statement that the ruling marked "an important step forward toward restoring the constitutional rights of women across the state of Texas." She said the "fight has only just begun," with several U.S. states moving to restrict abortion.
"That's why the President supports codifying Roe v. Wade," the landmark 1973 Supreme Court ruling that the Constitution protects a pregnant people's right to choose to have an abortion without excessive government restriction, Psaki said.
Psaki said the Texas law "not only blatantly violates the right to safe and legal abortion established under Roe v. Wade, but it creates a scheme to allow private citizens to interfere with that right and to evade judicial review."
What to watch: Texas officials said they will ask the 5th U.S. Circuit Court of Appeals to reverse Pitman's decision, per AP.
Yes, but: The Texas law includes a provision for those who perform abortions when there's a court injunction barring the ban to be "sued retroactively" — something anti-abortion groups including Texas Right to Life noted to the New York Times.
Editor's note: This article has been updated with comment from Psaki, details of Texas officials' plans to appeal the ruling and further context.
Go deeper