French elections: Far-right TV pundit climbs to second behind Macron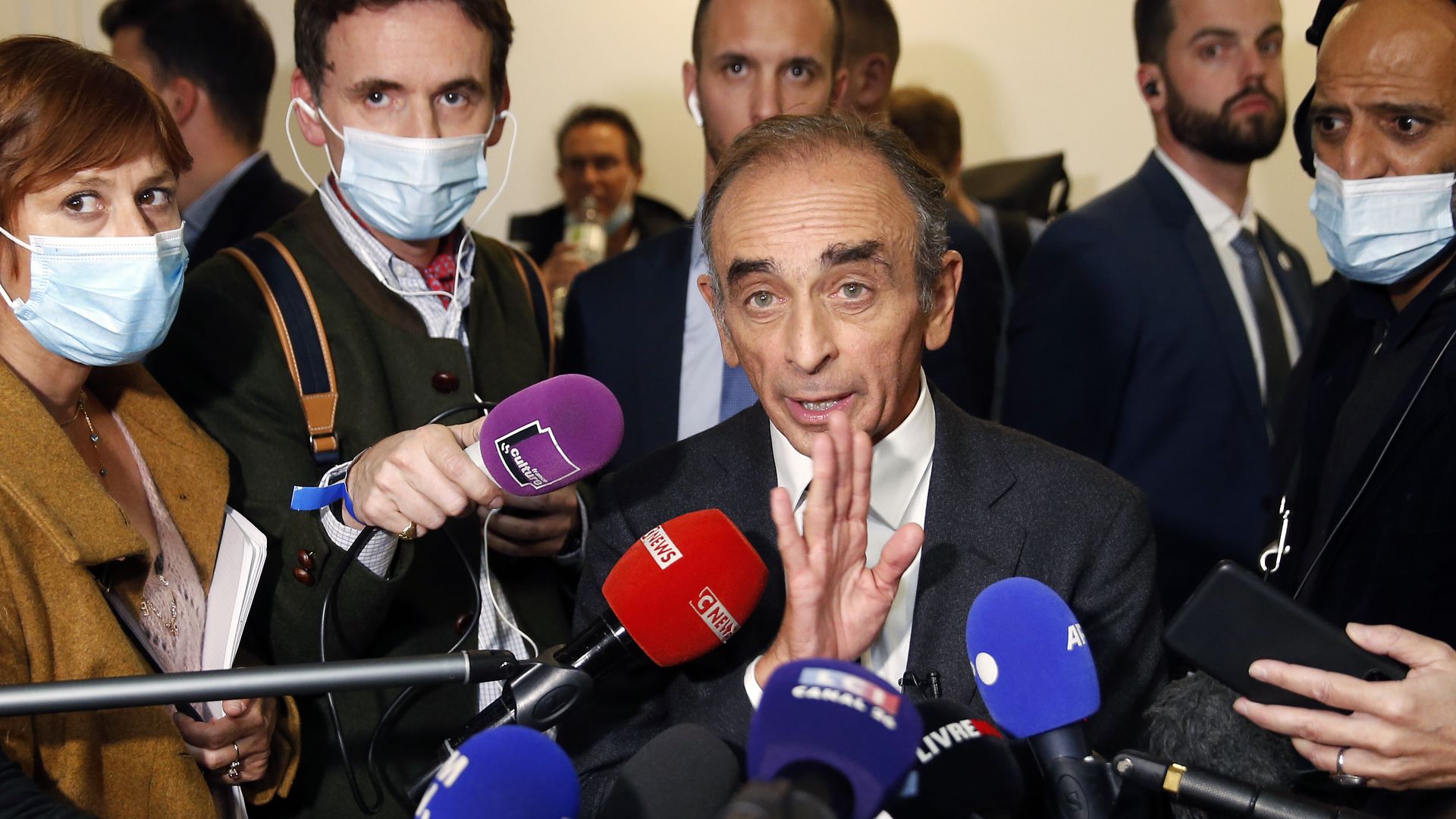 A far-right firebrand is shaking up the French presidential election and, with six months to go, has pulled into second in the polls.
Why it matters: This race had long seemed on course for a rematch between President Emmanuel Macron, now an unpopular incumbent, and far-right leader Marine Le Pen. But it's Le Pen who's now facing a major threat on her right flank.
Driving the news: Éric Zemmour, a writer and TV pundit sometimes compared to Tucker Carlson, is second in the latest Harris Interactive poll — a crucial benchmark, as the top two finishers will enter a runoff. Never before has a candidate jumped so quickly in the polls, pollster Antoine Gautier told AFP.
Zemmour — who was convicted in 2009 of inciting racial hatred and is an advocate of the "Great Replacement" theory popular among white supremacists — has yet to enter the race, but took a leave of absence from the French equivalent of Fox News
He's been an intellectual reference point for the far-right for many years on issues like national identity and gender roles, says Célia Belin of the Brookings Institution. "He's very bright, he's very knowledgeable, he has a passion for history, and like a good ideologue, he tweaks history to serve his own arguments."
Like Donald Trump, Belin says, Zemmour has energized his voters with his willingness to say things that no mainstream politician would dream of saying.
And just as Trump drove immigration to the top of the 2016 agenda, Zemmour has kept issues like the role of Islam in French society at the center of the political debate (he wants to ban non-French first names, like "Muhammad").
His rise is a major threat to Le Pen, who had been seeking to broaden her appeal to a wider slice of the electorate after losing to Macron in 2017 by a margin of 34% to 66%.
A split in the far-right vote could provide an opening for a candidate like Xavier Bertrand, who is seeking the nomination of the center-right Republicans.
The Harris poll gives Macron the slimmest of margins (51% to 49%) in a hypothetical runoff with Bertrand, and slightly larger leads against Le Pen (53% to 47%) and Zemmour (55% to 45%).
Yes, but: It is very, very early. At this time in the 2017 cycle, Macron was jockeying for third place with far-left candidate Jean-Luc Mélenchon and incumbent President Francois Hollande, who ultimately elected not to run.
That race was characterized by "a movement towards centrism and modernization and anti-incumbency," Belin says. At present, "the mood is populist, it's radical, it's extremist."
The big picture: A former member of the center-left Socialists who campaigned in 2017 as the candidate of "neither left nor right," Macron has drifted rightward while in office, particularly in the wake of recent terror attacks.
He seems focused on winning over center-right voters, believing left-leaning voters have little choice but to stick with him, Belin says.
Indeed, all of his major challengers at present are on the right. Mélenchon has 11%, Greens candidate Yannick Jadot has 6%, and the Socialist mayor of Paris, Anne Hidalgo, also polls at 6%.
Go deeper