4 takeaways from the Facebook whistleblower hearing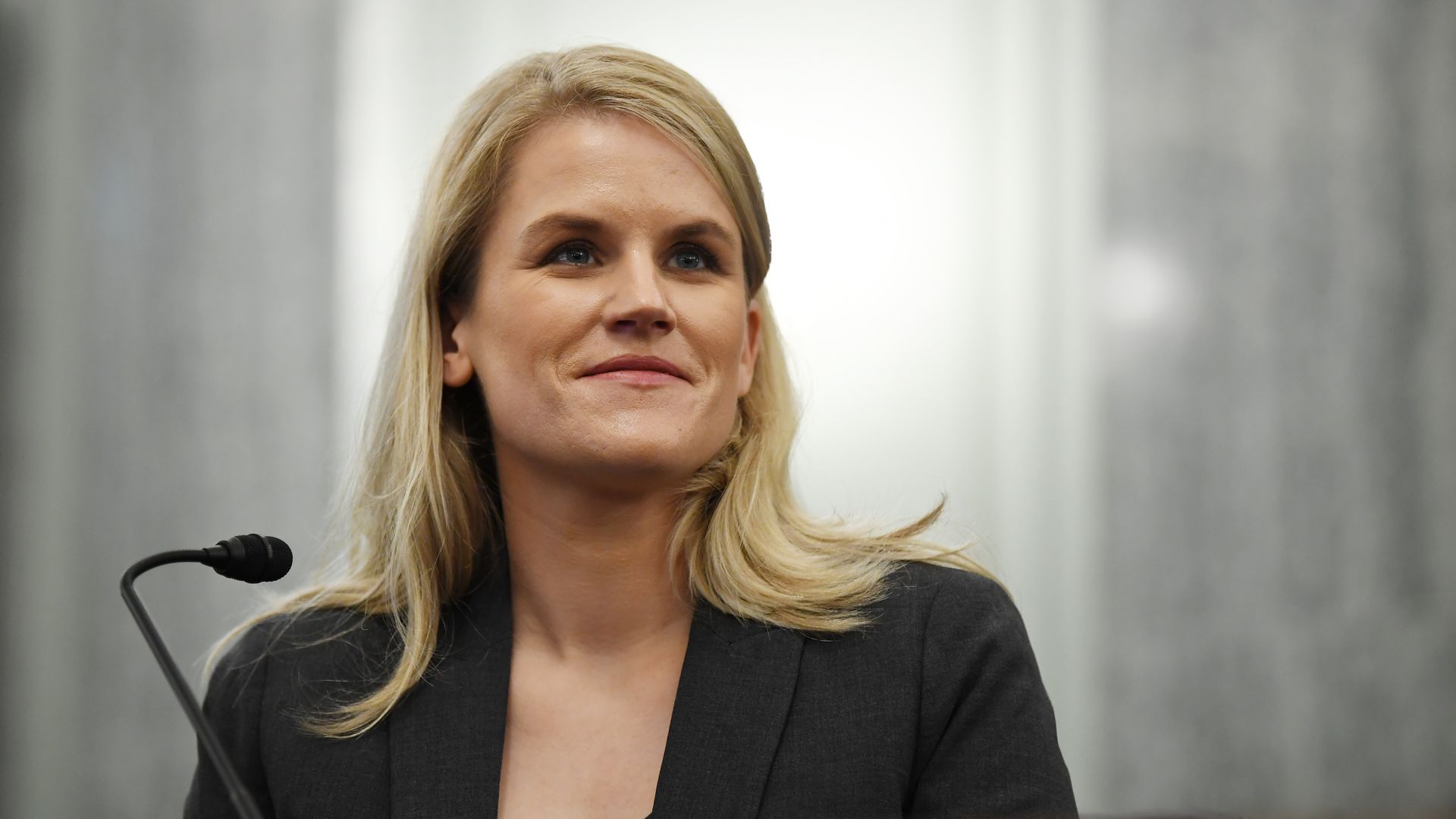 Whistleblower Frances Haugen on Tuesday provided rare insight into Facebook's operations during her testimony before the Senate Commerce Subcommittee on Consumer Protection.
What you need to know: The former Facebook product manager sought to expose the social media giant's knowledge of harmful content circulating on its platform and underscored the company's lack of transparency — sparking outrage from both Democrats and Republicans on the committee.
1. Haugen says that Facebook knows that some of its platforms are harmful to certain populations, including teenagers — but targets them anyways, AP reports.
Haugen told the Senate committee that Facebook is aware of the potential for harm caused by Instagram, which is owned by Facebook, for teenagers who are susceptible to body image concerns.
"They know that algorithmic-based rankings, or engagement-based rankings, keeps you on their sites longer. You have longer sessions, you show up more often, and that makes them more money," Haugen said.
Haugen during the hearing proposed increasing the minimum age for anybody using social media from 13 years old to 17, the New York Times reports.
2. Democrats and Republicans both agree Facebook should be regulated — and Haugen called on lawmakers to make it happen.
In a rare showing of bipartisanship, senators on both sides of the aisle called for new regulations targeting how Facebook appeals to users and amplifies its content, per AP.
"If you closed your eyes, you wouldn't know if it was a Republican or a Democrat," Sen. Richard Blumenthal (D-Conn.) said, per NPR. "Every part of the country has the harms that are inflicted by Facebook and Instagram."
Haugen called on Congress to pass laws regulating the social media giant, saying that she does not believe the company will change on its own accord, Axios' Margaret Harding McGill reports.
3. Facebook devotes less time researching misinformation and hate speech on non-English content, Haugen says.
Haugen said repeatedly throughout her testimony that Facebook's algorithm stokes misinformation, hate speech and, in some cases, ethnic violence, the MIT Technology Review reports.
"Facebook … knows — they have admitted in public — that engagement-based ranking is dangerous without integrity and security systems but then not rolled out those integrity and security systems in most of the languages in the world," Haugen said.
"It is pulling families apart. And in places like Ethiopia, it is literally fanning ethnic violence."
4. Haugen says the social media giant lacks transparency.
Before leaving Facebook, Haugen said she copied thousands of pages of confidential documents and shared them with regulators, members of Congress and the Wall Street Journal, per NPR.
"During my time at Facebook, I came to realize a devastating truth: Almost no one outside of Facebook knows what happens inside Facebook," Haugen told Congress.
"The company intentionally hides vital information from the public, from the U.S. government and from governments around the world."
The other side: Minutes after Haugen's testimony, Facebook issued a statement seeking to discredit the former employee, saying that she worked for the company "for less than two years, had no direct reports, never attended a decision-point meeting with C-level executives — and testified more than six times to not working on the subject matter in question," ABC News reports.
Facebook CEO Mark Zuckerberg also published a blog post Tuesday evening attempting to counter Haugen's claims.
The bottom line: Senators seemed receptive to the possibility of enacting new regulations on Facebook, but only time will tell if lawmakers carry through with legislation — and how far they'll go.
Go deeper: Facebook whistleblower urges Congress to move against the company
Go deeper