Exclusive: Prominent Latinos urge NYT to keep publishing Spanish opinion journalism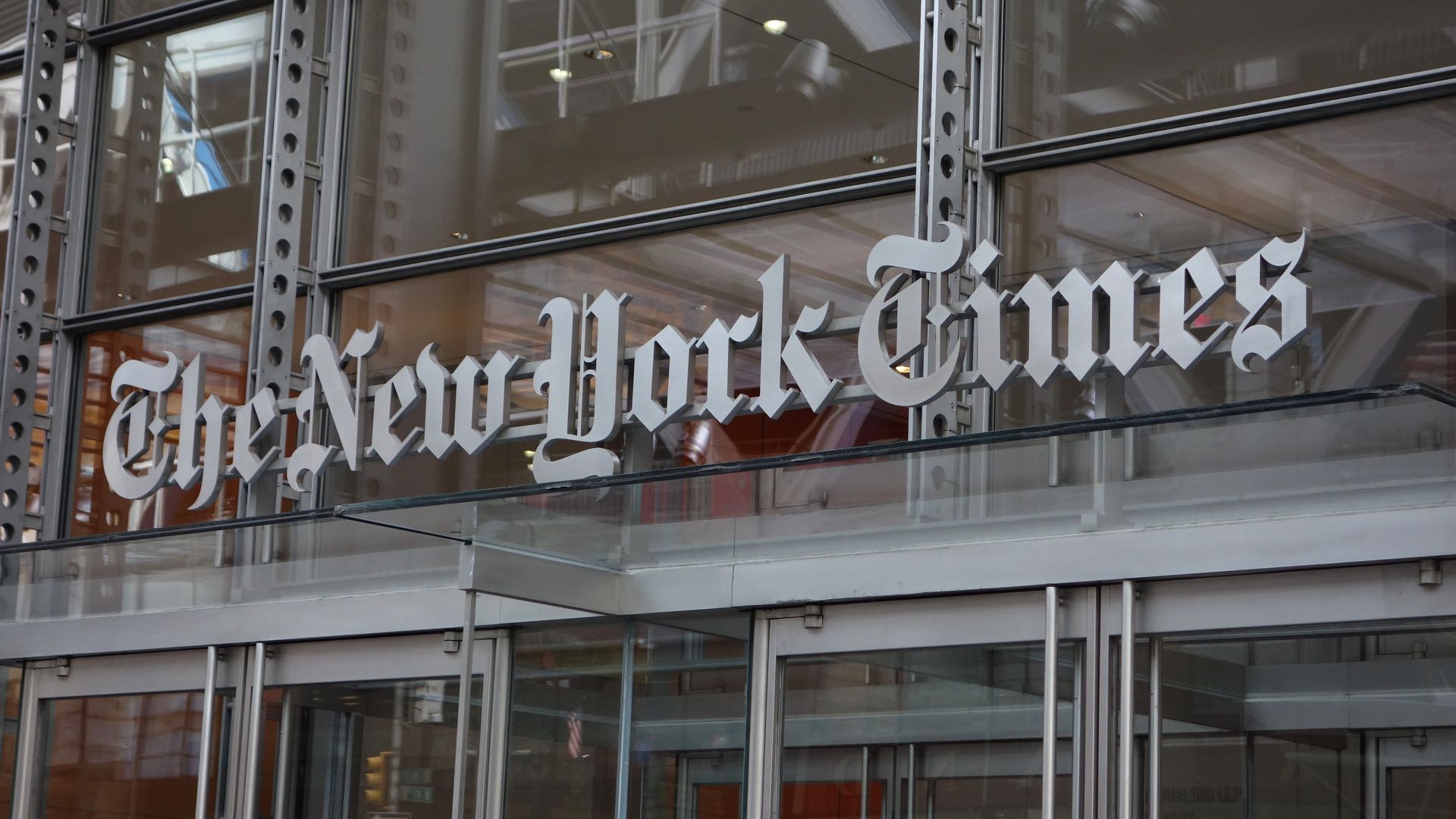 Over 100 prominent figures in Latin America are urging The New York Times' publisher to not stop publishing Spanish-written opinion journalism, according to a letter shared exclusively with Axios.
Driving the news: The Times has not published any op-eds that were originally written in Spanish since Sept. 28. The newspaper had been publishing from five to seven such pieces a week.
The big picture: The Times launched its Spanish platform — "NYT en Español" — in 2016, along with a bureau in Mexico, in an effort to expand its news coverage globally. During its existence, the section published around 10 to 15 stories a day, some written in Spanish and some translated from English.
Two years ago, the newspaper said it would discontinue original Spanish-written content for its Spanish platform, explaining at the time that it "did not prove financially successful."
The Times said it would instead focus on publishing the newspaper's main content translated into Spanish.
The only original Spanish-written content the newspaper continued to produce was opinion journalism.

Danielle Rhoades Ha, the Times' vice president for communications and spokesperson, told Axios that this was done as an experiment to evaluate ways to "better reach Spanish language audiences with our journalism."
State of play: The letter was addressed to the newspaper's publisher, A.G. Sulzberger. Its signees included former Colombian President Juan Manuel Santos, four other former Latin American presidents, Puerto Rican actor Benicio Del Toro and Chilean award-winning author Isabel Allende.
Jon Lee Anderson, an American journalist for The New Yorker who has frequently reported from and about Latin America, was one of the main letter authors. He gathered many of the signatures and sent the letter directly to Sulzberger.
The signees said in the letter that while they were saddened by the Times' decision to cut its Spanish-speaking newsroom in 2019, they "felt heartened when Opinión en español was kept in place."
Background: About six weeks ago, "word began circulating amongst my journalistic community that the New York Times was planning to get rid of 'NYT en Español' altogether," Anderson told Axios. This prompted Anderson and other journalists to write a letter to let the Times' leadership know "that we thought highly of the 'NYT en Español' and hoped it would be allowed to continue."
Anderson sent the letter to Sulzberger on Sept. 13, and received a short response from Sulzberger on Sept. 16, saying that he and his colleagues would reflect on the concerns shared in the letter.
Anderson had not received any notice informing him whether the Times would definitively stop publishing all original Spanish-language opinion journalism.
He received a correspondence from the Times on Tuesday night, which was originally sent to another signee, where the newspaper said that while they were proud of Times' original Spanish content, "it just didn't draw a large enough audience to justify the investment."
Rhoades Ha, the Times spokesperson, told Axios in a statement that while some Spanish-language opinion journalism continued after 2019, "there is not, nor has there been, a formal Opinion 'section' in Spanish."
"We no longer have staff dedicated to producing original Spanish-language opinion journalism. That staff is currently focused on producing English-language opinion coverage of Spanish-speaking communities in the U.S. and abroad, and we will continue to translate some of that coverage into Spanish," she added.
Rhoades Ha said that "relevant staff" were informed about the Times' decision to have them focus on English-language opinion journalism "months ago."
What they're saying: "Journalists are victims of harassment not only from criminal organizations but also from their governments. At the same time the region is experiencing greater social unrest than at any other time in recent memory, exacerbated by the enormous health, economic and social impacts of the COVID-19 pandemic," the signees said in the letter.
"These critical issues and others like migration, official corruption and climate change require constant scrutiny from the press. Not just from a local perspective but from a regional and global one, and to do that it is essential to count upon a journalism that is independent, thorough and intellectually engaged."
The signees hoped the newspaper would "strengthen this section and draw upon it to reinforce its news coverage of Latin America as well."
Author and feminist activist Gabriela Wiener told Axios that by ending all original Spanish opinion journalism, the Times is "closing an important window for a region that needs good journalism and good opinion journalism."
Of note: While the Times will be focusing on English opinion journalism, it will remain open to potentially publishing Spanish-written content in the future if such content is deemed necessary.
Read the letter below:
Go deeper