GOP targets Dems with "Medicscare" ads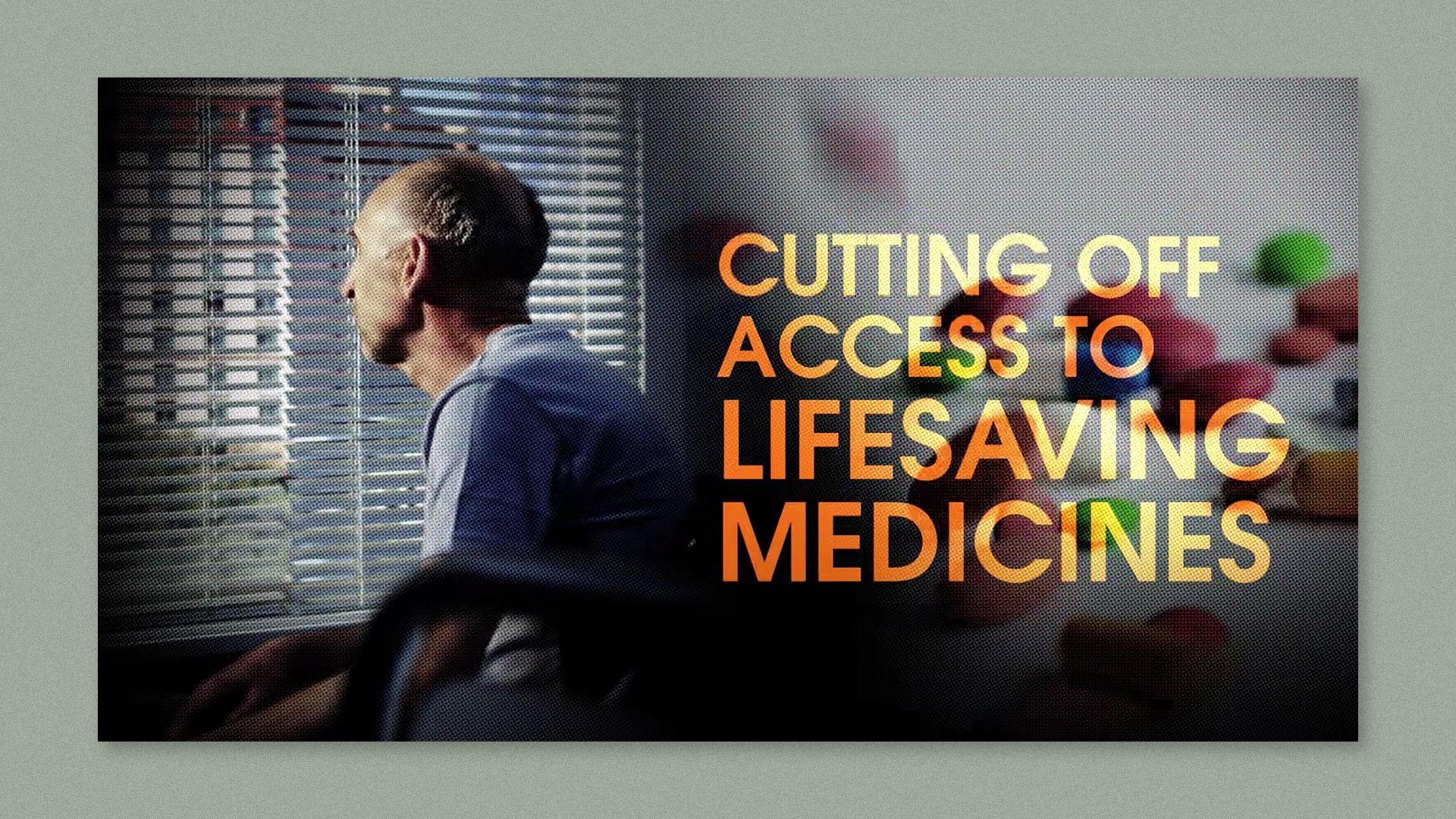 Conservative and industry groups are trying to whip up opposition to President Biden's massive social spending plan by warning it will imperil Medicare benefits, Axios has learned.
Why it matters: "Medicscare" is a well-worn political tactic precisely because it can be effective. For Democrats, there's zero room for defections against the $3.5 trillion proposal if they want to pass the bill.
What's happening: Senior citizens in Arizona, represented by Sen. Kyrsten Sinema (D-Ariz.), potential Democratic holdout, have started receiving large boxes labeled "Medical Shipment. Please open immediately."
Inside, they find an empty prescription drug bottle and literature warning of Democratic plans to "ration Medicare Part D." That's a reference to a budget reconciliation bill provision that would allow the government to negotiate Medicare reimbursement rates for prescription drugs.
The mailers are the work of the Common Sense Leadership Fund, a Republican-aligned advocacy group. The mailers in Arizona specifically target Sen. Mark Kelly (D-Ariz.), who's up for re-election next year.
CSLF spokesman Colin Reed told Axios the group is mailing the packages to seniors and unaffiliated voters in Arizona and New Hampshire, where the group is targeting Sen. Maggie Hassan (D-N.H.), who's also up for re-election.
Another nonprofit advocacy group, A Healthy Future, is targeting the prescription drug portions of the bill in a digital ad campaign aimed at key Democratic votes.
The group has spent nearly $300,000 on Google, Facebook and Instagram ads aimed at Reps. Frank Pallone, Tom Malinowski and Andy Kim, all Democrats from New Jersey — where the drug industry has a huge economic footprint.
"This is a prescription for disaster," its ads say. They urge calls to Congress to "oppose cutting Medicare to pay for the $3.5 trillion spending plan."
It's not clear who's behind A Healthy Future — the group did not respond to inquiries from Axios — but its messaging on reconciliation and past policy fights track with drug industry priorities.
The big picture: Democrats have turned to drug pricing reforms to offset part of the legislation's massive price tag, potentially paying for as much as $600 billion in new spending.
That's drawn intense opposition from the pharmaceutical industry — and lawmakers who enjoy the industry's backing.
If it's included in the final version of the legislation, it could be a major sticking point for groups looking to peel off wobbly Democratic votes.
Sinema has already said she opposes the effort.
Yes, but: The Mediscare tactic is larger than just the drug pricing fight. Americans for Prosperity, the Koch-backed conservative advocacy group, is running its own ads warning of much larger impending Medicare cuts.
It says the spending bill's efforts to expand Medicare will imperil the program itself.
"Medicare is set to go bankrupt in about four years," the ads claim. "Congress is acting irresponsibly and putting the program in jeopardy."
AFP's ads have touched on drug pricing as well, which it's dubbed "a 95% drug tax to fund $3.5 trillion in wasteful spending."
Go deeper