Updated Oct 2, 2021 -

World
Duterte to retire instead of seeking vice presidency of Philippines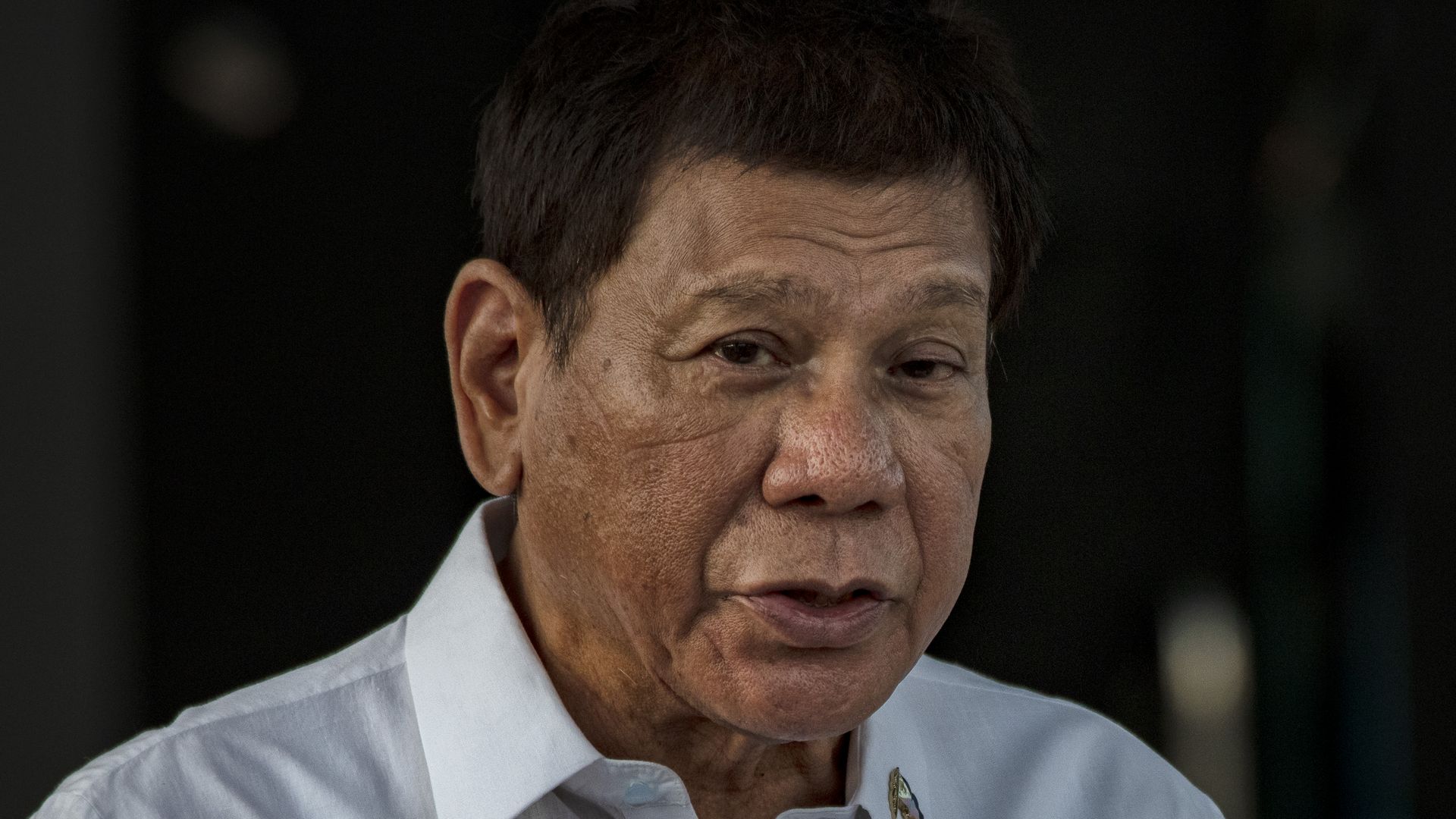 Philippines President Rodrigo Duterte said Saturday he will retire instead of seeking the vice presidency next year after his presidential term ends, according to the New York Times.
Why it matters: Duterte said he would not seek the vice presidency because national opinion polls indicated public opposition to his candidacy. The move would have allowed Duterte to remain in national politics, though his critics saw it as a means to shield himself from prosecution, according to the Times.
His popular daughter Sara Duterte-Carpio, mayor of Davao City, said later Saturday she would run for president and Sen. Bong Go, a longtime aide of her father, would be her running mate, ABS-CBN News reported on Saturday night.
Christopher Lawrence Go, a senator and Duterte's former chief aide, filed papers to seek the vice presidency the same day.
What they're saying: Duterte said he was retiring "in obedience to the will of the people, who after all placed me in the presidency many years ago, I now say to my countrymen that I will follow your wishes," according to the Times.
"Today, I announce my retirement. I thank you all," he said, though he did not indicate if he planned to resign the presidency before the end of his term in June 2o22.
When asked by a reporter whether it was clear that his daughter, who previously said she would not run if her father were an election candidate, would enter the race, Duterte said: "It is Sara-Go," per ABS-CBN News.
The big picture: The International Criminal Court in September formally authorized an official investigation into alleged crimes against humanity during Duterte's bloody war on drugs, during which thousands of people may have been killed in police drug operations since 2016.
Philippine boxer and Senator Manny Pacquiao, who was once the leader of Duterte's ruling party before being ousted, will seek the presidency, likely challenging whomever Duterte puts forward as a candidate.
Duterte-Carpio also filed paperwork on Saturday to run for mayor again, but Rappler notes that her father later withdrew his Davao City mayoral reelection filing to run for president in 2015.
Go deeper: ICC authorizes full investigation into Duterte's deadly drugs war
Editor's note: This article has been updated to include details of Duterte's comments reported by local media.
Go deeper