What we're driving: 2022 Hyundai Santa Cruz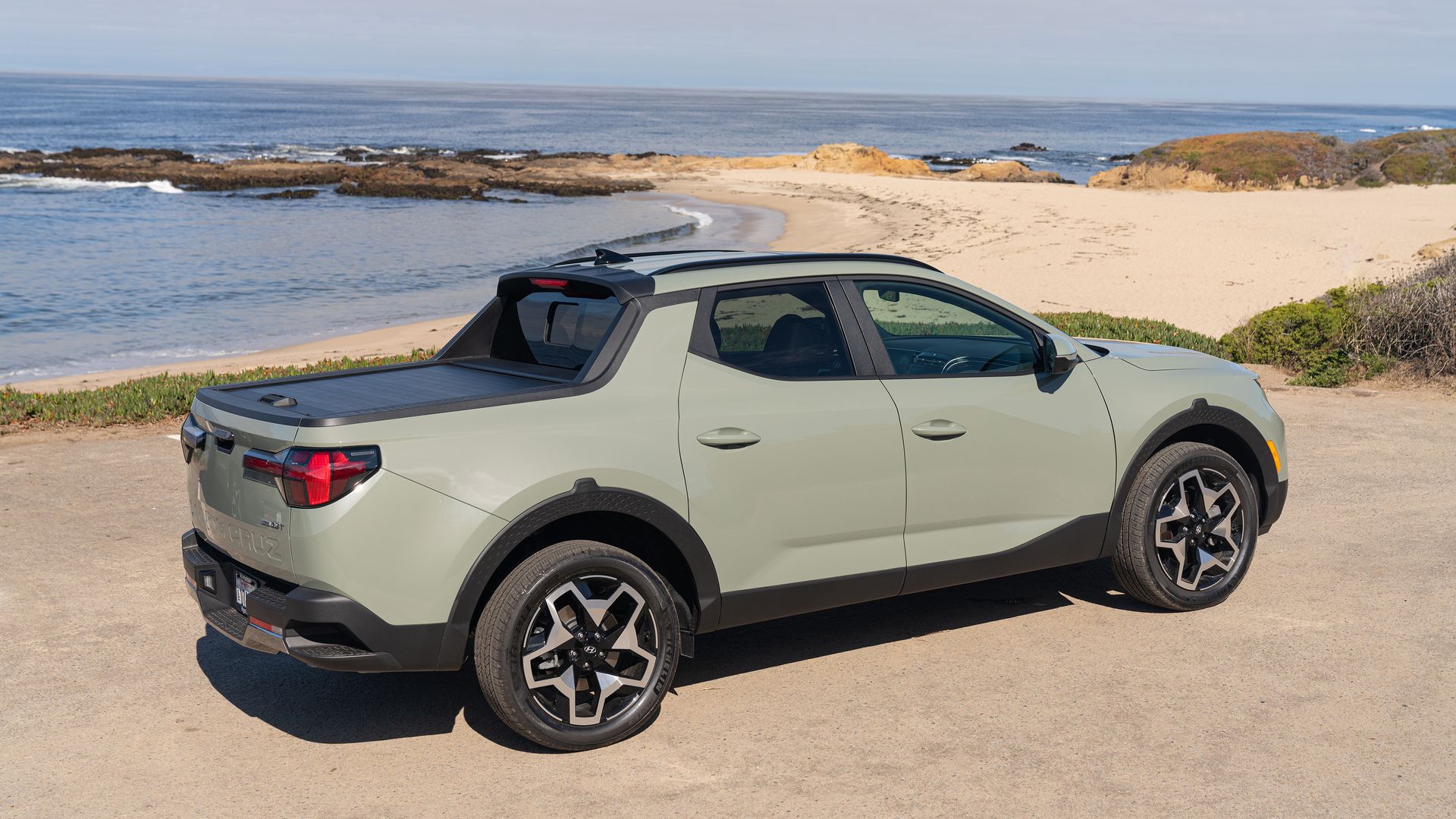 The 2022 Hyundai Santa Cruz is one of those "neither fish nor fowl" vehicles: It's an SUV crossed with a pickup truck — and I love it.
The big picture: Truck devotees will complain that the 4-foot-bed is too short, or that the Santa Cruz can't haul a giant RV or motorboat. (For the record, it can tow up to 5,000 pounds.)
But for the vast majority of urban dwellers whose big adventure is an outing to the garden center, this is the perfect vehicle.
Details: The Santa Cruz drives like a crossover SUV, which isn't surprising, since it's based on the same basic underpinnings as the Hyundai Tucson.
That means it's refined and easy to park, which non-truck people will appreciate.
Some reviewers have complained that the standard 2.5-liter engine is underpowered, but I drove the turbocharged all-wheel-drive option, which, at 275 horsepower, had plenty of get-up-and-go.
One of my favorite features was the Santa Cruz's lockable, roll-up metal tonneau cover.
At a tailgate, we packed our valuables in the bed and safely locked them away while we went to the game.
The extra storage below the bed (similar to a Honda Ridgeline) was especially handy.
Other goodies: The Santa Cruz Limited also featured a 360-degree camera system, heated and cooled seats, a premium Bose sound system and wireless Apple CarPlay and Android Auto.
Android smartphone users can use a phone app as their digital key.
The optional 10-inch touchscreen is lovely but difficult to use, with no buttons — keeping your eyes off the road for too long.
The Santa Cruz comes with a full suite of standard safety and available assisted driving technologies.
Hyundai's highway-assist technology was a bit overbearing at times, though.
The bottom line: The Santa Cruz starts at about $24,000, which is higher than Ford's new Maverick compact pickup. And at $39,720, the Limited AWD I drove seems downright expensive.
But if it fits the bill for weekend warriors, that's OK.
Go deeper