Rookie QBs learn tough NFL reality the hard way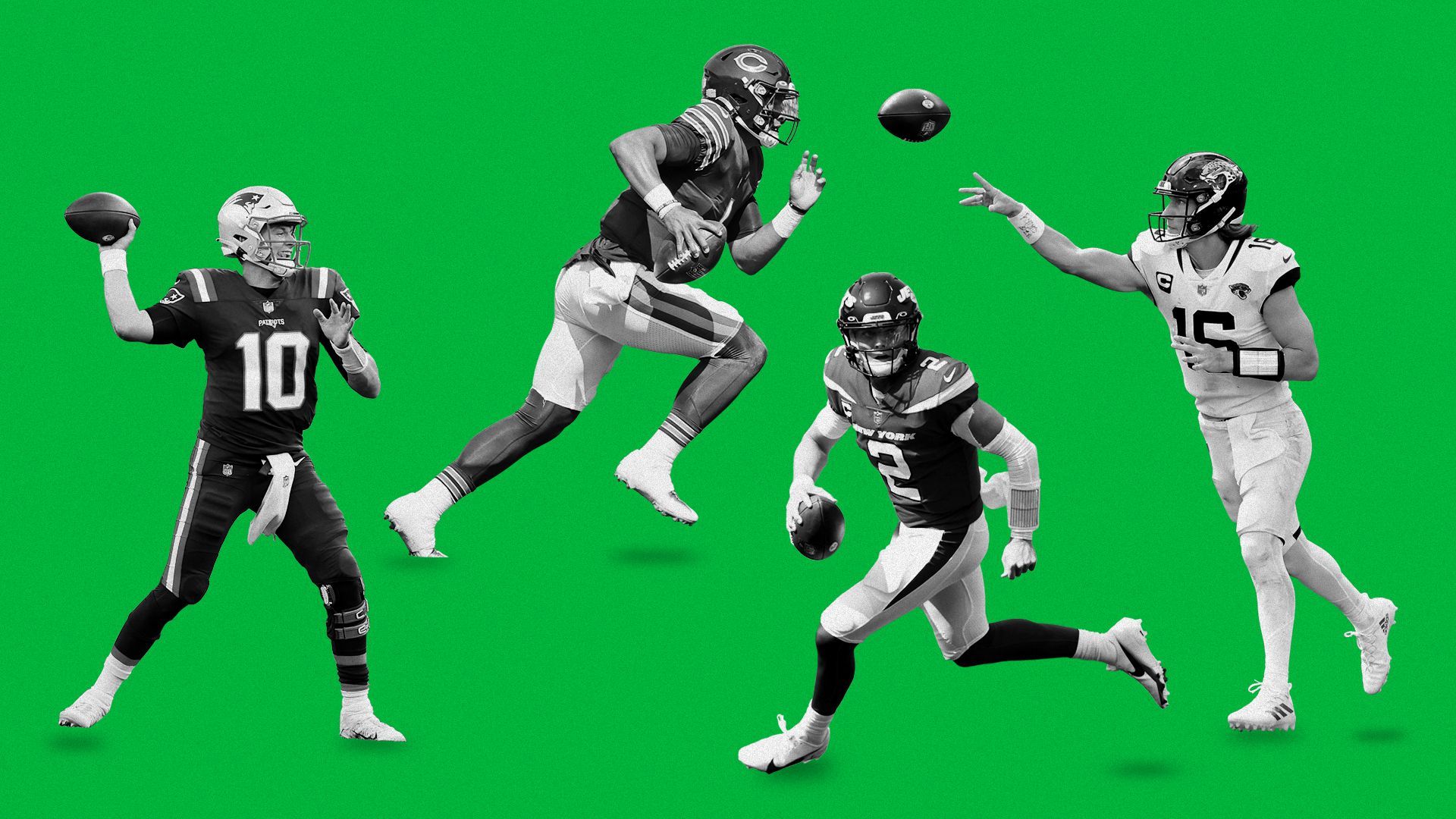 Being an NFL QB is extremely hard — and nearly impossible for first-round rookies, who are often viewed as saviors for their cellar-dwelling teams.
State of play: Four such QBs have already started games this season, with a combined 1-9 record that's as ugly as it is expected.
Trevor Lawrence joined a Jaguars team that hasn't finished above .500 since 2017 and hasn't won, period, since Week 1 last year. His rookie head coach Urban Meyer is learning alongside him.
Zach Wilson went to the Jets, who haven't made the playoffs since 2010, have a porous offensive line and lack a veteran presence in the QB room (backup Mike White has zero career NFL snaps).
Justin Fields, who took over for an injured Andy Dalton on Sunday, is the 26th starting QB the Bears have had this century. Safe to say, there are better landing spots for signal callers than Chicago.
Mac Jones landed in the cushiest situation of the four, but the Patriots sans Brady aren't the same team — and the bar in New England has been set absurdly high.
Between the lines: Teams have two choices when it comes to their young QBs: play them right away or let them learn behind a veteran. Which path is more effective? NFL insiders are split.
Starting them as rookies can work — in the right situation. Take Josh Allen, drafted in 2018 by the 9-7 Bills. He struggled, but thanks to the talent around him, he wasn't thrown to the wolves like Wilson (league-high 15 sacks) or Fields ("he was set up to fail").
Sitting them can be a tough call, with the possibility of instant gratification so tempting. But most of the time, patience pays off for the team and player. Drew Brees sat one year; Aaron Rodgers sat three.
All things considered, Trey Lance — the lone first-round rookie who hasn't started — appears to be in the best spot. Then again, backup duty may be hindering his development in other ways.
The big picture: In baseball, top prospects are called up when they've proven they're ready. First-round QBs don't have that luxury, and are often asked to execute the playbook when they should still be learning it.
Of course, some rookies prove that they were in fact ready to take the reins (i.e. Justin Herbert last year). But this sink-or-swim approach can destroy careers that might have flourished with proper seasoning.
The last word: "Growth comes through adversity," writes USA Today's Andy Vasquez. "But ... when the adversity is too extreme, if it never relents, it can do permanent damage."📆
Tonight ... The past two No. 1 picks (Lawrence and Joe Burrow) face off in Cincinnati.
Go deeper