NOAA sailed a drone into the strongest storm on Earth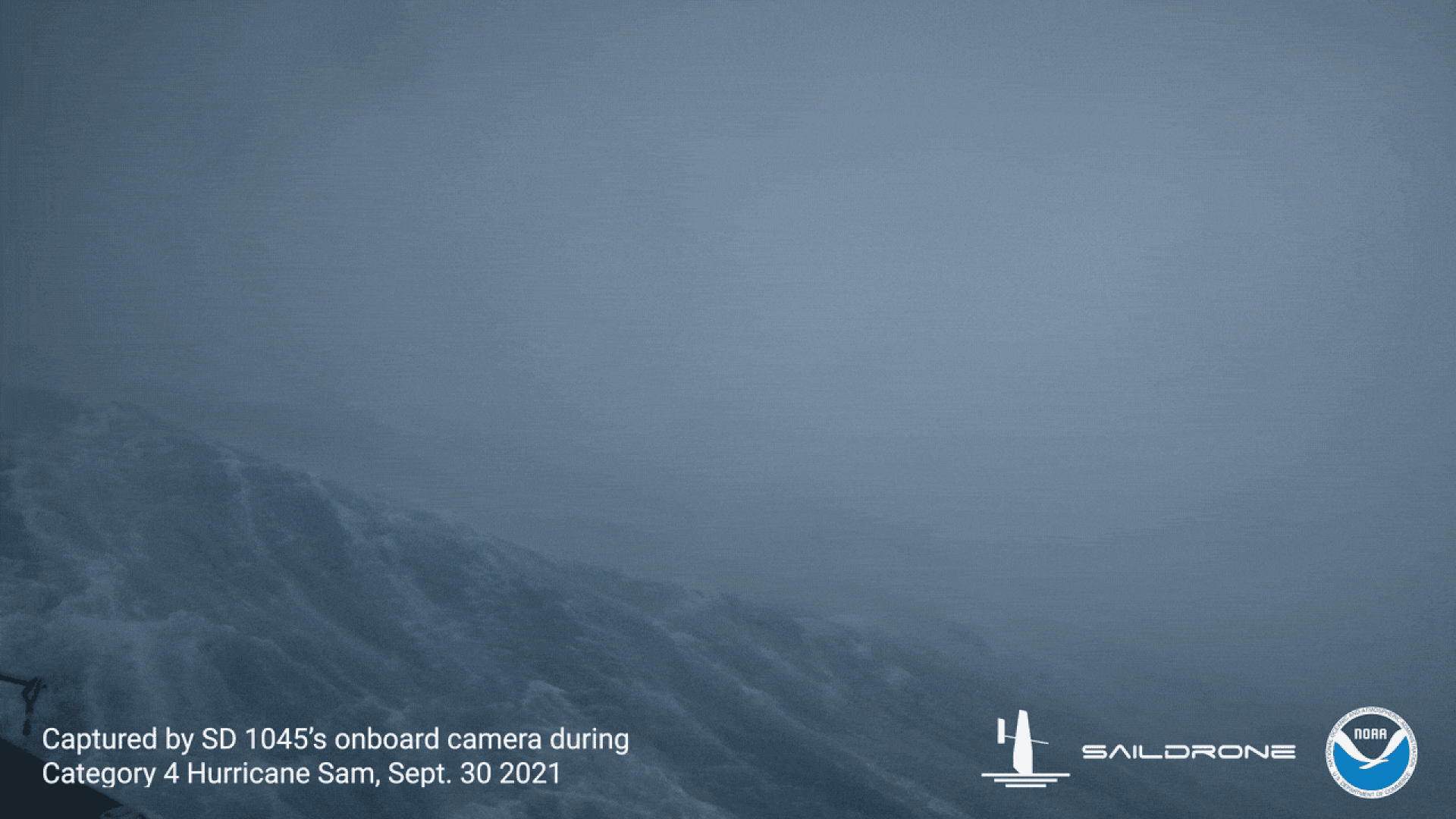 The National Oceanic and Atmospheric Administration (NOAA) sailed a robotic surfboard with a sturdy, vertical "hurricane wing" into the heart of Hurricane Sam, currently the strongest storm on Earth with sustained winds of 145 mph.
Why it matters: The unprecedented footage from the uncrewed vessel inside a major Atlantic hurricane, as well as the data from the drone are helping forecasters hone their understanding of these fearsome storms.
Driving the news: Hurricane Sam is what meteorologists refer to as a "fish" storm, unlikely to directly hit land and affecting mainly the open ocean.
The air and sea agency is responsible for both making hurricane forecasts and researching such storms to improve those forecasts. The new drone program, a partnership with the private company, Saildrone, helps fill a key data gap that can't be addressed by the intrepid hurricane hunters that fly through such storms.
Forecasters need to know more about the exchange of heat between the sea and atmosphere to better predict hurricane intensity changes, as well as the transport of water vapor, among other questions.
According to NOAA, the Saildrone Explorer SD1045 is coping with 50-foot waves and winds of over 120 mph from its location within the storm.
The SD 1045 is one of five total Saildrones that NOAA has deployed this hurricane season to gather in-situ data that has not been available before from other platforms, unless the agency got lucky, and a storm passed directly over a buoy.
The intrigue: In recent decades, while significant improvements have been made in improving hurricane track forecasts, intensity shifts have proven harder to predict.
By increasing air and ocean temperatures, climate change is helping fuel a trend toward more storms that undergo rapid intensification, leaping from a tropical storm to a Category 3 or 4 hurricane in 24 to 36 hours.
Hurricane Sam underwent such a process earlier in its lifetime.
"Using data collected by saildrones, we expect to improve forecast models that predict rapid intensification of hurricanes," said Greg Foltz, a NOAA scientist, in a press release.
Go deeper