Manchin digs in on reconciliation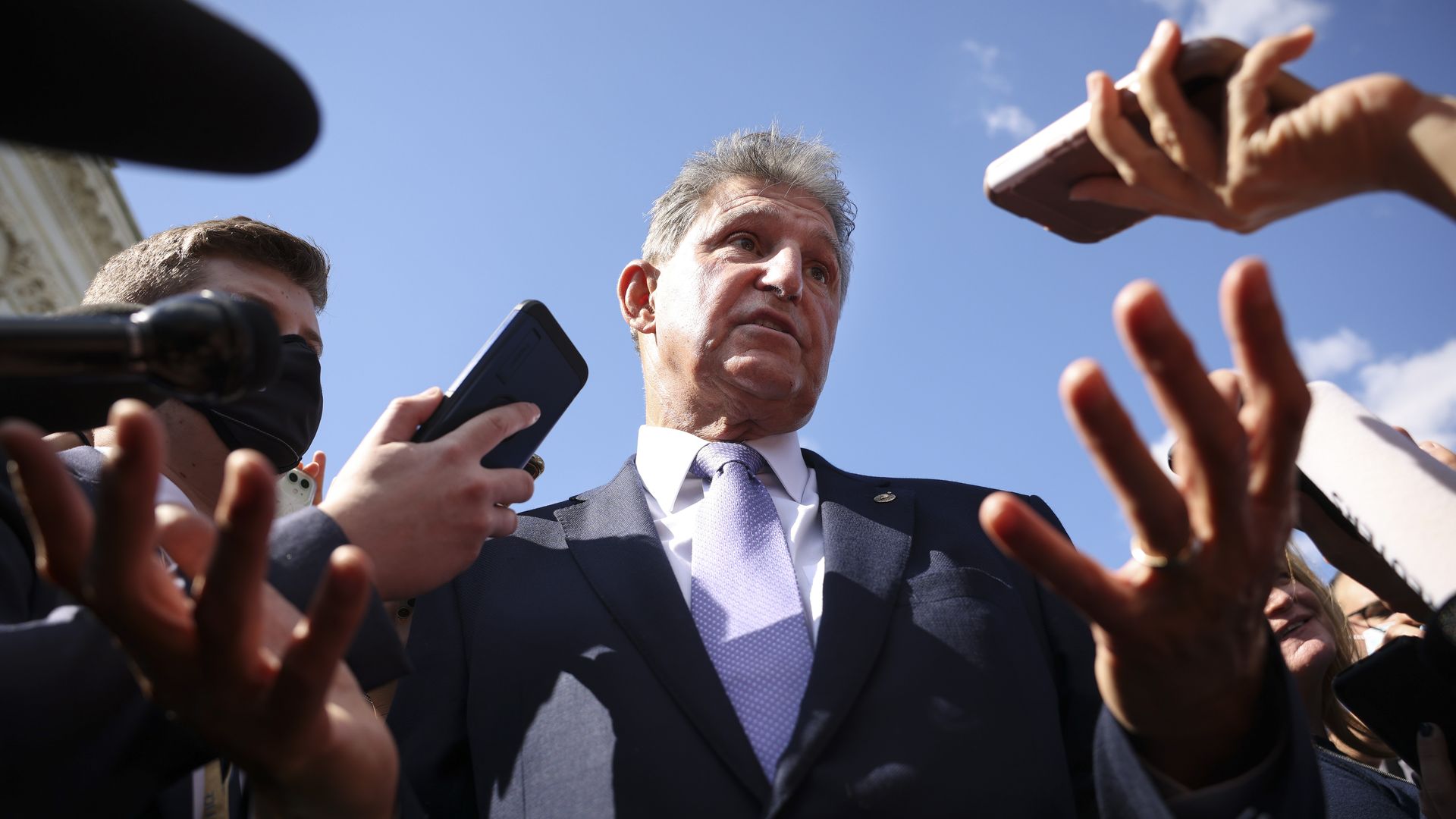 Sen. Joe Manchin (D-W.Va.) said Thursday his topline number for the reconciliation infrastructure bill remains at $1.5 trillion, much lower than the $3.5 trillion bill sought by progressives.
Why it matters: Manchin's price cap highlights his unwillingness to compromise as progressive Democrats threaten to block a companion $1.2 trillion bipartisan infrastructure due for a vote Thursday.
In a 50-50 Senate, losing Manchin's vote places many components of the President Biden's "Build Back Better" agenda — and progressive priorities like universal preschool and free community college — in danger for congressional Democrats.
Manchin said that if progressive Democrats want a higher number, they should "elect more liberals."
What they're saying: "I've been very upfront and very fair, and the bottom line is $1.5 [trillion] ... for a reconciliation bill," Manchin told reporters during a midday news conference.
He said that for any of the components left out of a $1.5 trillion package, Democrats should "take that on the campaign trail next year, and I'm sure that you'll get many more liberal progressive Democrats with what they say they want."
"I don't fault any of them who believe that they're much more progressive and much more liberal, God bless them. And all they need to do is, we have to elect more liberals," the senator said.
Manchin told reporters he shared his $1.5 trillion topline with the president last week, and that Sen. Kyrsten Sinema (D-Ariz.), another key player, also is aware of his number.
He once again took issue with a pivotal promise made by House Speaker Nancy Pelosi (D-Calif.).
She pledged that she'd bring both the bipartisan infrastructure bill and the reconciliation bill up to a vote together:
"No two bills should ever be linked together to the point where you're going to let perfect be the enemy of the good," Manchin said.
But, but, but: Progressives say they've already compromised from a much higher number — $6 trillion — to the $3.5 trillion bill.
They're afraid of helping pass the $1.2 trillion bill and then having their priorities abandoned if the $3.5 trillion bill never makes it to the president's desk.
Go deeper