LinkedIn blocks U.S. journalists' profiles in China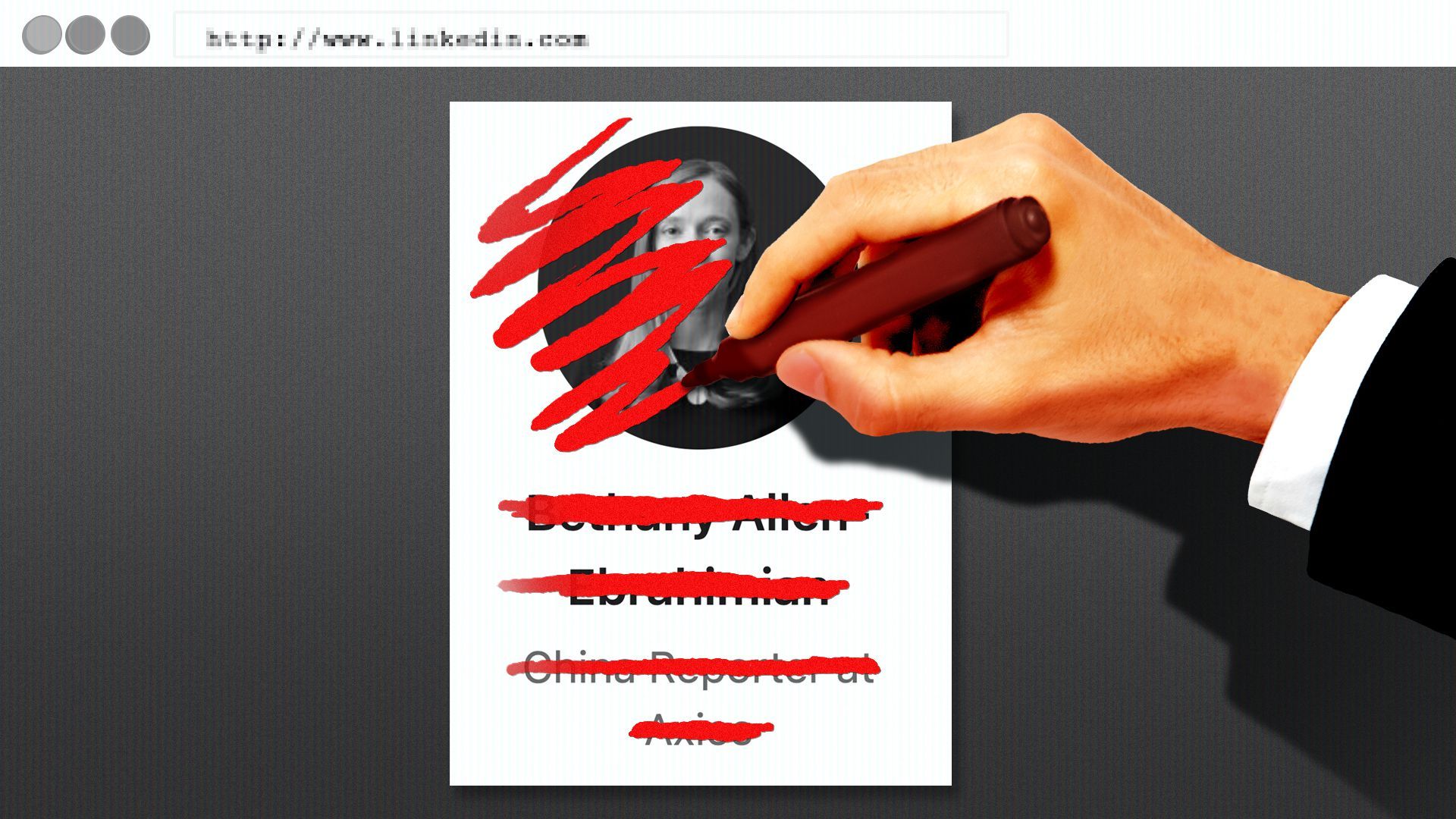 LinkedIn blocked the profiles of several U.S. journalists from the company's China-based platform this week, citing "prohibited content." My account was one of the profiles affected.
Why it matters: LinkedIn is one of the only large American social media platforms to agree to the Chinese government's demands to censor content, and is tasking its own employees with restricting what users in China can see.
"If LinkedIn's behavior is normalized, it sends a message to companies across the globe that it is business as usual to enforce Beijing's censorship demands globally," PEN America CEO Suzanne Nossel said in a statement.
"This is a flashing red light that unless big tech firms like LinkedIn — owned by Microsoft — stand up to censorship, free speech worldwide will suffer."  
Details: LinkedIn customer service sent me an email on Sept. 27 stating that, due to "prohibited content" in the summary section of my profile, the company was blocking my profile being viewable in China.
Melissa Chan, a former China correspondent who now works as a journalist in Berlin, posted on Twitter that she had received a similar email on Sept. 28.
Greg Bruno, the author of a book about China's soft-power push against Tibetans, also posted on Twitter on Sept. 28 that he had received an email from LinkedIn. It cited the "publications" section of his profile, in which the only publication listed is his book.
The LinkedIn profiles of numerous academics, researchers, government employees, and others around the world have been affected in recent months.
What they're saying: "We're a global platform that respects the laws that apply to us, including adhering to Chinese government regulations for our localized version of LinkedIn in China," LinkedIn told Axios in a statement. "For members whose profile visibility is limited within China, their profiles are still visible across the rest of the globe where LinkedIn is available."
But LinkedIn did not respond to questions about which content specifically was considered "prohibited," which Chinese law the content violated, and whether LinkedIn maintains an internal list of prohibited topics that it uses to proactively remove profiles.
Background: The Chinese government has long pushed U.S. internet companies to censor in order to remain in China's huge market, but many U.S. companies initially refused. As a result, the websites of Facebook, Twitter, YouTube, and Instagram have long been blocked in China.
But in February 2014, LinkedIn agreed to China's demands for a filtered version of its professional networking platform, and in exchange, LinkedIn became one of the few U.S. social media companies with significant operations there.
By 2019, LinkedIn had 44 million users in China, making it LinkedIn's third-largest user base, after the U.S. at 150 million users and India at 52 million.
In March 2021, China's internet regulators punished LinkedIn for failing to censor political content on its China-based platform, suspending new sign-ups for a month and requiring the company to submit a self-review to the authorities.
Three months later, LinkedIn began aggressively censoring the LinkedIn profiles of prominent academics and journalists outside of China whose profiles mentioned politically sensitive information, including the Tiananmen Square massacre.
What to watch: Members of Congress have already begun to demand more transparency from LinkedIn. On Sept. 24, Rep. Jim Banks sent a letter to the company, criticizing the blocks and asking if LinkedIn had ever handed over American user data to the Chinese government.
Go deeper: Zoom walks U.S.-China tightrope
Go deeper