Baby food brands slammed by lawmakers over toxic heavy metals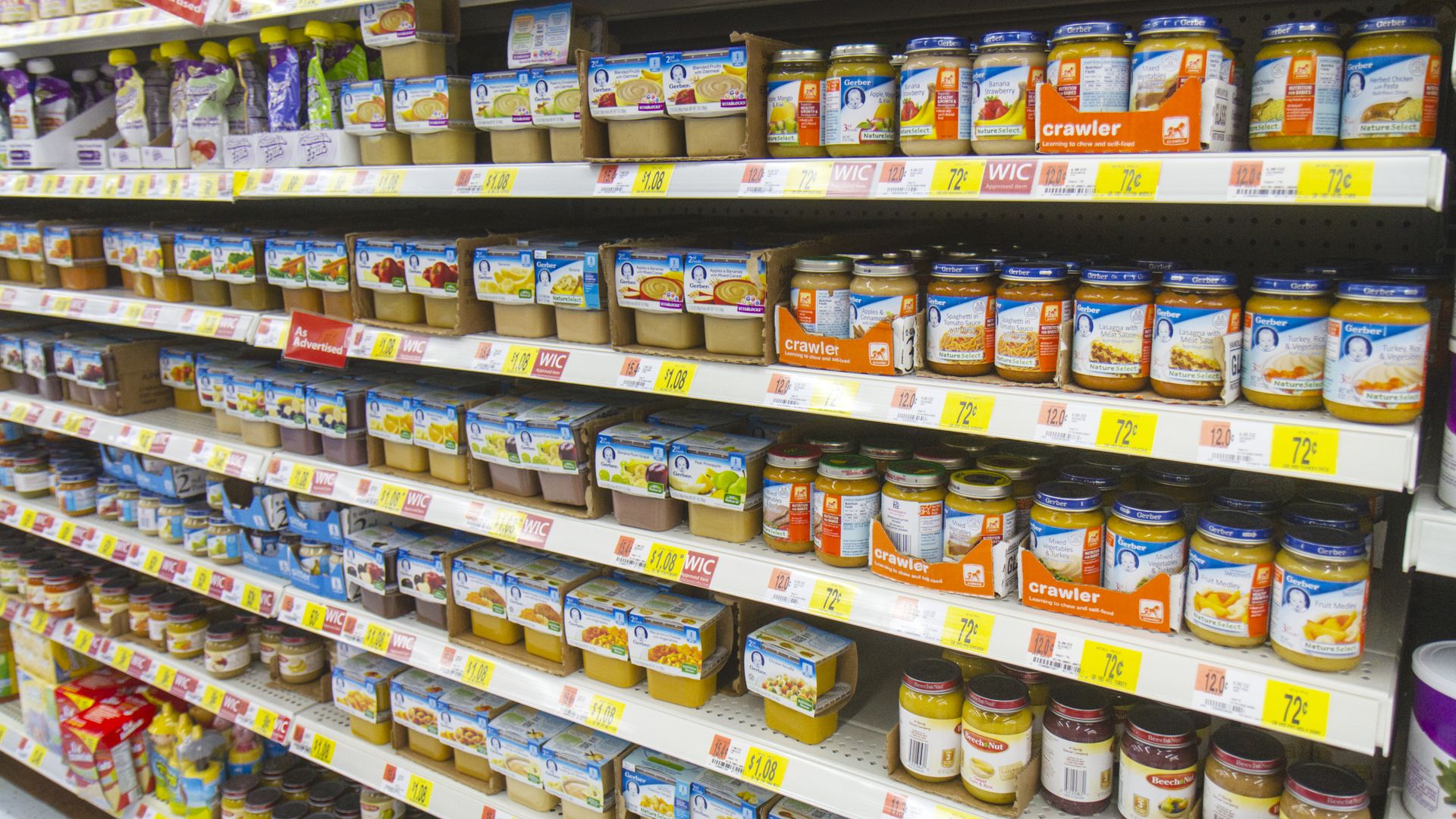 Manufacturers "knowingly" sold baby food that contained heavy metals, including arsenic, lead, cadmium and mercury, according to a House Oversight subcommittee report published Wednesday.
The big picture: These metals are in the World Health Organization's top 10 chemicals of concern for infants and children, and can affect brain development, according to Harvard Health Publishing. The companies cited either failed to recall contaminated food or were lax in testing, the report found.
Yes, but: Several baby food manufacturers disagreed with the subcommittee's latest assessment, though they said they're committed to working closely with the FDA to address the issue, according to CNN.
Of note: Rep. Raja Krishnamoorthi (D-Ill.), the chair of the Subcommittee on Economic and Consumer Policy, called for the food industry to work with the FDA on regulations.
"Today's report reveals that companies not only under-report the high levels of toxic content in their baby food, but also knowingly keep toxic products on the market," Krishnamoorthi said.
What they found: The report found that Gerber and Beech-Nut were among the companies that failed to properly test their products and recall contaminated baby food.
Gerber's rice cereals had a higher than average amount of inorganic arsenic than Beech-Nut, according to the report. But while Beech-Nut recalled some products, the panel said Gerber took "no such actions to protect consumers."
Plum Organics baby foods were allegedly tainted with high levels of toxic heavy metals, with all Super Puff rice-based products tested from 2017 to 2019 containing more than 200 parts per billion (ppb) arsenic, the lawmakers found.
What they're saying: Beech-Nut said in a statement to Axios that the report's assertion that its recall was too narrow was incorrect.
The company said it withdrew all single grain rice products and also stopped selling baby products with rice because of concern "about being able to consistently obtain rice flour well below the FDA guidance level."
A Gerber spokesperson said that the Subcommittee's report "notes proposed limits on specific heavy metals, those are based on proposed standards from the Baby Food Safety Act, which are not current law or regulation."
The spokesperson added that Gerber was "committed to reducing the levels of heavy metals in our baby foods to the lowest levels possible."
Editor's note: This post was updated to add comments from Beech-Nut.
Go deeper