Virtual reality isn't all fun and games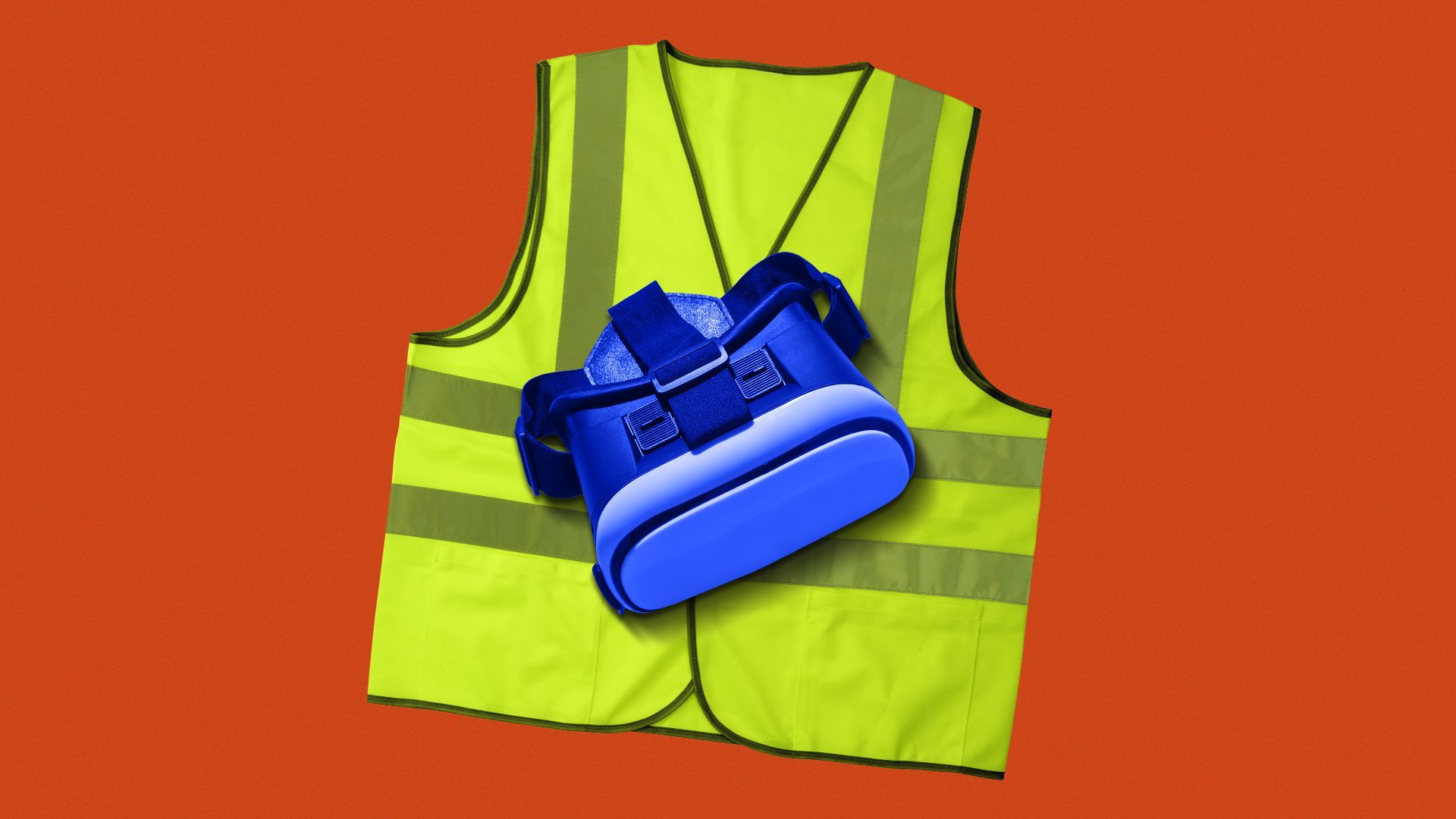 Tech companies dream of creating a virtual reality metaverse, but the current best use of VR is something far more quotidian: job training.
The big picture: VR offers everyone from NFL quarterbacks to Walmart sales associates a relatively inexpensive, scalable way to practice their job skills within a programmable virtual space.
Driving the news: On Monday Facebook announced it would invest $50 million — or roughly four hours of revenue — in global research and program partners to build out its planned virtual metaverse in what it calls a "responsible" way.
Yes, but: For the metaverse to become a reality, VR technology would need to improve significantly, even assuming users embrace a virtual world created by a company that appears to be rapidly losing the trust of the public.
What's happening: Even as VR has lagged on wider uses, workplace training is emerging as an immediate business case for the technology.
What they're saying: "Facebook and many other companies are doing really cool things with social VR and the gaming metaverse," says Derek Belch, CEO of the industry-leading VR training company Strivr. "But I personally feel that for the next five years, training will continue to be the low-hanging fruit."
How it works: Belch began working on what would become Strivr while serving as a graduate assistant for Stanford University's football team in 2013, which allowed him to see how VR could help athletes practice their sport without needing their teammates or putting themselves at risk of injury.
"VR is visualization practice on steroids."
— Derek Belch, Strivr
Details: A call from Walmart in 2016 led Strivr to expand its VR offerings beyond sports, and today there are 17,000 VR headsets in Walmart stores for employee training.
By the numbers: VR training can help workers master both hard and soft skills better and faster — a 2020 PwC study found VR learners are four times more focused than e-learning students and 275% more confident in applying skills after training.
The catch: While cheaper and faster, VR training programs lack the flexibility that can come with live instruction. And as many as 40% of users experience some degree of motion sickness in VR and AR environments, with women reporting worse side effects.
The bottom line: Virtual reality is still awaiting the iPhone moment that will drive broad consumer adoption — and perhaps one day lead to the metaverse — but in the meantime, think of VR training as a perfectly practical Blackberry experience.
Go deeper