NCAA to use "March Madness" brand for women's basketball tournament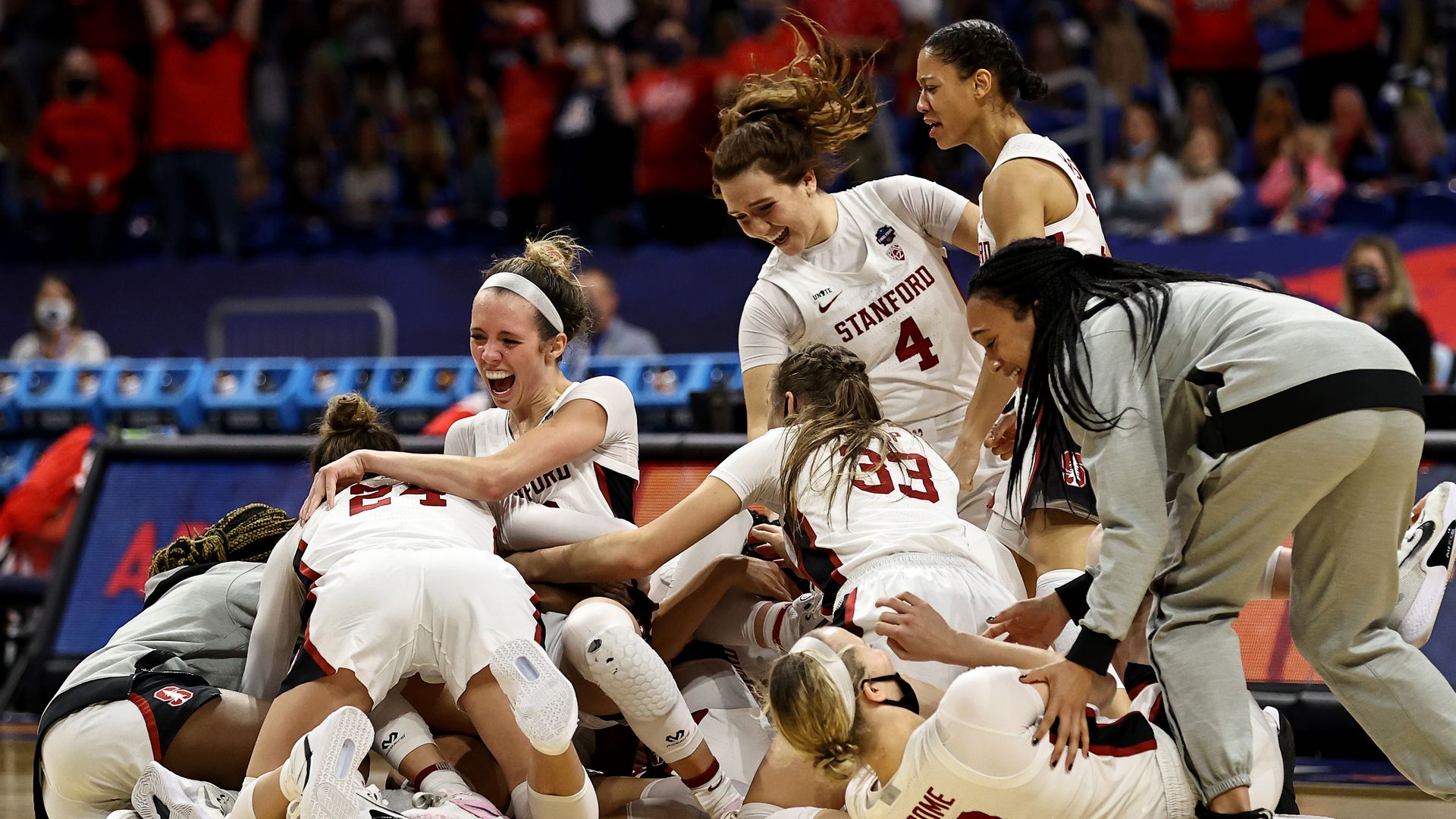 The NCAA Division I women's basketball tournament in 2022 will use the "March Madness" branding that has long been used only for the men's tournament, the NCAA announced Wednesday.
Why it matters: The announcement comes after gender inequities at the men's and women's NCAA basketball tournaments in 2021 sparked national outrage.
The big picture: Women's teams were given a fraction of the resources as men's teams at the 2021 tournament, including unequal access to workout equipment.
The branding change is one of many recommendations from an external review of gender equity at NCAA championships, which was sparked by the widespread criticism of the inequities.
Driving the news: Details of how the March Madness brand will be incorporated into the women's tournament are still being worked out, the NCAA said.
The NCAA has historically used "March Madness" branding to promote the men's tournament, and the logo has been displayed on every men's court, while the women have played on courts with inconsistent logos, the Wall Street Journal reports.
The branding change will also allow more promotion of women's events. Up until this point, March Madness social media channels, which have millions of followers, have featured only men's basketball, per the Journal.
What they're saying: "The brand recognition that March Madness carries will broaden marketing opportunities as we continue that work to elevate the women's basketball championship," said Lynn Holzman, vice president of women's basketball.
"This is just the start when it comes to improving gender equity in the way the two Division I basketball championships are conducted," said Lisa Campos, chair of the NCAA Division I Women's Basketball Oversight Committee and director of athletics at the University of Texas at San Antonio.
"Adding the March Madness trademark to the Division I Women's Basketball Championship will enhance the development and public perception of the sport, and the oversight committee looks forward to its work to address other recommendations through the governance structure to continue those efforts." 
Go deeper: NCAA blames amenities at women's March Madness on "limited space"
Go deeper