To cut emissions, FAA moves to end long taxi times at 27 airports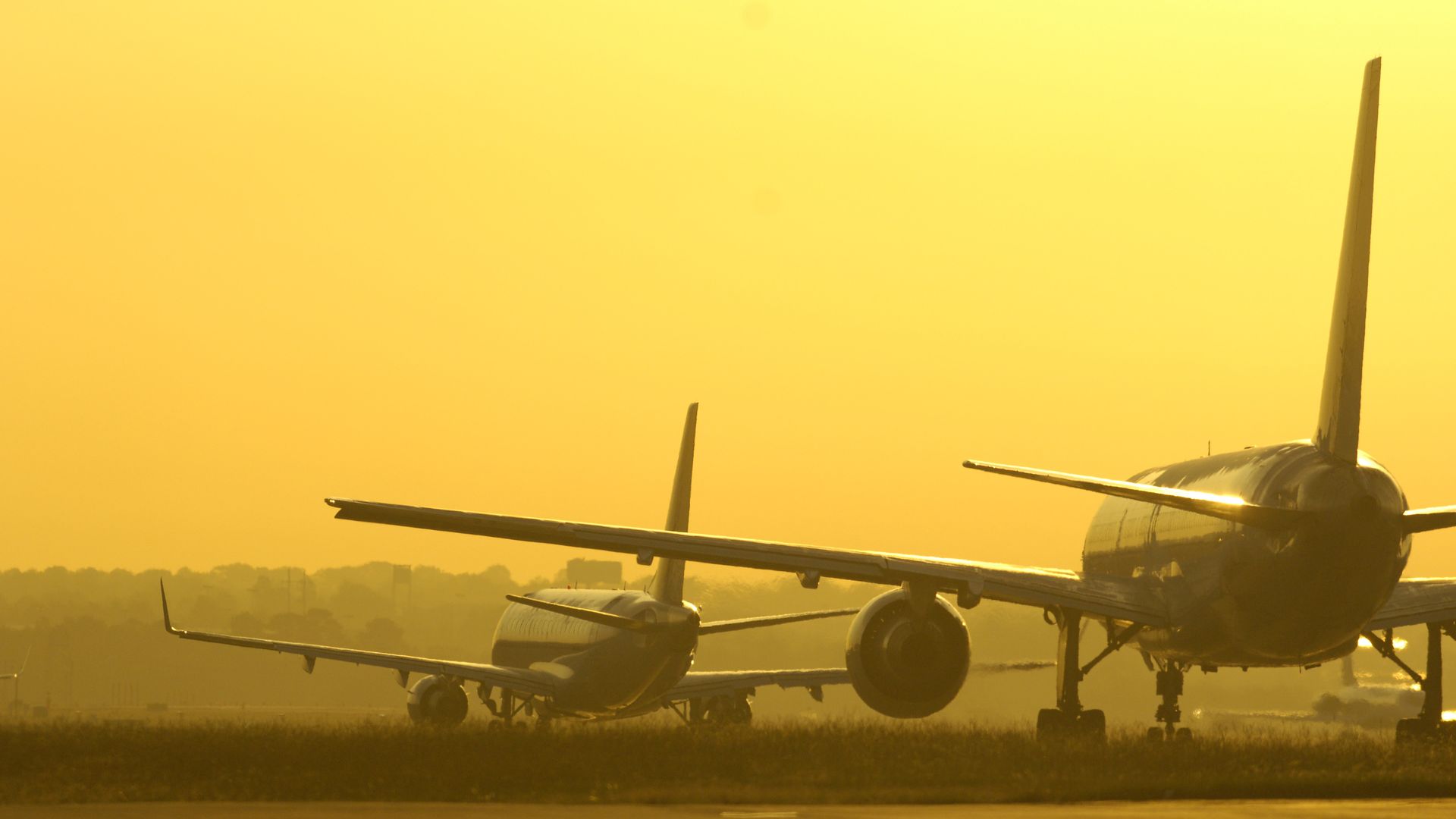 The Federal Aviation Administration will implement a software program at 27 domestic airports that is designed to minimize airport taxi delays and all but eliminate the long lines of aircraft that can build up ahead of takeoff, the agency announced jointly with NASA on Tuesday.
Driving the news: The software calculates gate pushback times at busy airports ranging from Washington National Airport to Phoenix, and is designed to make airports more efficient while also minimizing delays. Rollout will begin in early 2022 and take several years, the FAA said.
A four-year test phase of the software conducted at Charlotte Douglas International Airport, which was conducted jointly with NASA, saved more than 275,000 gallons of fuel annually, or the equivalent to the typical fuel burn of a Boeing 737 flying 185 flights between New York and Chicago.
It also cut delays by 916 hours, equivalent to shaving 15 minutes of waiting time on a taxiway for more than 3,600 departing flights.
The new program will be part of the FAA's Terminal Flight Data Manager flight merging system that seeks to allow aircraft to both climb and descend at more constant rates, rather than the current stair-climb system used in many parts of the country.
What they're saying: "The future of flight must be more sustainable and environmentally friendly," said FAA Administrator Steve Dickson in a press release.
"If you do the math, the numbers get very big, very fast, and in a good way across these 27 airports, we estimate a savings of more than 7 million gallons of fuel, and the elimination of more than 75,000 tons of co2 emissions," Dickson told reporters on a press call Tuesday.
Yes, but: The program won't be implemented overnight, however, as it will be gradually rolled out to airports that also include: Atlanta, Boston, Chicago O'Hare, Dallas-Ft. Worth, Denver, Seattle, Washington Dulles and New York JFK, among others.
The big picture: The FAA is also taking other steps to make airports more efficient, including through the increased use of electric vehicles.
Go deeper