Congress must raise the debt limit by Oct. 18, Yellen warns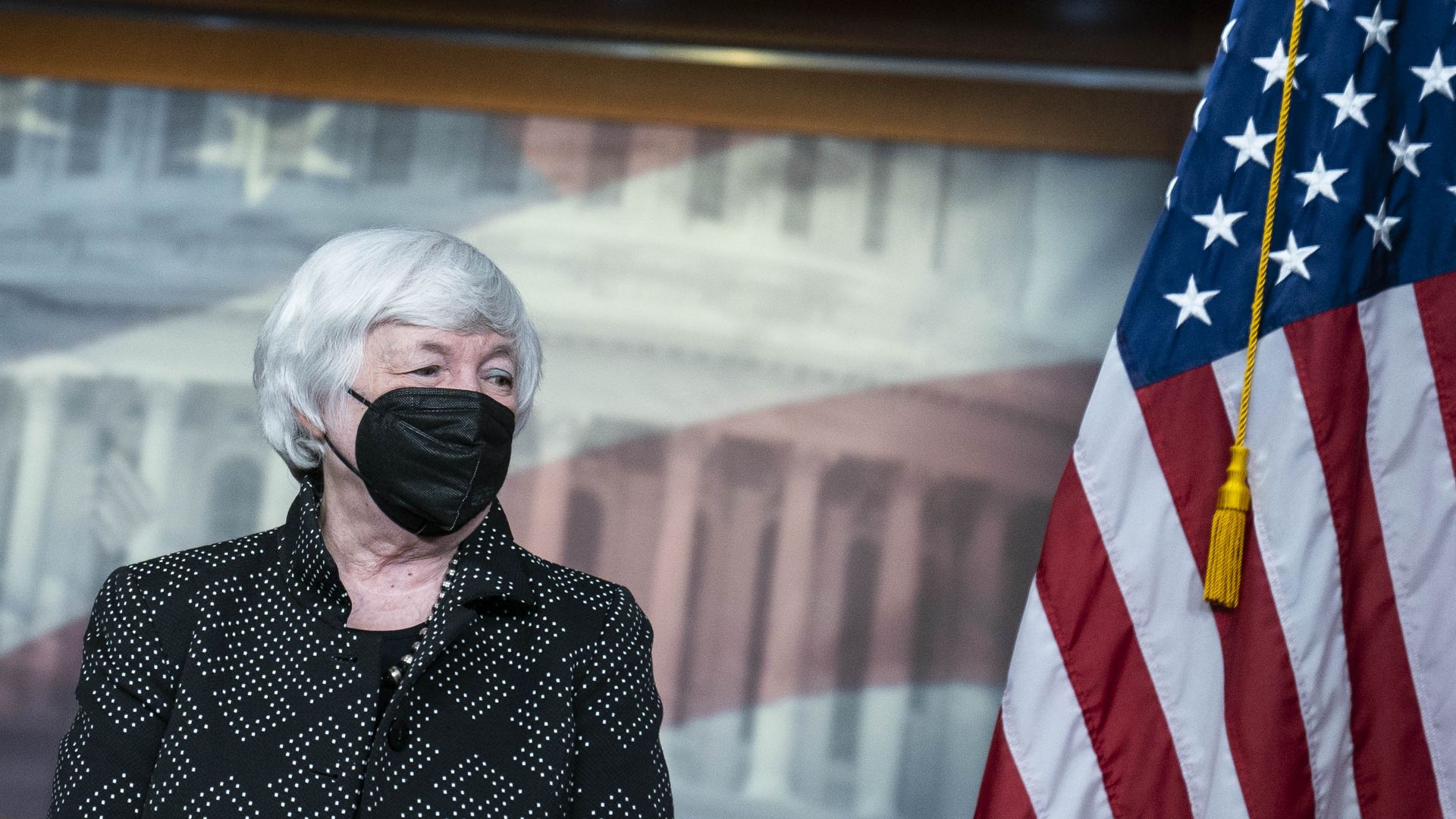 Treasury Secretary Janet Yellen told House Speaker Nancy Pelosi in a letter Tuesday that the United States will likely begin to default on its loans shortly after Oct. 18 if Congress fails to raise or suspend the debt ceiling by then.
Why it matters: The U.S. has never defaulted on its financial obligations, and Yellen has previously warned that doing so would cause irreparable damage to the U.S. economy and global financial markets.
At the same time, funding for the federal government expires on Sept. 30.
Driving the news: Senate Republicans, led by Minority Leader Mitch McConnell, blocked a House-passed bill on Monday that would have funded the U.S. government through Dec. 3 and raise the debt limit, avoiding a potential default.
McConnell has repeatedly said that Republicans will not vote for raising the debt ceiling because it will only promote more government spending.
Democrats and Republicans worked together to raise the borrowing limit three times throughout the Trump administration and several times in other previous administrations.
Because of Republicans' refusal to vote for a debt ceiling raise, Democrats will likely have to include the increase in their reconciliation package, which can be passed without Republican votes, Axios' Alayna Treene reports.
Yellen in the past opposed a debt ceiling increase through a budget reconciliation package, arguing that the raise should be bipartisan and passed through regular order.
What they're saying: "We now estimate that Treasury is likely to exhaust its extraordinary measures if Congress has not acted to raise or suspend the debt limit by October 18. At that point, we expect Treasury would be left with very limited resources that would be depleted quickly," Yellen said in her letter to Pelosi.
"It is uncertain whether we could continue to meet all the nation's commitments after that date. While this is our best estimate, the federal government's cash flows are subject to unavoidable variability," she added.
"As a result, it is important to remember that estimates regarding how long our remaining extraordinary measures and cash may last can unpredictably shift forward or backward. This uncertainty underscores the critical importance of not waiting to raise or suspend the debt limit."
Our thought bubble via Axios' Hans Nichols: Oct. 18 is a remarkably precise date and pulls the doomsday forward — by at least a week — from Treasury estimates earlier this month.
Yellen was always bound to get more certainty on when Treasury would run out of money the closer that date arrived and now she's all but screaming that it will come in just 20 days. 
The bottom line: "The full faith and credit of the United States should not be put at risk," Yellen wrote.
Go deeper: The Democrats' debt dilemma
Go deeper