Youngkin clarifies he would have certified 2020 election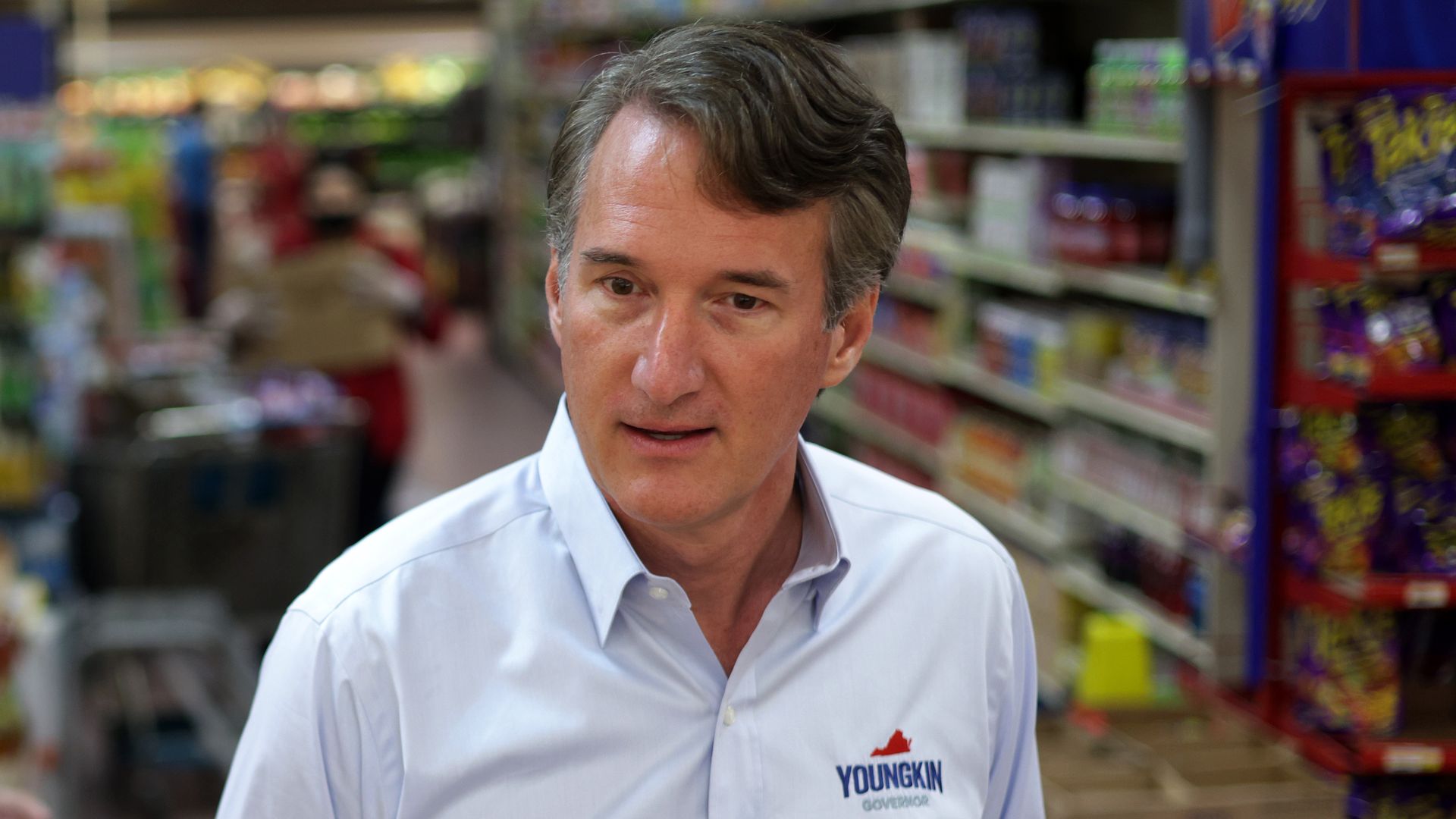 Virginia gubernatorial candidate Glenn Youngkin clarified Monday that he would have voted to certify the 2020 presidential election after Democrats pounced on his lack of a clear answer during an Axios interview.
Why it matters: Democratic candidate Terry McAuliffe has branded Youngkin a clone of former President Donald Trump, who has consistently challenged his election loss to Joe Biden. Youngkin told WTKR-TV on Monday, "Yeah, absolutely I would have" certified the results were he in Congress.
The race between Youngkin and McAuliffe, a former Virginia governor, is tightening, and an off-year gubernatorial election like the race in Virginia — an increasingly blue swing state — is widely seen as a bellwether.
Susan Swecker, the Virginia Democratic party chair, held a press call Monday afternoon to rally opposition to Youngkin over the comment, calling it "downright disqualifying."
The Youngkin campaign didn't immediately respond to a request from Axios about whether he wanted to clarify his answer, but when asked Monday whether he would have voted to certify, he told WTKR-TV, "Yeah, absolutely."
Between the lines: Elaborating to the Hampton Roads television station, Youngkin said: "It's a silly thing. I mean, I've said all along that Joe Biden was legitimately elected our president. In fact, I've said that and my opponent has never said that George W. Bush was legitimately elected president."
Youngkin added: "In fact, he said that election [in 2000] was 'stolen.' I've consistently said it. I've said it from the beginning, and, on top of that, I would have signed it."
What they're saying: Below is the verbatim exchange between Youngkin and Axios last Friday in Harrisonburg, Virginia.
Axios: If you were in Congress on January 6, would you have voted to certify the election?
Glenn Youngkin: So one of the great things is, I'm not in Congress. And, you know some people have been -- just to back up a little bit, when I stepped out of Carlyle and I made the announcement that I was retiring from Carlyle and I really was going to move into public service. I had a lot of people call me and say run for Senate, run for Congress, and I said, "No, I'm an executive. I'm not a legislator. I'm an executive, and I believe that my skill set -- and really my calling -- is towards an executive role, and I'm going to run for governor." And that has been real defining, for me it's purposeful.
With regard to January 6, there is no room for violence in America. None. Absolutely not. And therefore, I think there's just no room for it. We must condemn it every day of the week.
Just like I don't blame Kamala Harris for the fact that somebody who she helped to get out on parole from the riots after the George Floyd incident then turned around and murdered somebody, I don't blame her for that. And I don't blame Bernie Sanders for the fact that a guy showed up at a baseball field and tried to shoot and kill a whole bunch of Republican congressmen, I think there's no place for violence. None.
Axios: But do you believe that Biden won the election legitimately?
Glenn Youngkin: I do, I do. And I've been clear about that. The way he's led over the course of the last, particularly four or five months, I wish he wasn't our president. He really has demonstrated just an abject failure in leadership.
And, you know, I think that one of the things we all recognize is, when you're in a position to make -- to make decisions, you're required to make decisions – we've got to step back and, and it's time for us to lead. And he, you know, what he's continued to do is demonstrate that he's not a good leader.
This is what I worry about with Terry McAuliffe. Terry is cut from that exact same cloth. That's Terry McAuliffe, he's a politician. He's a 43-year political operative. He says whatever he thinks he needs to say, in order to get people to vote for him.
Here's a guy, Terry McAuliffe, who literally the entire time during the nominating period said he was going to reform qualified immunity. He's taken endorsements from organizations that want to defund police-enclosed prisons, they were out door-knocking for him two days ago, the New Virginia Majority. He's been vocal about it. Then he saw that I'm winning all the law enforcement endorsements because I'm standing up for law enforcement because we have, we have to invest in law enforcement so that we can, we can curtail this murder problem we have in Virginia right now. And what does he do? He stands up in front of law enforcers, "Well, maybe I'll support qualified immunity." This is, this is what politicians do. They don't lead, and that's what we've seen from Joe Biden.
Editor's note: This story has been updated throughout with Youngkin's comments to WTKR-TV.
Go deeper