Death of Justice could mean more conservative Tennessee Supreme Court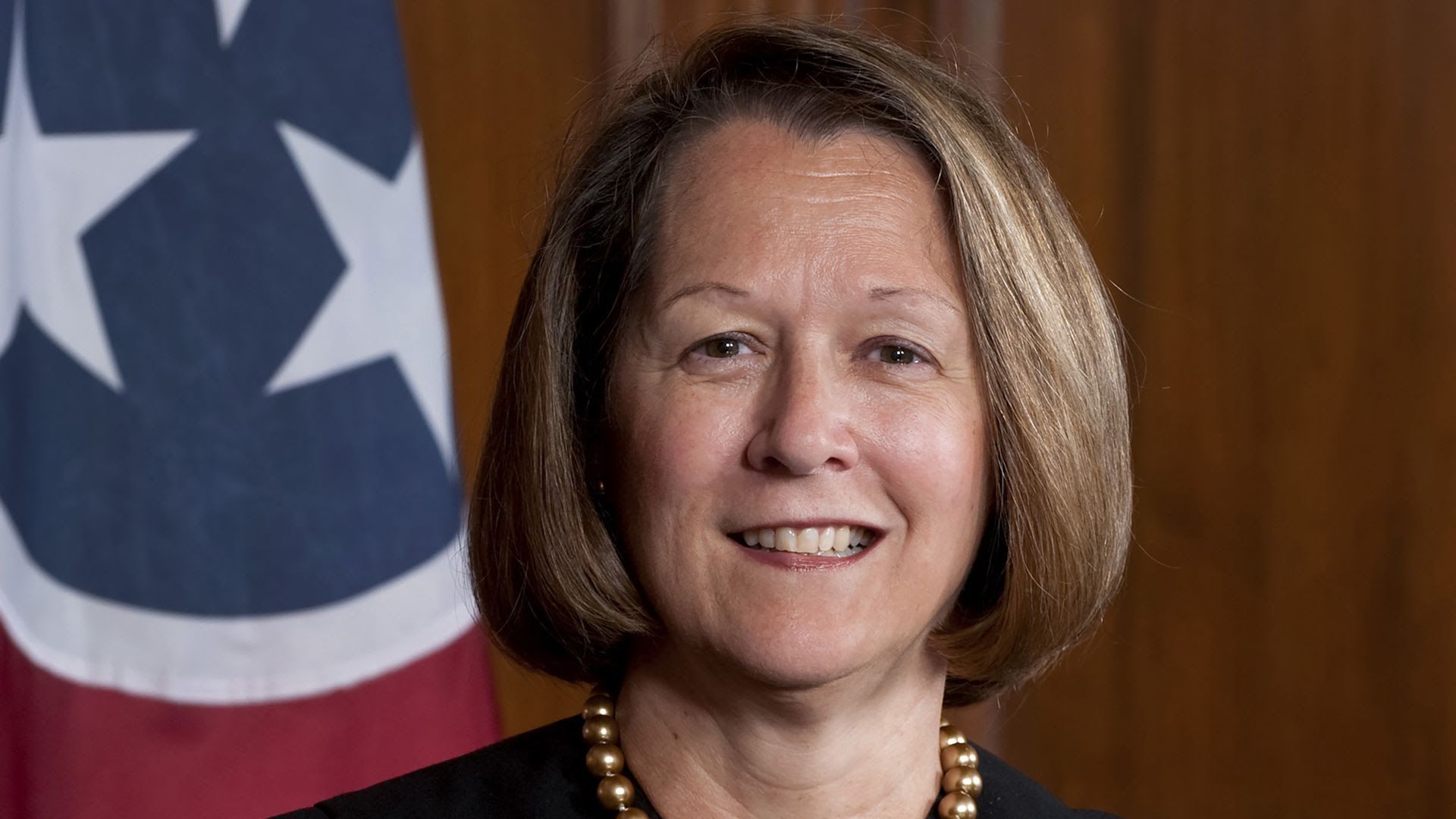 Tennessee Supreme Court Justice Cornelia Clark, a trailblazer who sat on the high court for 16 years, died last week.
Clark was the second woman to serve as Chief Justice of the state Supreme Court. She earned a reputation as an inquisitive and passionate jurist with a zest for the law.
She was also the first woman to serve as a judge in a rural Tennessee county.
What they're saying: "Connie Clark was a role model to women, girls, and all people in Nashville and throughout Tennessee," the YWCA of Middle Tennessee said.
Former Gov. Phil Bredesen, who put Clark on the court in 2005, told The Tennessean that "her reputation for fairness and grace offers a model for anyone seeking to serve the public."
Clark will lie in state in the Tennessee Capitol Wednesday from 10am to 2pm.
The big picture: Gov. Bill Lee is now tasked with appointing a replacement for Justice Clark, which creates the possibility for Tennessee's highest court to shift further to the right.
What it means: The Supreme Court was composed of two Democrat-appointed justices (Justice Clark and Justice Sharon Lee) and three appointed by Republicans ( Justice Jeffrey Bivins, Justice Holly Kirby, and Chief Justice Roger Page).
Hanging in the balance is a lawsuit from Metro challenging Gov. Lee's education voucher law, which was struck down by a lower court and upheld on appeal. The Supreme Court heard oral arguments earlier this year.
What they're saying: Prominent Nashville attorney Charles Robert Bone, a Democrat, offered two possible appointees currently employed by the Lee administration: Brandon Gibson, chief operating officer for the governor's office, and Lang Wiseman, deputy to the governor and chief counsel.
"With this being Gov. Lee's first nomination to the Supreme Court and moving the court to a 4-1 Republican majority, it will be interesting to see the approach that the administration takes," Bone told Axios.
"The governor clearly has at least two potential justices within his office – both of which would be highly qualified and neither viewed as overtly partisan."
Context: The political composition of the Supreme Court and the Court of Appeals has been the subject of intense interest by Tennessee Republicans.
In 2014, then-Lt. Gov. Ron Ramsey ran a campaign to defeat three Supreme Court justices in their retention elections. Ramsey failed and all three Democrats were retained by voters.
What's next: The Supreme Court will meet in the coming days to decide how to handle pending cases that were heard while Justice Clark was on the bench.
In a statement to Axios, the court said it would "determine what action, if any, is necessary to take as a result of the vacancy Justice Clark's passing leaves on the Court."
Editor's note: An earlier version of this story misidentified Associate Justice Jeffrey Bivins as the chief justice of the Supreme Court. Roger Page became chief justice on Sept. 1, succeeding Bivins. That version also misidentified Cornelia Clark as the second female justice on the state Supreme Court, not the second woman to serve as Chief Justice of the state Supreme Court.
Go deeper