This week is crunch time for Biden's climate agenda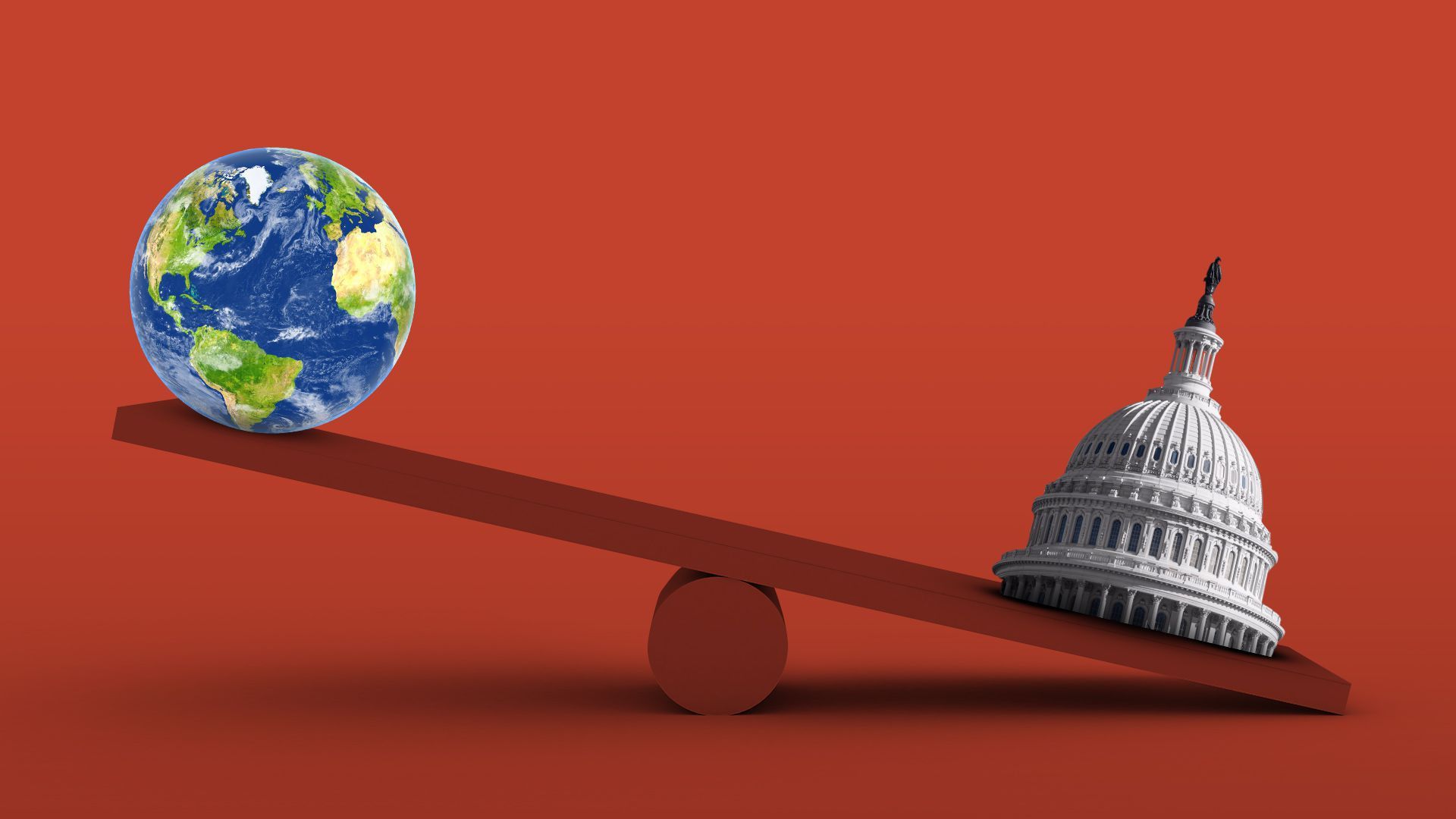 This week is critical to determining the fate of President Biden's climate agenda.
Driving the news: House Speaker Nancy Pelosi last night pledged a vote on bipartisan infrastructure legislation Thursday, rather than today as initially hoped.
Democrats and the White House are struggling to corral votes for that bill while negotiating a far larger package of social and clean energy spending they hope to move on an uncertain party-line vote.
The big picture: The bipartisan plan has significant energy and climate provisions in its own right, such as tens of billions of dollars in new transmission and grid-related investments, and funding for carbon removal and hydrogen projects.
But it's tethered to the Democrats-only plan that's very much in flux. House Progressives, before voting for the bipartisan plan, want assurances it moves largely in tandem with much larger investments.
Democrats' bid to move the larger plan collapses with any Senate defections and more than a few House Democrats opposing. But its size and scope are still being negotiated even as the $3.5 trillion price tag seems certain to fall a lot.
Why it matters: The drama this week has large real-world stakes. A lot of the provisions needed to make good on President Biden's steep emissions-cutting pledge are in the Democratic plan, which if approved would be the largest climate legislation in U.S. history.
Failure or delay would likely hinder U.S. officials' ability to push other nations to act more aggressively at the key United Nations climate summit that begins in about five weeks.
Zoom in: The House version of the Democratic plan includes $273 billion worth of clean energy and efficiency-related tax credits, including a huge expansion of electric vehicle purchase incentives, and long-term renewable power credits.
A separate and key provision is a new $150 billion program of financial carrots and sticks for power companies to speed up the deployment of zero-carbon electricity.
The bipartisan bill already passed the Senate, but their version of the bigger Democrats-only bill has yet to surface.
The intrigue: The Democrats' struggle to get 50 Senate votes for the bigger plan has apparently exhumed carbon tax proposals that are absent from the House Democrats' plan.
The New York Times reports that Arizona Sen. Kyrsten Sinema's opposition to higher corporate and individual taxes means lawmakers are looking elsewhere for revenue.
It reports: "Senator Ron Wyden of Oregon, the chairman of the Senate Finance Committee, confirmed that the Senate majority leader had asked him to craft legislation that would put a price on carbon emissions but to ensure that the policy would respect Mr. Biden's pledge not to raise taxes on families earning less than $400,000."
Quick take: Carbon taxes have very little political traction, even among Democrats, but I guess stranger things have happened.
Go deeper