Biden administration takes steps to "fortify" DACA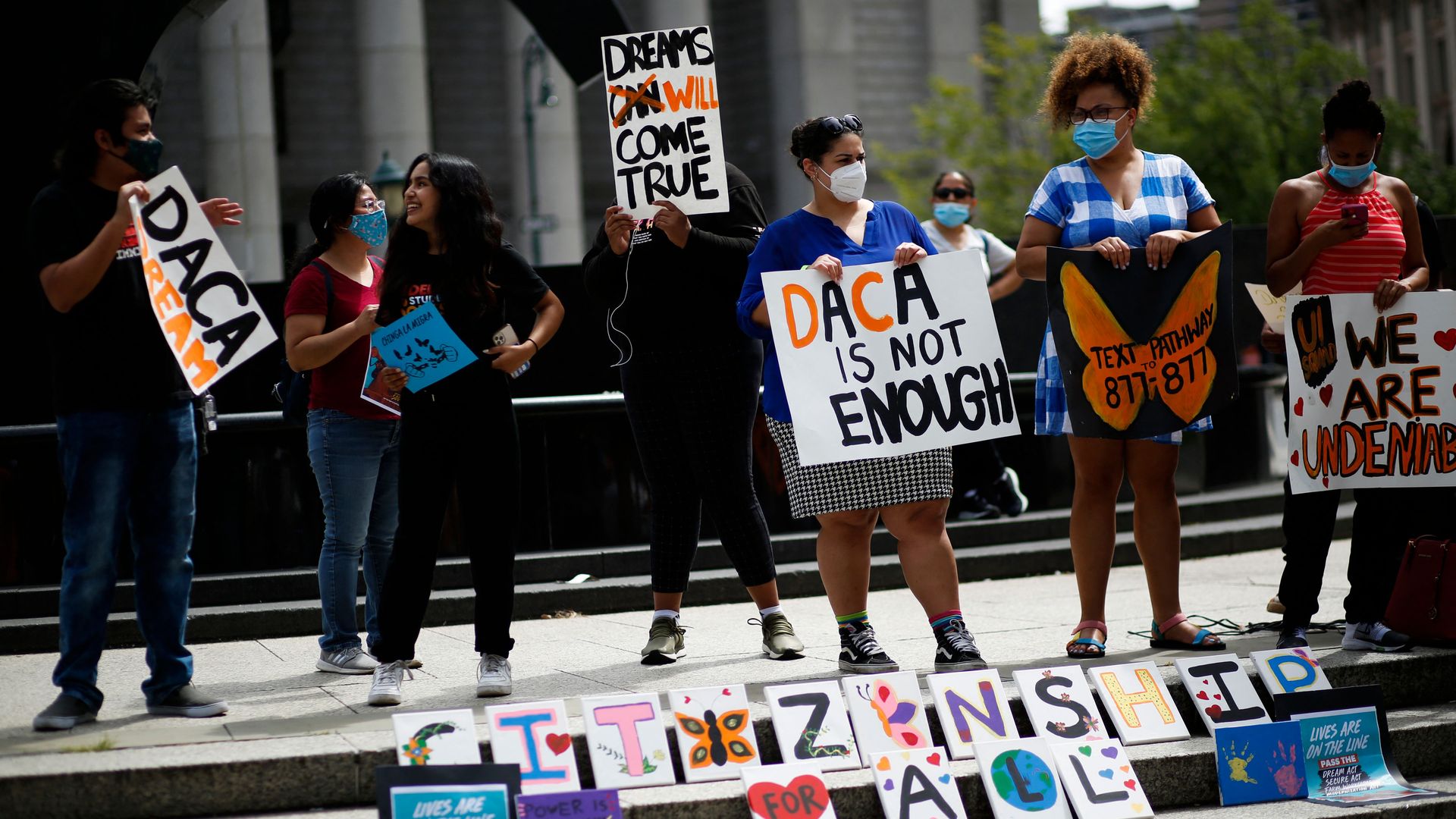 The Biden administration on Monday took additional steps to save the Deferred Action for Childhood Arrivals program despite ongoing legal challenges to the program.
Driving the news: The Department of Homeland Security unveiled a proposed rule designed "to preserve and fortify" DACA, which offers protection from deportation for undocumented immigrants brought to the U.S. as children. The rule is set to formally publish on Tuesday and would give the public two months to submit comments in favor of or against the Obama-era policy.
Details: "This proposed rule embraces the consistent judgment that has been maintained by the Department — and by three presidential administrations since the policy first was announced — that DACA recipients should not be a priority for removal," DHS officials said.
The big picture: DACA has been subject to several legal challenges since it was first implemented in 2012.
In July, a federal judge in Texas ruled that the program was unlawful because Congress had not granted the government the authority to create the program and paused new applications.

The judge added that the program should have been enacted through federal regulation open to public comment, not through a memo from DHS, per CBS News.
The administration is appealing the ruling.

In response, President Biden called the decision "disappointing" and urged Congress to "ensure a permanent solution by granting a path to citizenship for Dreamers."
The rule was issued in spite of ongoing legal challenges, and DHS wrote in the draft rule they believe it would be "upheld in any legal challenge."
What they're saying: "The Biden-Harris Administration continues to take action to protect Dreamers and recognize their contributions to this country," DHS Secretary Alejandro Mayorkas said in a statement.
"This notice of proposed rulemaking is an important step to achieve that goal.  However, only Congress can provide permanent protection," he added.
"I support the inclusion of immigration reform in the reconciliation bill and urge Congress to act swiftly to provide Dreamers the legal status they need and deserve."
Between the lines: Lawmakers for years have attempted to pass legislation that would allow DACA recipients to live permanently in the U.S., but these efforts have failed.
Go deeper