Glenn Youngkin's play: Forever- and Never-Trumpers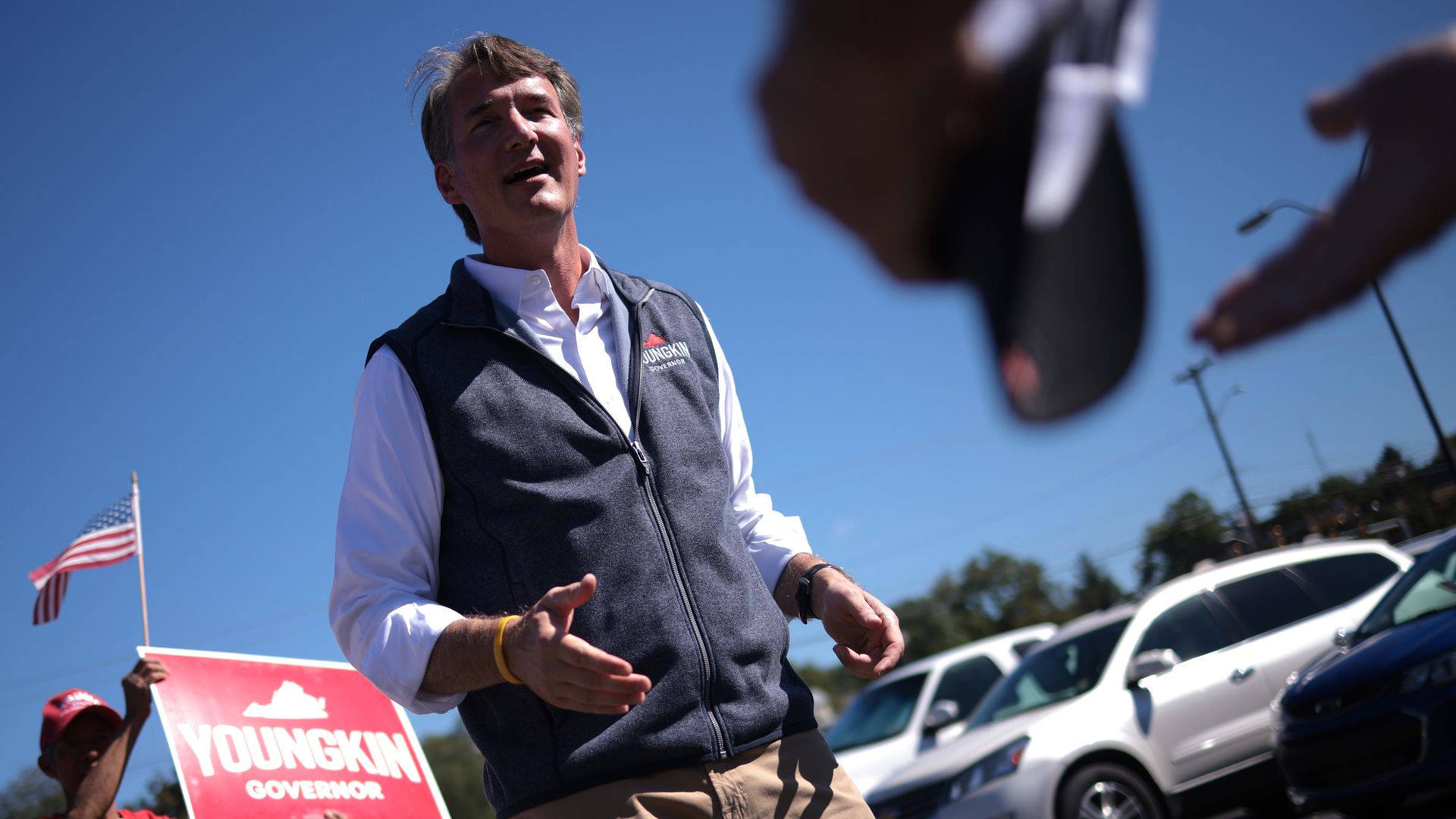 Standing on a flatbed hitched to a John Deere tractor in red Rockingham County, Virginia, Glenn Youngkin decried California liberalism and bashed his rival, Terry McAuliffe. He also encouraged early voting. Two words he avoided: Donald Trump.
Driving the news: Youngkin, the Virginia Republican gubernatorial nominee, is mounting a serious challenge to McAuliffe — a former governor and veteran of Democratic politics. Axios caught up with him on Friday in Harrisonburg, Virginia.
Trump has been turning up the heat on Youngkin to fully embrace him, arguing Republicans who try to have it both ways can't win. Youngkin isn't taking the bait.
"I brought together Forever-Trumpers and Never-Trumpers, sitting in the same audience, excited about what we're doing," Youngkin told Axios.
"President Trump knows exactly where I stand," he said. "He knows that I stand completely for Virginia."
Why it matters: Off-year gubernatorial elections in this increasingly blue swing state often are seen as a bellwether.
The contest this Nov. 2 has the potential to reflect — at least partly — where persuadable voters come down on COVID-19 mandates.
The results also may show how Trump's absence from office and the ballot — and Democratic infighting as well as President Biden's recent drop in popularity — could impact turnout next year.
The big picture: Youngkin has walked a tightrope in the hope of making himself an appealing choice for both Trump supporters and independent voters. It appears to be working.
The Cook Political Report last week shifted its categorization of the race to "toss-up" from "lean Democrat."
A recent Washington Post-Schar School poll found McAuliffe and Youngkin in a tight race, with McAuliffe at 50% to Youngkin's 47% among likely voters.
"I think we're able to make a real statement that a Republican candidate in a state like Virginia can win," Youngkin told Axios. "The issues that are on Americans' minds right now are very similar to the issues that are in Virginians' minds."
Renzo Oliveri, McAuliffe's press secretary, said in a statement: "Glenn Youngkin —who is proud to have been endorsed by Donald Trump four timea — has said Donald Trump represents why he's running for governor. His whole campaign has been predicated on Trump's election conspiracy theory and his plan to ban abortion in Virginia. Glenn is a Forever Trumper and Terry will not let Glenn do to Virginia what Trump did to our country."
Between the lines: Youngkin believes Biden beat Trump in the 2020 election legitimately. But while speaking with Axios, he wouldn't say whether he would have voted to certify the election on Jan. 6 if he were a member of Congress. He did say there's "no room for violence in America."
Youngkin, 54, is the former co-CEO of global private equity firm The Carlyle Group and a multimillionaire.
He repeatedly described himself as a "political outsider" while calling McAuliffe a "godfather" of the Democratic Party. "If Bill and Hillary had a son, it would be Terry."
The church warden told voters he begins each morning in prayer — and asked them to pray for him.
What we're watching: Trump sent negative and mixed messages about early and absentee voting in 2020 that may have hurt Republican turnout. Now, many Republicans who watched Democrats' success are actively promoting early voting — Youngkin among them.
What they're saying: Several in Youngkin's crowd in Harrisonburg said they'd voted for Trump — both in 2016 and 2020 — but saw Youngkin as independent from, rather than an extension of, the former president.
"It's nothing to do with Trump," said Tom Dolan, 63.
"I have prayed for the past year or two for God to send us a godly candidate — and then Glenn showed up," said Barbra Knaup, 70.
Editor's note: Updates with comment from McAuliffe campaign.
Go deeper