NYC schools prepare for staffing shortages ahead of vaccine mandate deadline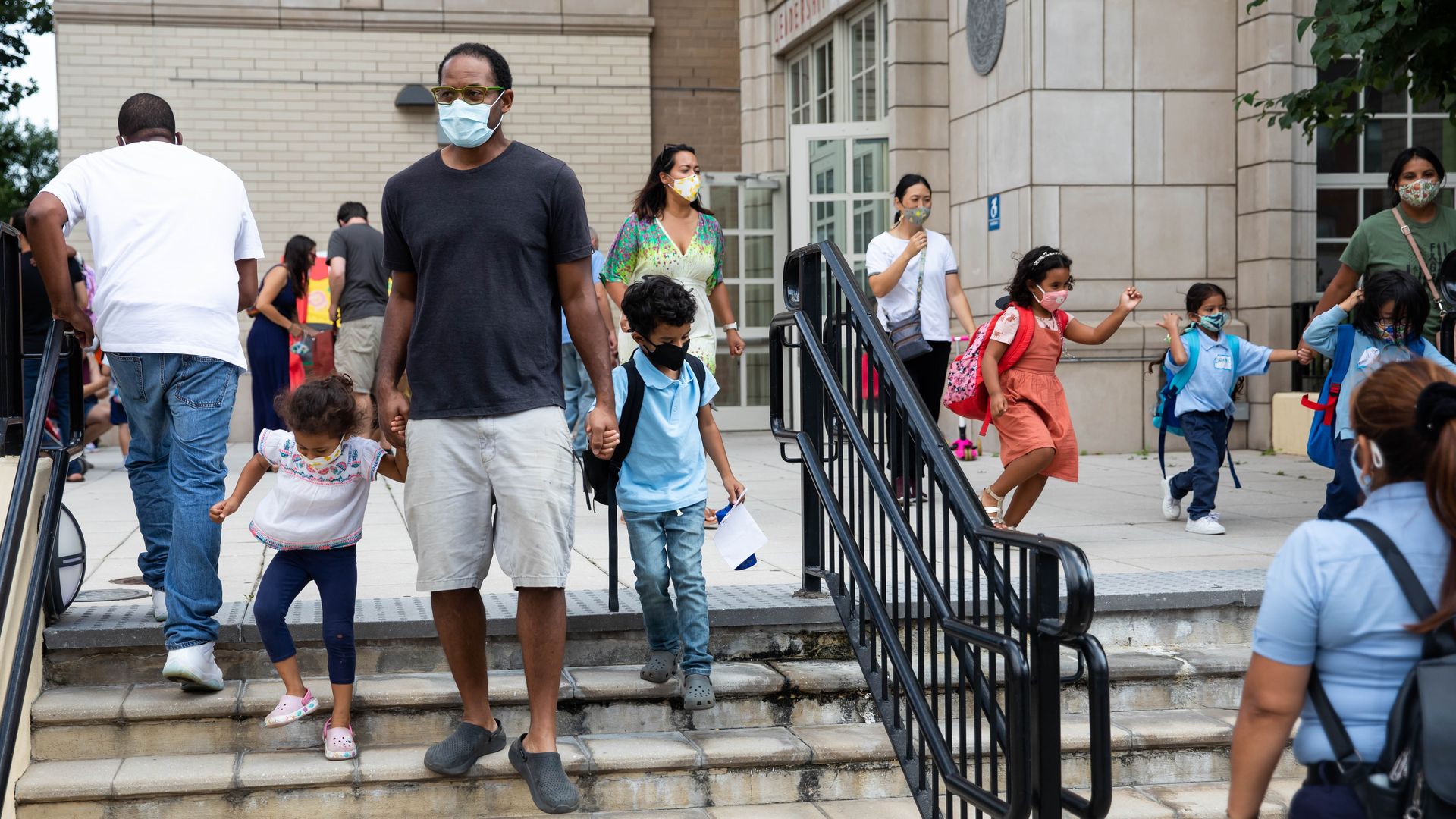 Teachers and workers at New York City schools have until Monday to receive their COVID-19 vaccine before the city's mandate takes effect, prompting concerns over staffing shortages in schools across the city, ABC 7 reports.
Why it matters: About 6,000 teachers remain unvaccinated as the mandate's deadline looms, the New York Times reports.
Driving the news: All school employees must report their vaccination status by the end of the day Monday, and those staff members who have not gotten a first dose will not be allowed to return to school the next day, per ABC 7.
Council of School Supervisors and Administrators President Mark Cannizzaro said principals were told Thursday that "the overwhelming majority of schools" could be opening with just one school safety agent.
The Union Federation of Teachers, which represents school staff, is urging the city to push back the deadline.
The education department plans to move teachers and central office staff to various positions to fill staffing vacancies, per ABC 7.
The big picture: More than 90% of teachers and principals have received at least one dose of a vaccine, according to union leaders.
Union leaders say it's likely that more educators will get their first shot or submit proof of vaccination by Monday night to avoid losing pay, per the Times.
What they're saying: "We are concerned," UFT President Michael Mulgrew said. "Very, very concerned."
"There are schools with between 30 and over 100 people on the non-compliant list right now," Cannizzaro said, per ABC 7.
New York City Mayor Bill de Blasio expressed confidence in the city's ability to replace teachers who are ineligible to work as of Monday.
"Central staff has thousands of certified educators who could step in to different roles, if needed," he said. "So they will be ready. But the reality we are seeing right now is, we think the overwhelming majority of our educators and staff are going to be there on Monday."
Go deeper: New York City mandates COVID vaccinations for public school staff
Go deeper