Law enforcement across the country work to mandate LGBTQ awareness training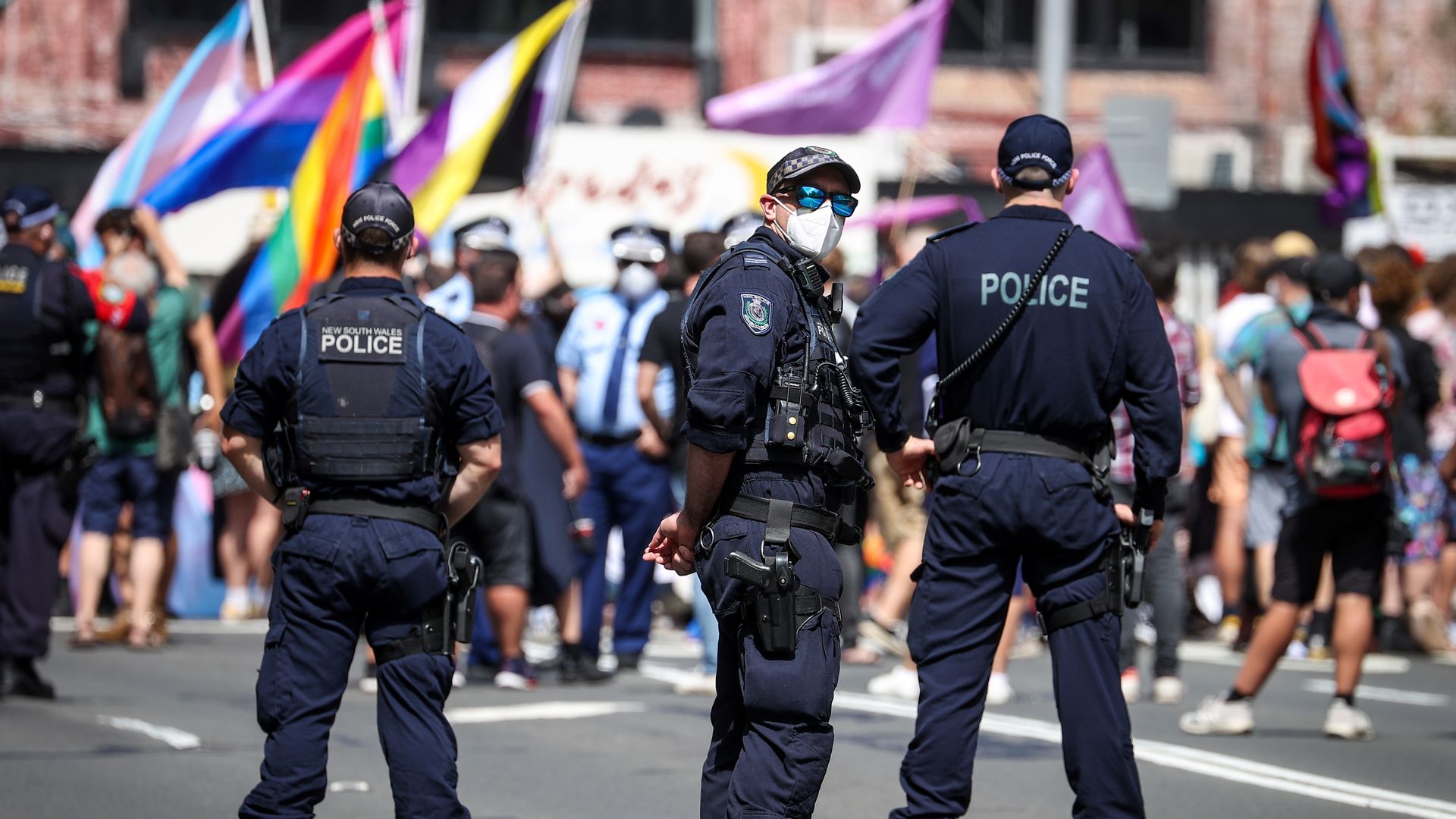 Police departments across the county are introducing LGBTQ awareness and cultural competency training to repair relationships between the community and law enforcement, NBC News reports.
Why it matters: The relationship has long been strained, and a study published by the Williams Institute in May found LGBTQ people are six times more likely than the general public to be stopped by police.
The big picture: Many police departments in the largest cities in the country have implemented some form of LGBTQ training, including New York City, Chicago, Los Angeles, Washington, D.C., Houston and Philadelphia.
The Metropolitan Police Department in D.C. has offered LGBTQ training since 2000. Officers are trained in intensive courses ranging from how to approach investigating suspected anti-LGBTQ hate crimes to using the correct pronouns for transgender people, per NBC News.
Police departments in Grand Rapids, Michigan, and Grand Forks, North Dakota, recently implemented LGBTQ-specific training, including best practices in de-escalation for LGBTQ individuals, microaggressions and the historical relationship between law enforcement and the LGBTQ community.
Other police forces are mandated by state law to require training on sexual orientation and gender identity for incoming officers.
What they're saying: Following the training, MPD Sgt. Nicole Brown said, "their approach moves to: 'I shouldn't be nervous that I'm going to say the wrong thing, because I am treating this person like a human being, how I would like to be treated.'"
"The point of these training sessions is to make sure that everybody feels welcome and that police are treating people fairly across the board," said Christin M. Johnson, lead oversight specialist at the Grand Rapids Office of Oversight and Public Accountability, per NBC News.
The other side: "Across the board systemic racism and homophobia is in play within policing, so it goes beyond training and budget," said Marti Gould Cummings, an LGBTQ activist, per NBC News. "This has been going on since the beginning of our country."
"A training will help someone learn how to understand the difference between sexual orientation and gender identity, but it's unlikely to really change someone's attitude towards an entire group of people, particularly when that attitude is probably based on centuries of what society has told them to think about someone," said Sultan Shakir, executive director of D.C.-based SMYAL, an organization that supports and empowers LGBTQ youths, per NBC News.
Go deeper