A decade after "don't ask, don't tell," cadets see progress, room for growth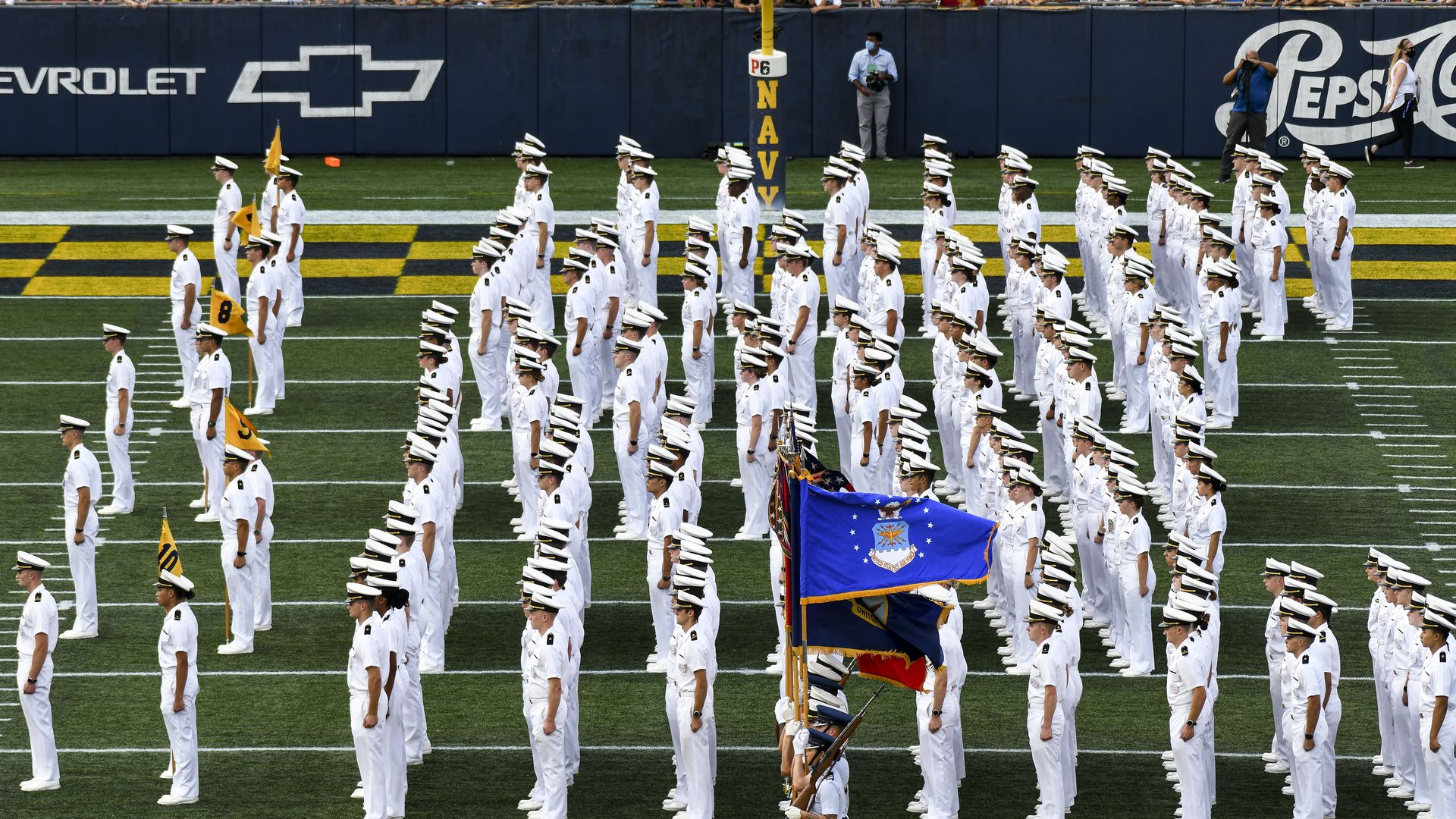 On the 10th anniversary of the end of "don't ask, don't tell," cadets say that campuses are more inclusive, but that more work needs to be done, AP reports.
The big picture: The "don't ask, don't tell" policy, which strictly prohibited gay people from serving openly, is no longer in effect, but homophobic comments still occasionally arise and many transgender students do not feel comfortable coming out, per AP.
Studies have found that 15% of LGBTQ veterans attempt suicide, compared with less than 1% for the entire veteran population, per the Washington Post.
Advocates say that there is also more work to be done to include people with HIV and nonbinary and intersex people, per AP.
Zoom out: Gays and lesbians were banned from the military until 1993, when the approval of "don't ask, don't tell" allowed them to serve only if they did not acknowledge their sexual orientation.
The military has dismissed more than 100,000 service members based on their sexual or gender identities, including 14,000 during "don't ask, don't tell," per AP.
Congress and former President Barack Obama in late 2010 repealed the law, allowing lesbian, gay and bisexual people to serve openly.
What they're saying: "I commend them," Marissa Howard, a second-year cadet at the Air Force Academy in Colorado, said of the LGBTQ service members before her. Howard came out as a lesbian a few years ago, per AP.
"I feel very included in the environment, and it's just a good place to feel like my identity is seen and I don't have to hide who I am here."
At the U.S. Naval Academy, the majority of people are accepting of all sexual orientations, said Andre Rascoe, a senior midshipman who is gay.
"In my experience, you always have the one or two people who kind of feel uncomfortable either rooming with or being on, like, a sports team with someone who's in the queer community, but they are anomalies," he said.
The bottom line: "Obviously there's a lot more room to grow," said Jennifer Dane, chief executive and director of the Modern Military Association of America, an LGBTQ advocacy group.
But, Dane, who served in the Air Force from 2010 to 2016, acknowledged the progress that came with the repeal of the policy, per AP.
"When it was repealed ... I was finally able to be my authentic self, and it was very empowering," she said.
Go deeper: Biden recognizes 10th anniversary of "don't ask, don't tell" repeal
Go deeper