What "success" means at the UN Climate Summit in Glasgow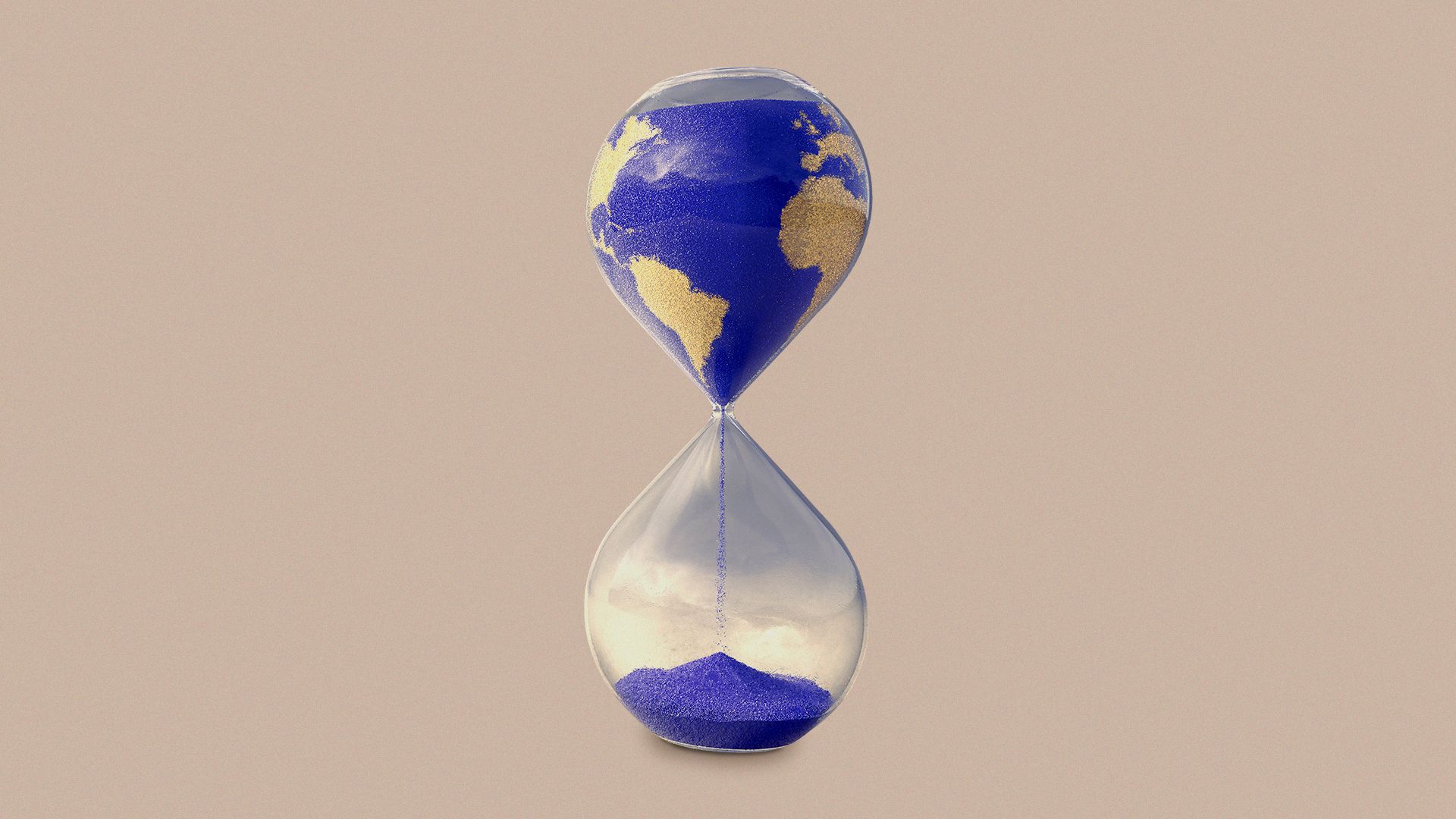 The upcoming UN climate meeting in Glasgow, scheduled to begin in six weeks, may be one of the trickiest for diplomats to navigate since such meetings began more than two decades ago.
Why it matters: The summit comes as scientists warn that the window for keeping alive the Paris Agreement's most ambitious and longshot temperature target is nearly shut, yet emissions cuts are urgently needed to prevent potentially catastrophic climate impacts.
Many countries, especially low-lying island nations, view this summit as their best chance of survival as ice sheets melt and sea levels rise. For them, failure is not an option.
But failure is very much on the table for Glasgow.
Driving the news: Going into the UN General Assembly, the outlook for the Glasgow climate summit appeared bleak. It has brightened, but not by much -- perhaps to a lighter shade of gray.
There are wide gaps between countries on key issues, as well as a foreboding sense of distrust between the industrialized and the developing world that could sink the entire summit.
Two significant announcements at the General Assembly helped to move the needle. The U.S. pledged to double its public climate finance commitment to $11.4 billion annually, and China announced an end to building coal-fired power plants abroad.
Both of these steps come with significant caveats -- the U.S. pledge has to go through Congress, while China said nothing about halting domestic coal use.
However large the asterisks, these announcements do show there is a recognition that the two biggest emitters have a responsibility to take additional steps.
State of play: Different officials have their own visions for what constitutes a "successful" climate summit, but there are common threads. These include:
More aggressive plans to cut greenhouse gas emissions by 2030, while on a path to net zero by 2050, especially by the G20 nations that are the wealthiest and have emitted the most greenhouse gases to date.
Persuading developed nations to provide more financial assistance for helping the developing world cut their emissions while also withstanding climate shocks from extreme weather events, sea level rise and other impacts.
UN Secretary-General António Guterres is seeking a 50/50 split between mitigation and adaptation funding, but the U.S., EU and others have not hopped on board.
It's possible that adaptation spending could be one of the items finalized only in the bleary-eyed mad dash for the exits at the end of the summit.
What they're saying: In an interview with Washington Post Live on Thursday, COP26 president Alok Sharma defined success this way: "We need to be able to credibly say that we have kept 1.5° alive" — the target set by the Paris agreement.
Sharma said doing that requires examining the emissions reduction commitments made prior to and during the summit. A recent UN report found that the commitments made to date would instead take us to a disastrous 2.7°C (4.9°F) above preindustrial levels by 2100.
"Then if there is a gap, we have to set out as countries, how are we going to close that gap in this decisive decade. I mean, basically time is out, there are not going to be any second chances," Sharma said.
Of note: Tina Stege, the climate envoy of the Marshall Islands, a low-lying island nation that played a key role in securing the Paris Agreement's 1.5-degree target, told Axios the developments this week gave her some "cautious optimism" but that huge hurdles remain in order to bring countries together toward a more ambitious deal in Glasgow.
Key priorities for her government during the run-up to COP26 and at the summit include securing more emission reduction commitments from other nations that are consistent with the 1.5-degree target, and boosting adaptation funding.
Even with the added U.S. commitment, she noted the $100 billion in annual financial assistance from developed nations, an amount first promised in 2009, won't be fully met.
Stege said if that is still the case at Glasgow, countries like the one she represents would need to see a plan to get the rest of the way there.
Meanwhile, Nigel Topping, the UNFCCC high level climate action champion, told Axios that even if the pace of the official negotiations are slow, there is increasing momentum in the private sector as companies and in fact entire industries develop "FOMO" over the clean energy transition.
Net zero targets among companies and cities are becoming a global norm, he told Axios, and trillions are being spent on transitioning to lower carbon fuels.
The bottom line: Those involved in the climate summit may have dodged a pre-COP train wreck, but it's by no means clear that these talks will meet Sharma's definition of success. Or for that matter, the climate's definition of success, which is to halt and revere the increase in greenhouse gas concentrations, and limit the damages from global warming.
Go deeper