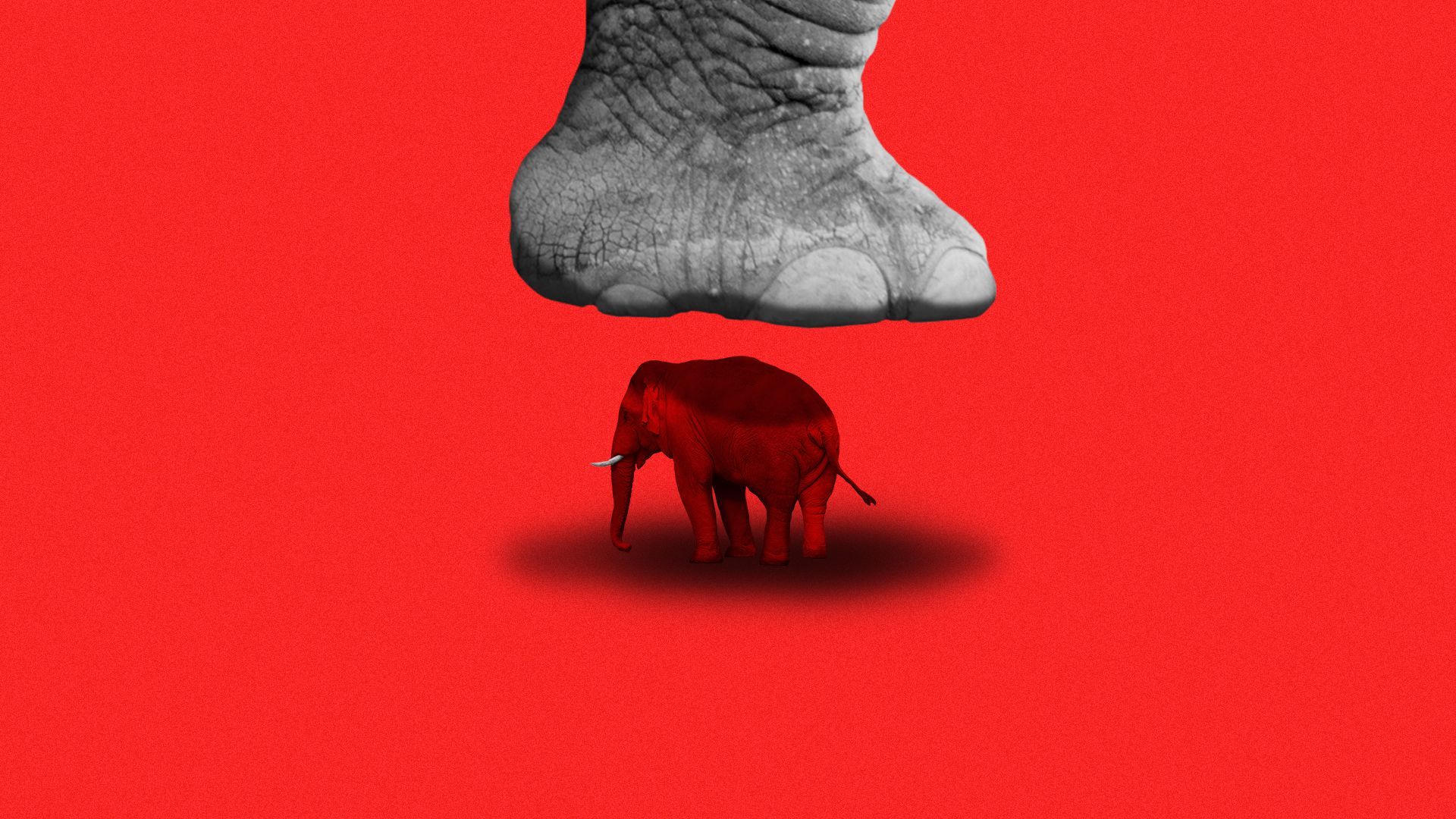 Republican super PACs are beating up on the party's own candidates in key Senate primaries while Democratic groups largely hold their intra-party fire, an Axios analysis found.
Why it matters: The negative ads some Republican groups are directing at GOP candidates threaten to elevate damaging stories about them ahead of competitive fights that could determine control of the 50-50 Senate.
Between the lines: The risk isn't just the quantity or volume of Republican-on-Republican attacks; it's their brutal tone.
Jobs for Our Future PAC, which supports Pennsylvania Republican Senate candidate Jeff Bartos, has spent $166,000 going after Republican rival Sean Parnell.
It recently began airing a 60-second ad focused on protection from abuse orders obtained against Parnell by his estranged wife and "sexist rhetoric" from his media appearances. (Parnell has said the orders were found to be meritless and were quickly dismissed.)
In North Carolina, the Club for Growth has spent $120,000 attacking Senate candidate and former governor Pat McCrory, with ads accusing him of steering subsidies to "a company owned by the Chinese Communist Party."
Saving Arizona, a super PAC backing Senate candidate Blake Masters, has spent over $225,000 accusing Republican rival Mark Brnovich of being insufficiently supportive of former President Donald Trump.
The other side: Pennsylvania Lt. Gov. John Fetterman has faced his share of incoming fire from Democrats as he seeks his state's Senate nomination.
The Collective Super PAC's $110,000 in ad buys opposing Fetterman focused on a 2013 incident in which he held a young black man in his neighborhood at gunpoint while police were dispatched. (Fetterman has denied pointing a gun at the man and said the incident was not racially motivated.)
Those anti-Fetterman ads, though, are the only reported instance so far this cycle of a Democratic super PAC going negative against one of the party's Senate candidates.
By the numbers: Republican-aligned independent political spenders have dropped more than half a million dollars hitting rival Republican Senate candidates this year, according to an Axios review of Federal Election Commission records.
By contrast, the anti-Fetterman group is the only Democratic super PAC that's reported negative ads against another Democratic Senate candidate, and it's spent only about a fifth as much.
What they're saying: "Outside organizations are going to do what they can to best support their candidate," Doug Heye, a veteran Republican operative, said during an interview. "That can have a weakening effect for whoever emerges going into the general election."
Steven Law, the CEO of the Senate Leadership Fund, a super PAC allied with Senate Minority Leader Mitch McConnell (R-Ky.), said it's too early in the cycle — and the ad buys too small — to predict dire consequences for the party's candidates.
"N.C. and PA. in particular are vast, expensive states, so the money spends out fast before having a long-term impact," Law told Axios in an email.
"Also: It is so, so, so early. Unless this kind of spending is sustained at substantial levels, it's hard to see how it will have a significant effect that carries all the way into the general election season — or even the primary."
Go deeper