Abortion providers urge Supreme Court to take up Texas ban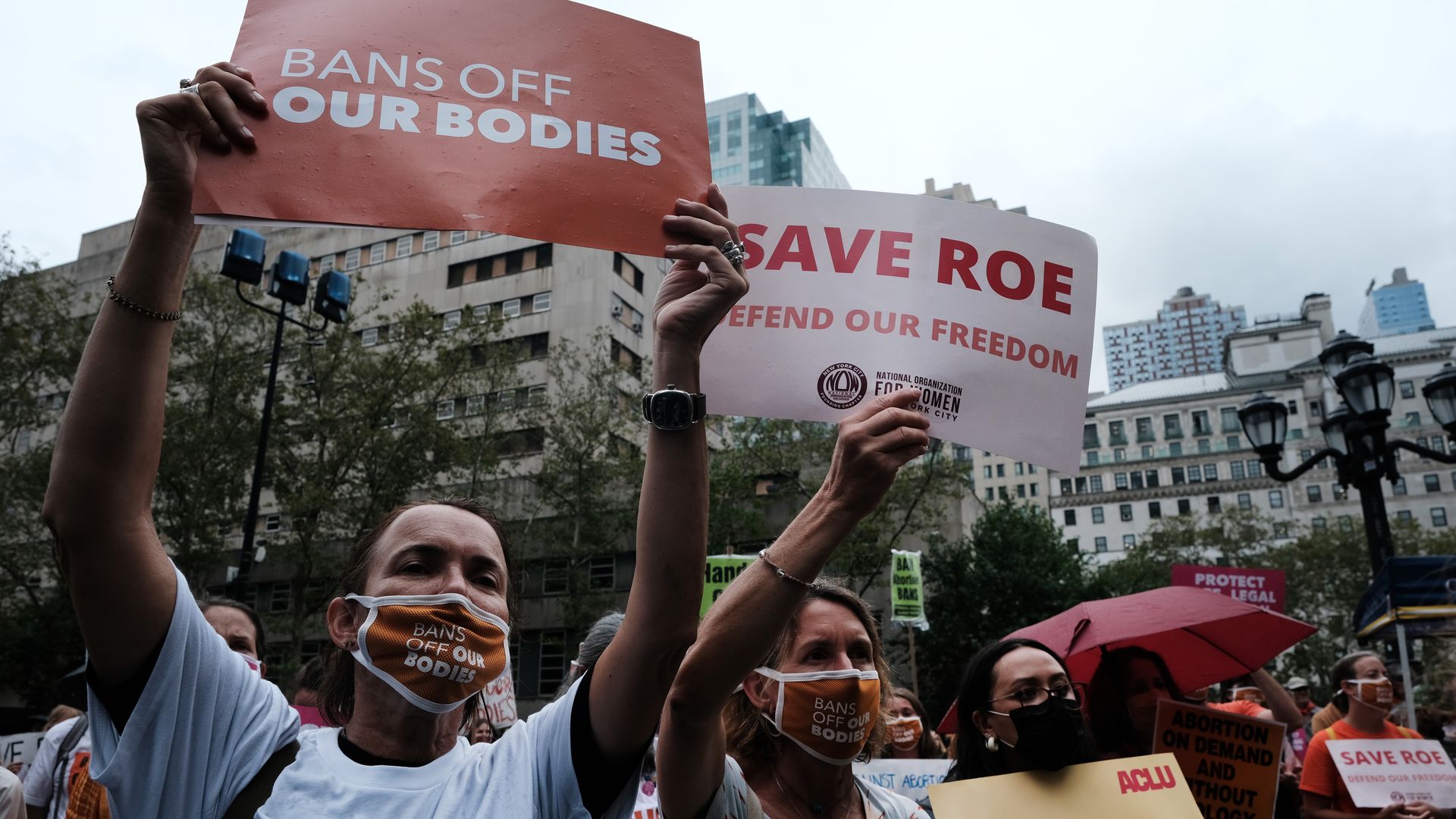 Abortion providers on Thursday asked the U.S. Supreme Court to review their legal challenge to the Texas abortion ban on an expedited basis because of the "great harm the ban is causing."
Why it matters: The case is currently tied up in lower courts, but the law has already wrought damage in the 23 days since it was enacted, abortion-rights advocates say.
Moreover, the 5th Circuit "has set a schedule that will not allow the appeal to be heard before December," the Center for Reproductive Justice said in a statement.
What they're saying: "Texans are in crisis," the abortion providers wrote in the petition filed Thursday. "Faced with the threat of unlimited lawsuits from the general populace and the prospect of ruinous liability if they violate the ban, abortion providers have been forced to comply."
"As a result, Texans with means must now travel hundreds of miles each way to other States during a pandemic, just to exercise a clearly established federal right," they note, adding that the surge in out-of-state appointments is also causing backlogs.
"Some [Texans] are unable to travel for fear that it will reveal their pregnancy or decision to end it to an abusive partner or disapproving family member, who may retaliate," they add. "Others are non-U.S. citizens who are unable to leave the Texas-Mexico border region to travel to other States for health care."
"All these individuals must carry to term or seek ways to induce an abortion without medical assistance, as reports now suggest more Texans are doing," the petition states, emphasizing the need to act now.
The big picture: The Supreme Court, currently comprised of a 6-3 conservative majority, declined to block the law this summer.
The Justice Department is also suing Texas over the new abortion ban.
A Texas doctor who acknowledged that he violated the ban faces the first lawsuit under the law's controversial incentivization provision, which awards people $10,000 if they can successfully sue anyone who assists a pregnant person in obtaining an abortion after six weeks.
Many anti-abortion advocates, including former Vice President Mike Pence, hope to see the Supreme Court overturn abortion rights through the Texas case
Go deeper