Air quality alerts issued as California fires threaten more sequoias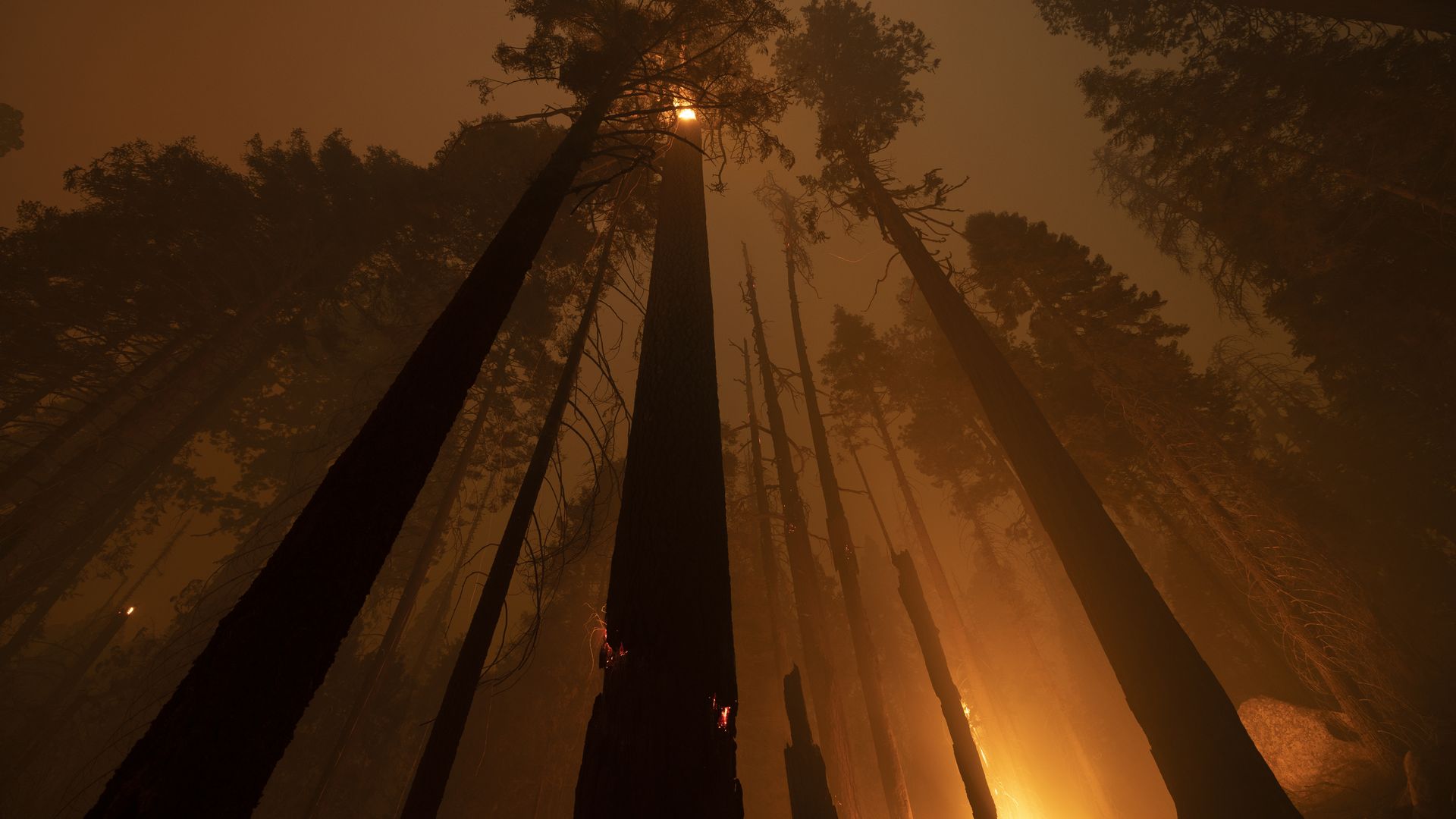 Two wildfires were threatening California's sequoia trees overnight — hours after authorities issued fresh evacuation orders and warnings, along with air quality alerts.
The big picture: Air quality alerts were issued Wednesday for the Bay Area and the San Joaquin Valley as smoke from the Windy and KNP Complex fires resulted in hazy, "ash-filled" skies from Fresno to Tulare, the Los Angeles Times noted.
The Tulare County Sheriff's Office issued an evacuation order late Wednesday for communities in the Camp Nelson area of the Sierra Nevada, just northwest of the Sequoia National Park, as the Windy Fire neared.
The sheriff's office issued evacuation warnings hours earlier for residents in and around Eshom and Hartland Camp, some 80 miles north of Camp Nelson, due to the approaching KNP Complex Fire.
For the record: Both wildfires have burned across nearly 60,000 acres and are largely uncontained, as they threaten communities and sequoias, including in Sequoia National Park — which contains the world's largest tree by volume.
It's one of more than 2,000 giant sequoias in the park.
Of note: Firefighters' prevention efforts, including prescribed burns and wrapping the giant sequoia tree trunks in aluminum foil, have helped avoid major damage to trees in the Sequoia National Park's Giant Forest.
Yes, but: KNP incident spokesperson Mark Garrett said the blaze was threatening the Lost Grove and Muir Grove, where hundreds of giant sequoias are located, and they "don't have the prescribed fire history like Giant Forest," per the L.A. Times.
Fire information officer Thanh Nguyen told the news outlet that officials had confirmed that a "portion of one giant sequoia" along a trail in the Giant Sequoia National Monument area of Sequoia National Forest and the Tule River Indian Reservation, "was confirmed to have burned" in the Windy Fire.
The big picture: Several world leaders at the United Nations General Assembly have appealed for action on cutting emissions and combating climate change, which scientists say make wildfires larger and more intense.
The World Health Organization updated air quality guidelines on Wednesday after finding that negative health effects from air pollutants can begin at lower levels than it previously thought.
Go deeper:
Editor's note: This article has been updated with comment from Nguyen.
Go deeper