Some unknowns killed in Latin American conflicts identified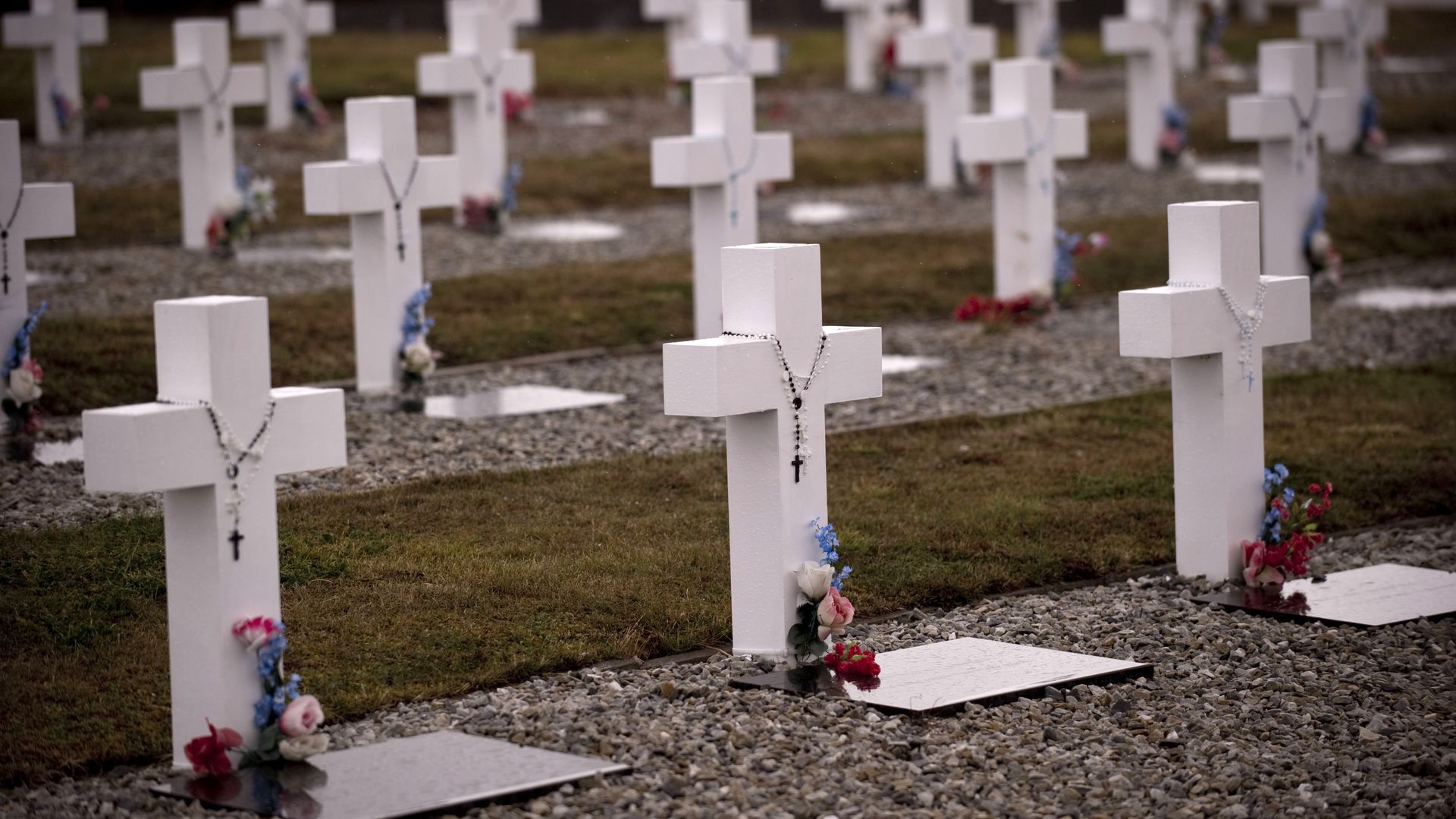 Latin Americans lying beneath unmarked tombstones and in mass graves across the region are recovering their names, decades after the conflicts that took their lives.
Driving the news: Last week six Argentine soldiers who died during the 1982 Falklands War were ID'd through forensic anthropology and genetic testing, as part of an international project supported by the Red Cross.
Five had been buried under a single tombstone reading "C.1.10: Argentine soldier known only to God."
Why it matters: The identification of sometimes minuscule remains is helping to build cases so justice can still be served and families can finally get closure. Experts around the world have engaged in the pioneering work.
The Equipo Argentino de Antropología Forense (EAAF), for example, has supported investigations in 35 countries, including identifying remains of migrant people who died on the U.S.-Mexico border, or the search for people missing during Apartheid in South Africa or due to war crimes in the Central African Republic.
The team was originally formed in 1984 to trace thousands of people forcibly disappeared by the 1976-1983 Argentine dictatorship.
Details: A similar team in Guatemala has so far identified over 3,700 people who were slaughtered or disappeared during three decades of civil war.
Forensic anthropology is prominent in an El Salvador court case arising from one of the worst massacres committed during the civil war: The slaughter of 1,000 civilians, half of them children, by a U.S.-backed army unit in El Mozote in 1981.
The El Mozote-related trial is currently underway, though its future is uncertain after the leading judge retired.
Of note: Several of the Latin American forensic anthropology teams were founded with help from U.S. "bone detective" Clyde Snow.
Between the lines: Many of the people who do this work are not professionally trained, such as the Buscadoras in Mexico, who developed through trial and error a way to find remains in cartels' "extermination fields".
They insert a metal rod deep into the soil. If it smells like rot when taken out, they dig, hoping to find their loved ones.
Authorities claim they are too overwhelmed to search for those reported missing under violent circumstances, with official estimates pointing to over 85,000 people disappeared since 2006 and over 1,600 mass graves sites found just in the past three years.
What they're saying: "We will give our lives to find our loved ones, even if they are in hell itself, like these places are, because we do not accept that their deaths be swept under the rugs just because their bodies can't be found," searcher Edith Pérez of Mexico tells Noticias Telemundo.
Go deeper: Seeking DNA samples to identify those "disappeared"
Get more news that matters about Latinos in the hemisphere, delivered right to your inbox on Tuesdays and Thursdays. Sign up for the Axios Latino newsletter.
Go deeper