The carbon toll of summer blazes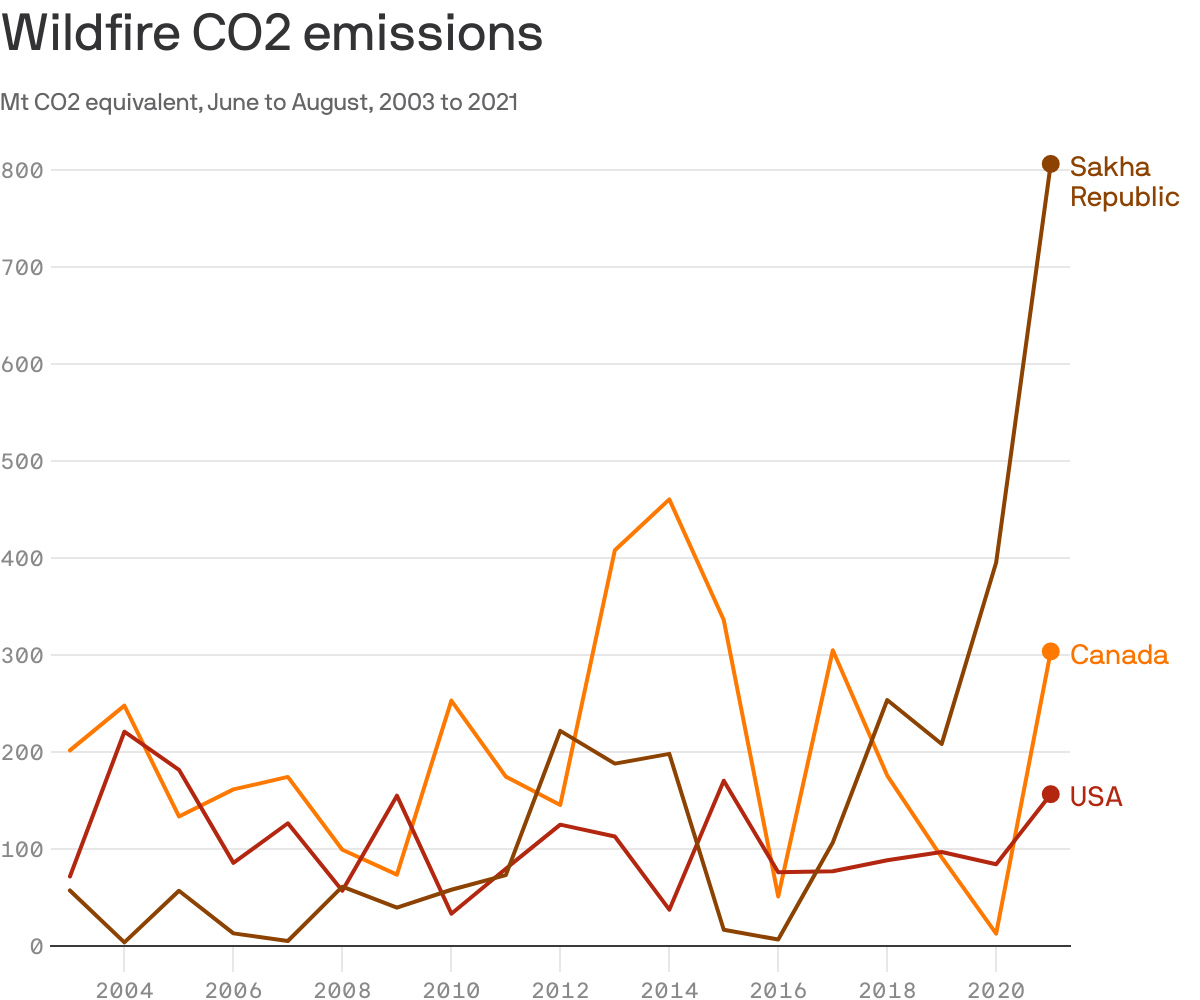 The widespread wildfires that stretched across the Northern Hemisphere this summer set records for their carbon dioxide emissions, particularly in Siberia, according to data released Tuesday.
Why it matters: The severe fire season in Siberia is tied in part to unusually warm conditions with low soil moisture, which studies have linked to human-caused climate change.
How it works: The wildfire season across the boreal forests of the Far North typically stretches from May to October.
During the June through August period, wildfires in the Sakha region of northeastern Siberia emitted enough carbon dioxide to rival the annual emissions from Germany in 2019, according to the Copernicus Atmosphere Monitoring Service (CAMS) and data from The Rhodium Group.
August set a monthly record for wildfire emissions coming from the Northern Hemisphere, and Siberian emissions were more than twice the total from the June through August timeframe last year, CAMS' satellite data shows.
Threat level: As the climate warms due to human emissions of greenhouse gases from fossil fuel burning, extreme wildfire years are expected to become more common and burn in ecosystems where they were previously uncommon.
If fires burn intensely in regions with permanently frozen soil known as permafrost, it could free up currently frozen organic matter locked away for centuries or longer, emitting carbon dioxide and methane.
What we're watching: Wildfire season is not over yet in the western U.S. Southern California, for example, tends to see its worst wildfire weather days in October into November.
This summer's California wildfires, dominated by the nearly 1 million-acre Dixie Fire, already sent twice the amount of CO2 into the air compared to 2020, also a severe wildfire season.
Go deeper