Building the future depends on building more housing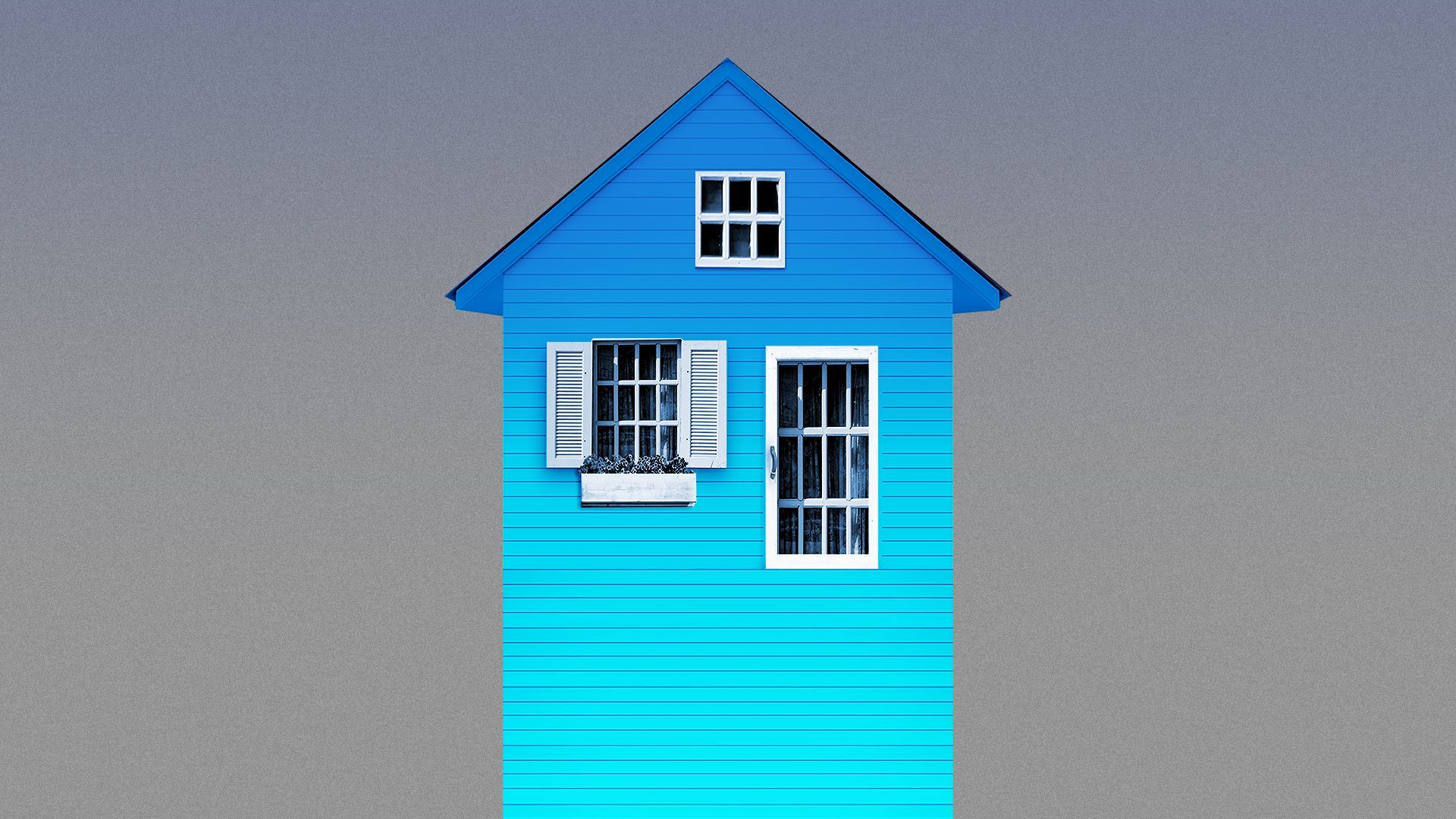 America's troubled urban housing policies are having negative effects that go far beyond high rents and real estate prices.
Why it matters: Decades-old barriers to building more housing in America's most productive cities make it harder to move and live there, which eats into wages, depresses population, saps economic growth, and even worsens climate change.
Whether the U.S. can build a better, more equitable future will depend in large part on whether it can build its way out of its persistent housing problem.
By the numbers: Mortgage payments as a share of income hit 19.4% in June, according to a recent study by Zillow, and are forecast to reach 23.1% by the end of the year, which would be the highest figure on record.
Rent payments as a share of income are forecast to rise from 29.6% in June to 30.2% by December, above the 30% threshold for being considered housing burdened.
Those national numbers hide an even deeper crisis in pricey, housing-short cities like San Francisco, where one-bedroom apartments rent for a median of $2,800 a month — the second-highest in the country after New York — and the median price for a single-family home is $1.85 million.
The big picture: High housing prices can directly lead to a rise in homelessness, but they also hold back economic growth by making it harder for people — especially those lower on the income scale — to move to more productive metro areas.
2017 research by economists Chang-Tai Hsieh and Enrico Moretti found the high cost of housing — which they chiefly attribute to local land-use restrictions — reduced wage and GDP growth by 50% over the past 50 years.
It also cost the average American worker an additional $6,775 in additional annual income.
Background: It wasn't always this way — historically, Americans moved in large numbers to those parts of the country where jobs and opportunities were most abundant.
Between the lines: Where you live matters. Everything from wages to health to carbon footprints tends to be significantly better in productive cities, a product of the growing divergence of the U.S. economy over the past few decades.
Today, while high-wage earners can make the move to expensive cities — albeit with housing eating up more of their income — it no longer makes economic sense for low-wage earners to migrate.
The result is widening inequality — especially for the roughly one-third of Americans who don't own their own dwellings — and less growth and productivity, which makes for a poorer future overall.
Of note: Americans who did move last year predominantly migrated to cheaper cities with fewer regulations on housing construction like Phoenix and Houston. This has the perverse environmental effect of increasing carbon footprints that tend to be lower in denser but more expensive cities.
Context: While policies like rent relief and subsidies are meant to target demand, high housing prices in productive cities are primarily a supply problem. The rent is too damn high because there isn't enough housing to go around.
The solution could be what New York Times columnist Ezra Klein recently dubbed "supply-side progressivism" — policies focused on increasing the supply of scarce but necessary goods like education and housing, whether through undoing burdensome regulations or new innovations that can bring down the cost of production.
Zoom in: California's SB9, a long-gestating bill signed by Gov. Gavin Newsom last week, effectively abolishes exclusionary single-family zoning in America's largest state.
Yes, but: SB9 is just a drop in the ocean that is California and America's housing supply problem.
A study by the Terner Center for Housing Innovation found that, because of various loopholes, SB9 will apply to just 1 in 20 single-family home parcels in California.
Factor in California's prohibitively high buying and development costs — a result of both high wages in construction and strict regulations — and the number of parcels affected by SB9 shrinks from 6 million to just 410,000, notes Slate's Henry Grabar.
The bottom line: Big cities are America's economic engine now and in the future, but that engine won't run fast if people can't afford to live there.
Go deeper