Marvel's "Guardians" gamble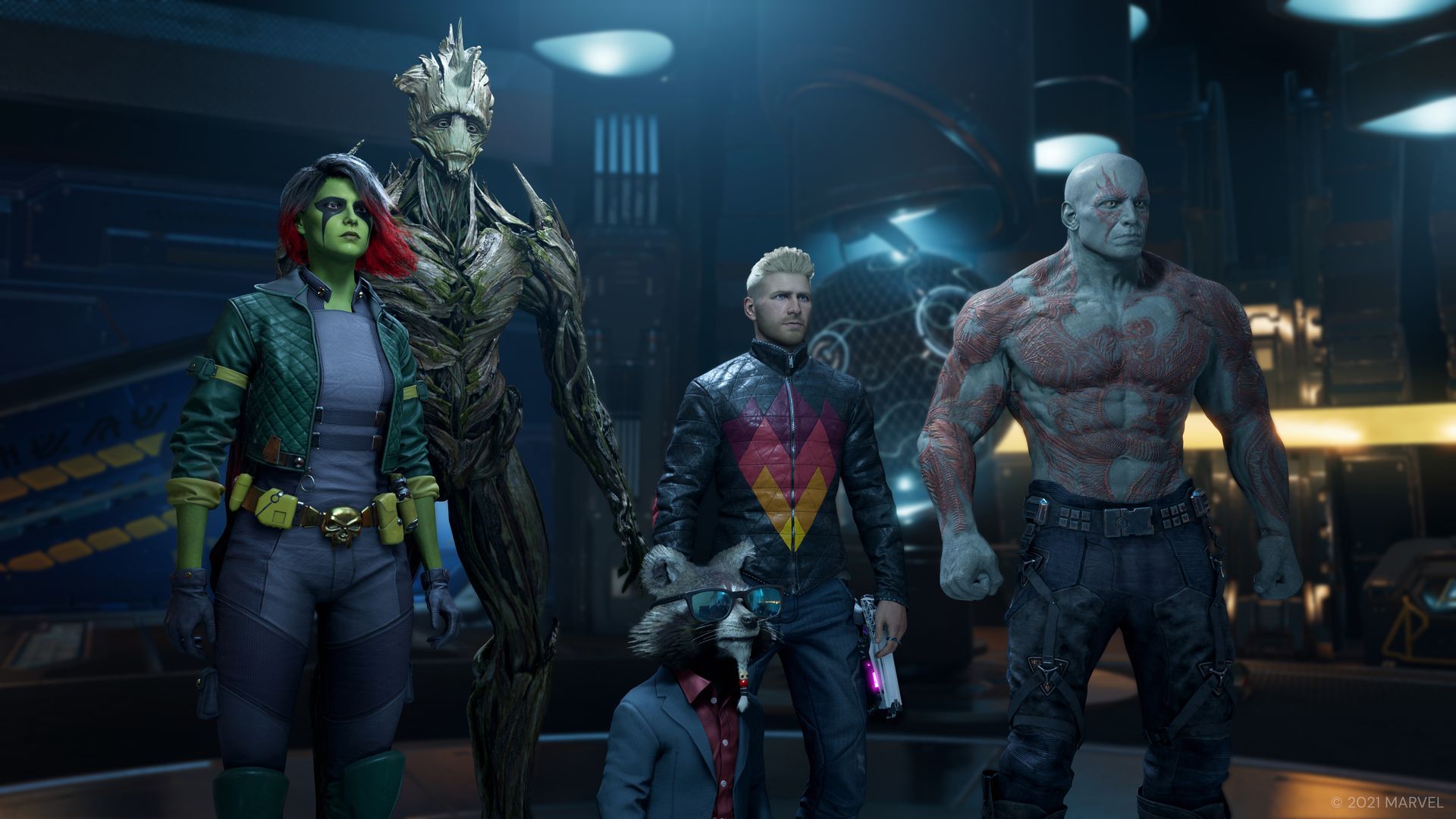 Eidos-Montréal's upcoming entry into the Marvel gaming universe, "Guardians of the Galaxy," has big shoes to fill — but may just be on track.
The details: A recent demo given to the press covers part of the game's fifth chapter, where the Guardians find themselves exploring an oddly deserted Nova Corps station.
The demo was only a small slice of the game, one that focused largely on combat to the tune of classic hits with some quieter crew moments baked in.
Fights are fast-paced, as you can issue commands to the entire team as Star-Lord to attack or use the environment to your advantage; downed comrades can also be revived if you can get to them safely.
The team is constantly in motion, as characters deliver one-liners, offer advice or charge ahead into scuffles.
One small thing: If you've spent a lot of time watching the Guardians in the MCU, it can be a little jarring to see them on-screen without their famous faces.
But their general vibes are intact, from wisecracking Rocket to the more measured Gamora, and overall the gang feels far more connected and cohesive as a group.
The big picture: Over the past decade, Marvel has become a movie powerhouse, with its films regularly grossing hundreds of millions of dollars.
That grip hasn't fully extended into video games, in which titles like "Marvel's Avengers" received middling reviews.
Expect to see a growing catalog, however, with games like "Spider-man 2" and "Marvel's Wolverine" on the way from Insomniac Games.
What's next: The game launches Oct. 26 for PC, PlayStation 4, PS5, Nintendo Switch, Xbox One and Xbox Series X/S.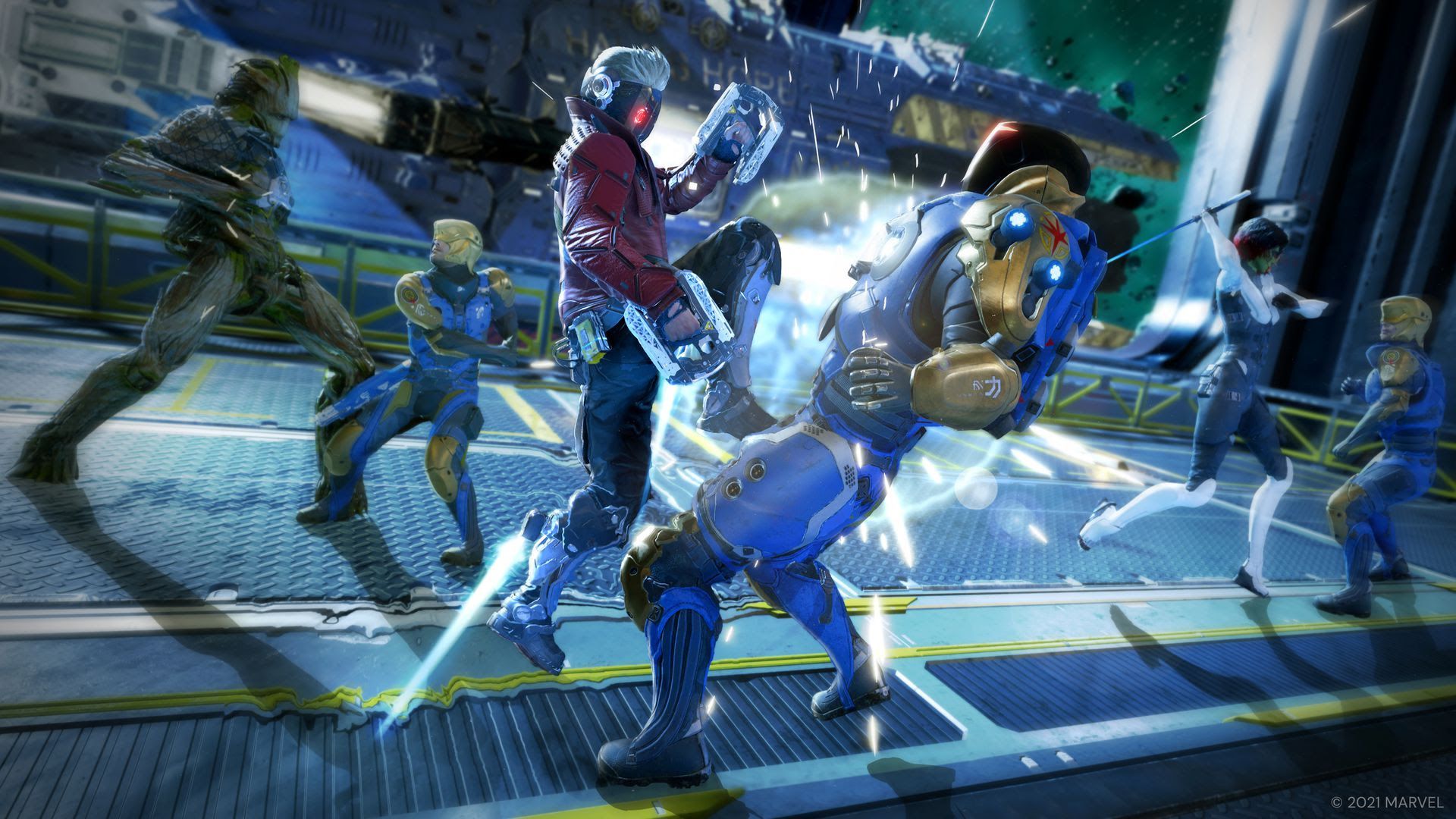 Star-Lord is more than just a taken name for hero Peter Quill — it's also a fictional band led by one of the game's own developers.
The details: Quill's jacket is emblazoned with the band's name, Star-Lord, as part of the idea that he's a fan — not that he's running around with his own name.
During a recent press event, senior audio director Steve Szczepkowski said he recorded a demo featuring his own vocals — a placeholder as the team sorted out a sound for their fictional metal band.
But one of Szczepkowski's collaborators liked his original vocals so much that they decided not to hire another singer.
"We listed out a bunch of sort of high-level themes and topics we wanted to cover on the album, like, you know, strong sense of family, a strong sense of self," Szczepkowski said.
The game does still include a ton of licensed music, a touchstone fans of the "Guardians of the Galaxy" films have come to expect.
During the game's huddle mechanic, for example, Quill will pull the team in and give a speech that kicks off a song in keeping with the theme of his message.
"The [Star-Lord] record is definitely visible throughout the game and it makes its appearances, but we never force it down the player's throat."
Eidos-Montréal released the first track, "Space Riders with No Names," this month.
Go deeper