Ipsos poll: Support growing for abortion rights in Latin America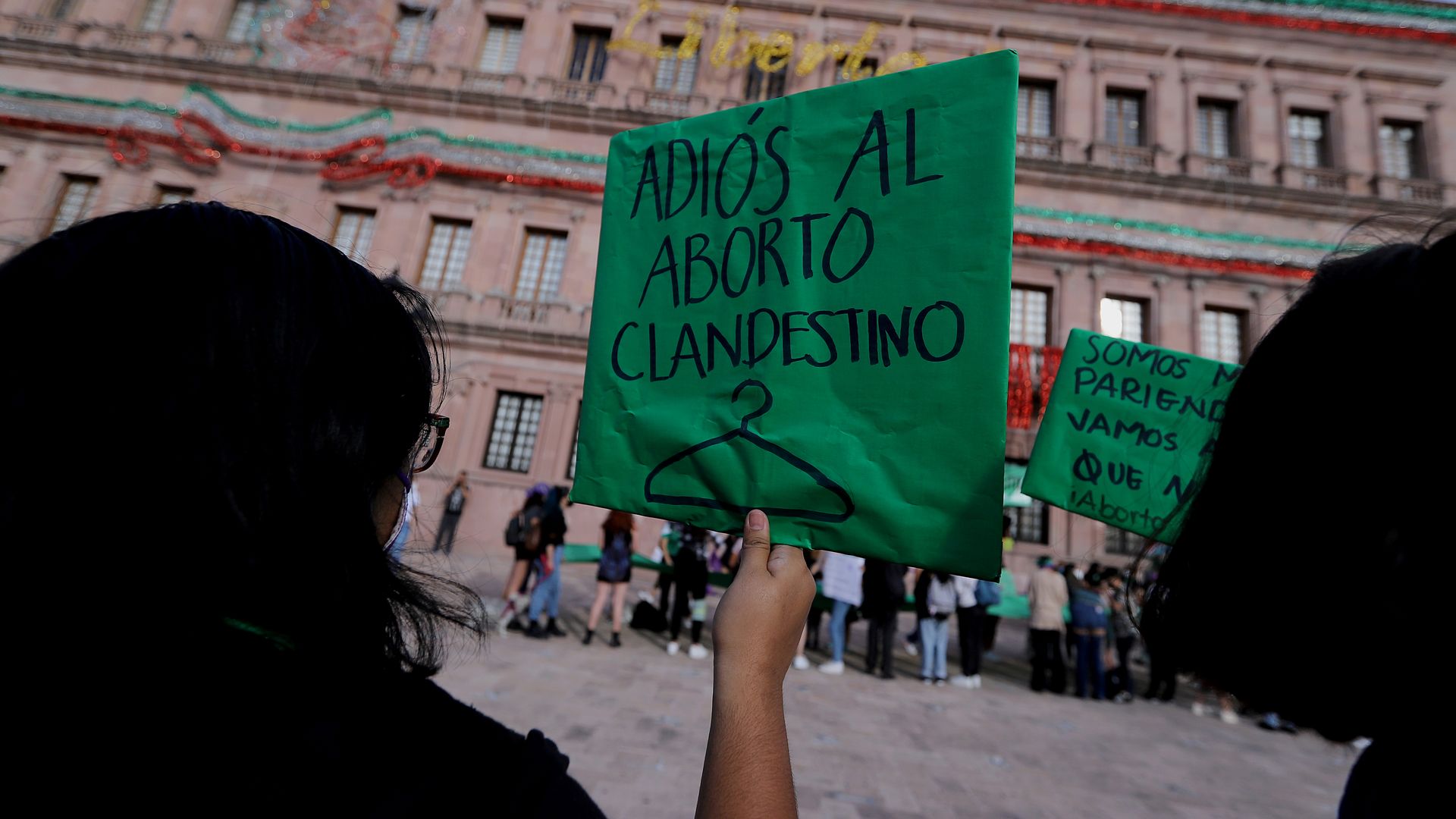 Support for abortion rights in some Latin American countries has jumped considerably since 2014, with Argentina seeing the biggest shift, an Ipsos poll finds.
The big picture: The view that abortion should be permitted at least under certain circumstances is held by a majority of adults surveyed in Argentina, Brazil, Chile, Colombia, Mexico and Peru.
The more favorable view of abortion rights in the region contrasts with growing attempts at restrictions in parts of the U.S.
Context: The opinion shifts highlight the transformation over a decade in which pro-choice and feminist movements have boomed across the region, making judges and lawmakers react accordingly.
Women waving green handkerchiefs in Argentina campaigned for years so Congress would vote on whether to overturn a 1921 law criminalizing abortion. Last December, abortion was legalized across the South American country.
Chile used to forbid abortions under all circumstances, and those who underwent or carried out the procedure faced up to 15 years in prison. 
In 2017, campaigns led then-President Michelle Bachelet to successfully back a measure to legalize terminating a pregnancy when it resulted from sexual violence, when the fetus was unviable or when the woman's life was in danger.
After massive protests in favor of abortion in Mexico, with two cases brought before the Supreme Court, justices found state measures restricting abortion based on the view that life begins at conception were unconstitutional, as were laws criminalizing the procedure.
By the numbers: The Ipsos poll found 79% of those surveyed in Argentina think terminating a pregnancy should be permitted for any reason or under certain circumstances like rape or incest. That was a 15-point rise from 2014.
Around 64% of those surveyed in Brazil said they supported abortion on demand or under certain instances — an 11-point spike from the same time period.
Chile (73%) and Mexico (59%) both saw 8-point increases from 2014. 
About 53% of those surveyed in Peru said they supported abortion at least under certain circumstances. That number has remained steady since 2016 when Ipsos began collecting data in that country.
Colombia saw 62% of those surveyed supporting some form of abortion rights, although Ipsos had no data from prior years.
Yes, but: Several Latin American countries that were not surveyed still have some of the most restrictive anti-abortion measures in the world, such as El Salvador, Nicaragua, Dominican Republic and Honduras.
In El Salvador, for example, terminating a pregnancy is punished by up to 40 years in prison. Several women have been imprisoned because of the law.
That law is so broad that even women hospitalized during miscarriages have been charged. One such case is being debated by the Interamerican Human Rights Court and could make El Salvador loosen its full abortion prohibition.
The survey, conducted between June 25 and July 9, was part of a 27-country poll across Europe, Asia, the Americas and Africa.
The sample consists of approximately 1,000 individuals in Brazil and 500 people each in Argentina, Chile, Colombia, Mexico, and Peru.
The precision of Ipsos online polls is calculated using a credibility interval with a poll of 1,000 accurate to +/- 3.5 percentage points and of 500 accurate to +/- 5.0 percentage points.
Get more news that matters about Latinos in the hemisphere, delivered right to your inbox on Tuesdays and Thursdays. Sign up for the Axios Latino newsletter.
Go deeper