Harris, Mayorkas voice horror at footage of Border Patrol reportedly whipping at migrants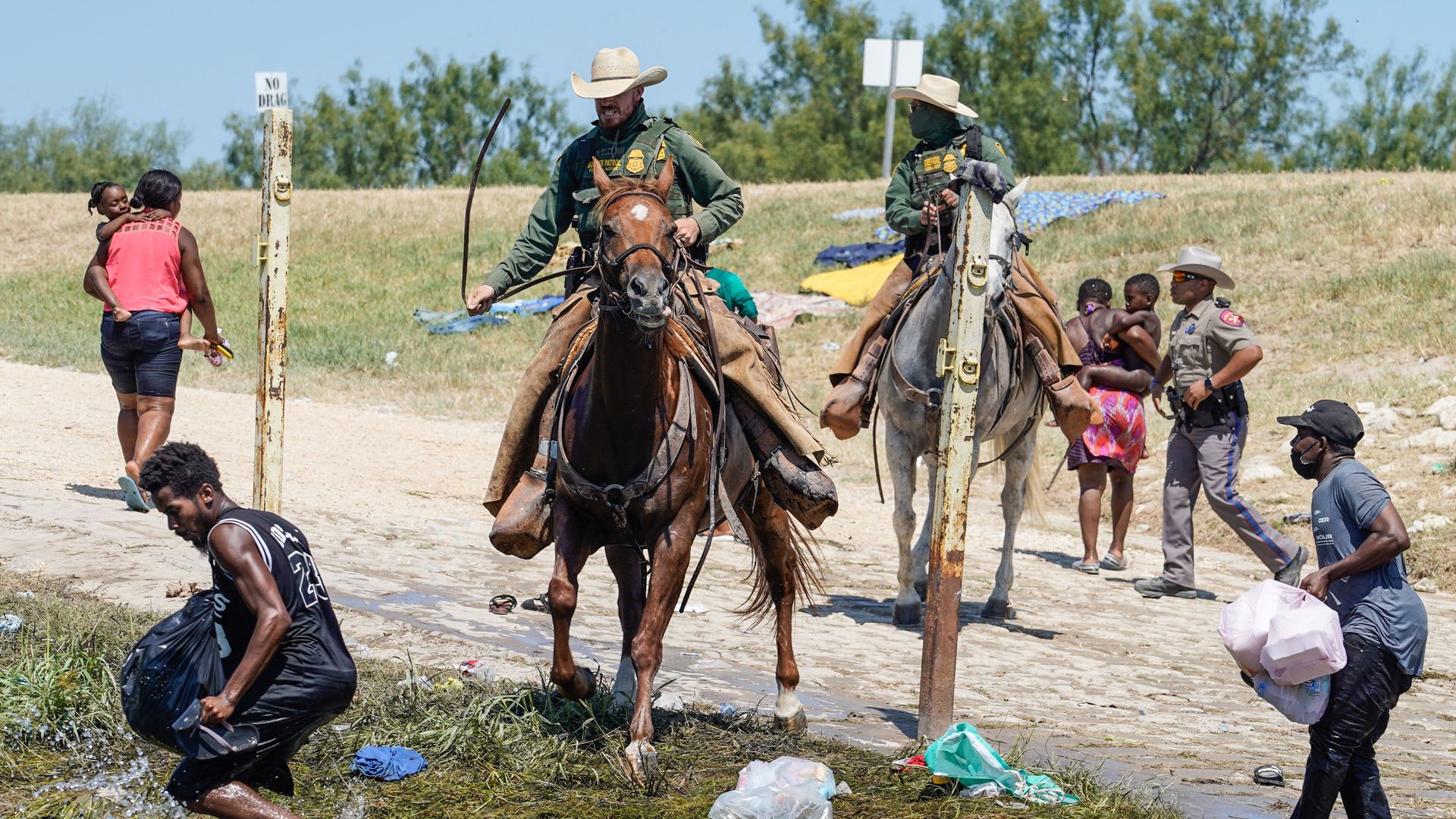 Members of the Biden administration are condemning footage that shows U.S. Border Patrol agents reportedly whipping at and charging horses at migrants in Del Rio, Texas, CNN reports.
Why it matters: Over the weekend, the Biden administration began cracking down on the thousands of Haitian migrants who have sought refuge in Del Rio in the hope of seeking asylum. The Department of Homeland Security (DHS) launched an investigation into the Border Patrol incident after it drew backlash online.
What they're saying: "What I saw depicted about those individuals on horseback, treating human beings the way they were, is horrible. And I fully support what is happening right now, which is a thorough investigation into exactly what is going on there," Vice President Kamala Harris said on Tuesday.
"But human beings should never be treated that way and I am deeply troubled by it," she added.
"I was horrified by what I saw," DHS Secretary Alejandro Mayorkas said in an interview with CNN's Brianna Keilar earlier Tuesday. "I'm going to let the investigation run its course. But the pictures that I observed troubled me profoundly. That defies all of the values that we seek to instill in our people."
"I, by no means, diminish the humane issue that it presents, but I want to be clear that we do have a plan to address it, respecting the needs of the individuals and we are executing on that plan."
Worth noting: AFP photographer Paul Ratje took the photos and later told KTSM he didn't witness agents using reins as whips. Another reporter on the scene, Martha Pskowski of the El Paso Times, said that reins were swung like a whip by at least one agent.
The big picture: U.S. authorities began deporting hundreds of migrants back to Haiti on Sunday. Roughly 4,000 have been moved "from under that bridge already," according to Mayorkas.
The administration plans to move more migrants to other processing centers "so that we can ensure their security and safety and the security and safety of the community."
"We expect to see dramatic change in the next 48 to 96 hours," Mayorkas added.
Editor's note: This article has been updated to include comments from multiple media outlets who were at the scene on what they witnessed happen.
Go deeper