Photos reportedly show Border Patrol whipping at migrants from horseback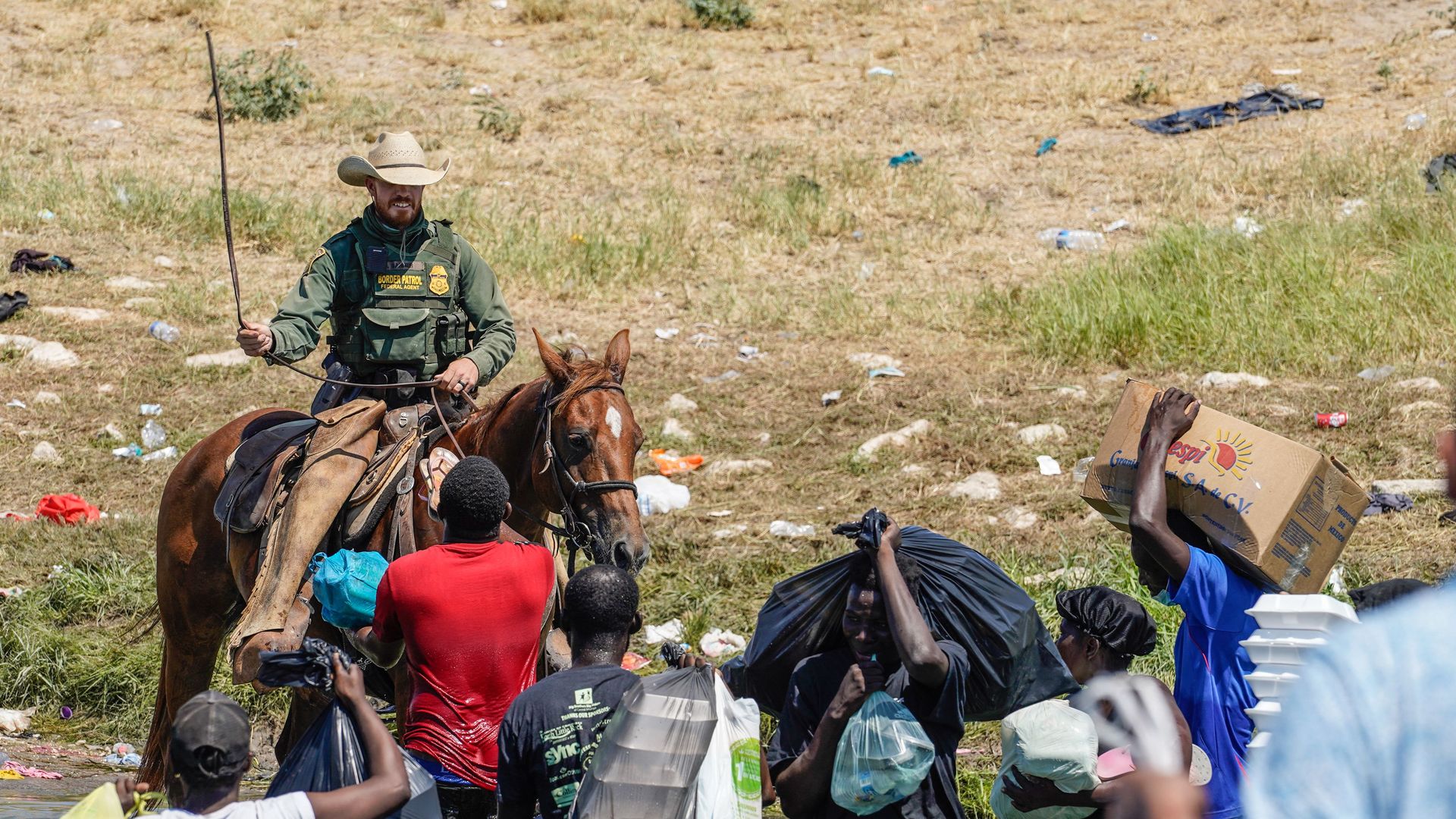 New photos reportedly show Border Patrol agents whipping at and charging their horses at migrants in Del Rio who were attempting to make their way to an encampment under the international bridge, where thousands of Haitian migrants have sought refuge trying to seek asylum.
Our thought bubble, via Axios' Russell Contreras: The images of Border Patrol agents on horseback charging at Haitian migrants drew an emotional response online since the Border Patrol has a troubled and violent history against communities of color.
"One migrant fell as he tried to dodge, others shielded their heads with their hands," El Paso Times writes.
"Let's go! Get out now! Back to Mexico!" an agent shouted.
Government officials have called the situation in Del Rio "unprecedented" and the Biden administration on Sunday began deportation flights for scores of migrants held there. Removal flights are going to Haiti, Mexico, Ecuador and Northern Triangle countries.
The Department of Homeland Security also sent 400 agents to Del Rio to assist with the process.
The agency "does not tolerate the abuse of migrants in our custody and we take these allegations very seriously," a DHS spokesperson said in a statement to Axios Monday evening.
Customs and Border Protection's Office of Professional Responsibility is investigating the incident and has alerted the DHS Office of Inspector General. 
Mayorkas has also directed personnel from the Office of Professional Responsibility to remain on-site full-time.
"The footage is extremely troubling and the facts learned from the full investigation, which will be conducted swiftly, will define the appropriate disciplinary actions to be taken," the spokesperson added. "We are committed to processing migrants in a safe, orderly, and humane way."
When pressed on the images of Border Patrol agents at a news conference earlier Monday, Mayorkas told the reporter "you're assuming facts that have not yet been determined."
U.S. Border Patrol Chief Raul Ortiz said he dispatched horse patrol units to make an assessment of the encampment, including who might be involved in smuggling across the Rio Grande River.
The State Department issued a statement on Monday night saying that Secretary of State Antony Blinken spoke with Haitian Prime Minister Ariel Henry "about the migrant crisis and efforts to repatriate migrants who arrived at the southern border."
State of play: The assassination of the Haitian president, a recent 7.2-magnitude earthquake and worsening poverty have led thousands of Haitians to Del Rio in the hopes of entering the U.S.
Many suffered filthy conditions and the scorching sun for days, forced to cross the Rio Grande River multiple times every day to access food and water.
What they're saying: "We don't have money, we don't have anything. We spent two months getting here on foot," Charles Edirame, who crossed to the encampment with his wife and daughter, told El Paso Times.
"How can I go back to Haiti? If I go back, I could die the next day."
"It's devastating to watch this footage. I think it's important though for people to also know that what we're trying to do is also protect people," Press Secretary Jen Psaki said at a White House briefing. "We've been conveying that this is not the time to come."
"Absolutely unacceptable," Rep. Veronica Escobar (D-Texas) tweeted on Monday. "No matter how challenging the situation in Del Rio is right now, nothing justifies violence against migrants attempting to seek asylum in our country."
Worth noting: Homeland Security officials have acknowledged internally that deported Haitian immigrants "may face harm" upon their return to the country due to its political instability and state of violence, according to BuzzFeed.
Editor's note: This article has been updated to include comments from multiple media outlets who were at the scene on what they witnessed happen. An earlier version of the piece was corrected to show the mounted agents were reportedly whipping at the migrants — not using whips.
Go deeper