Managing traffic in the skies is becoming a lot harder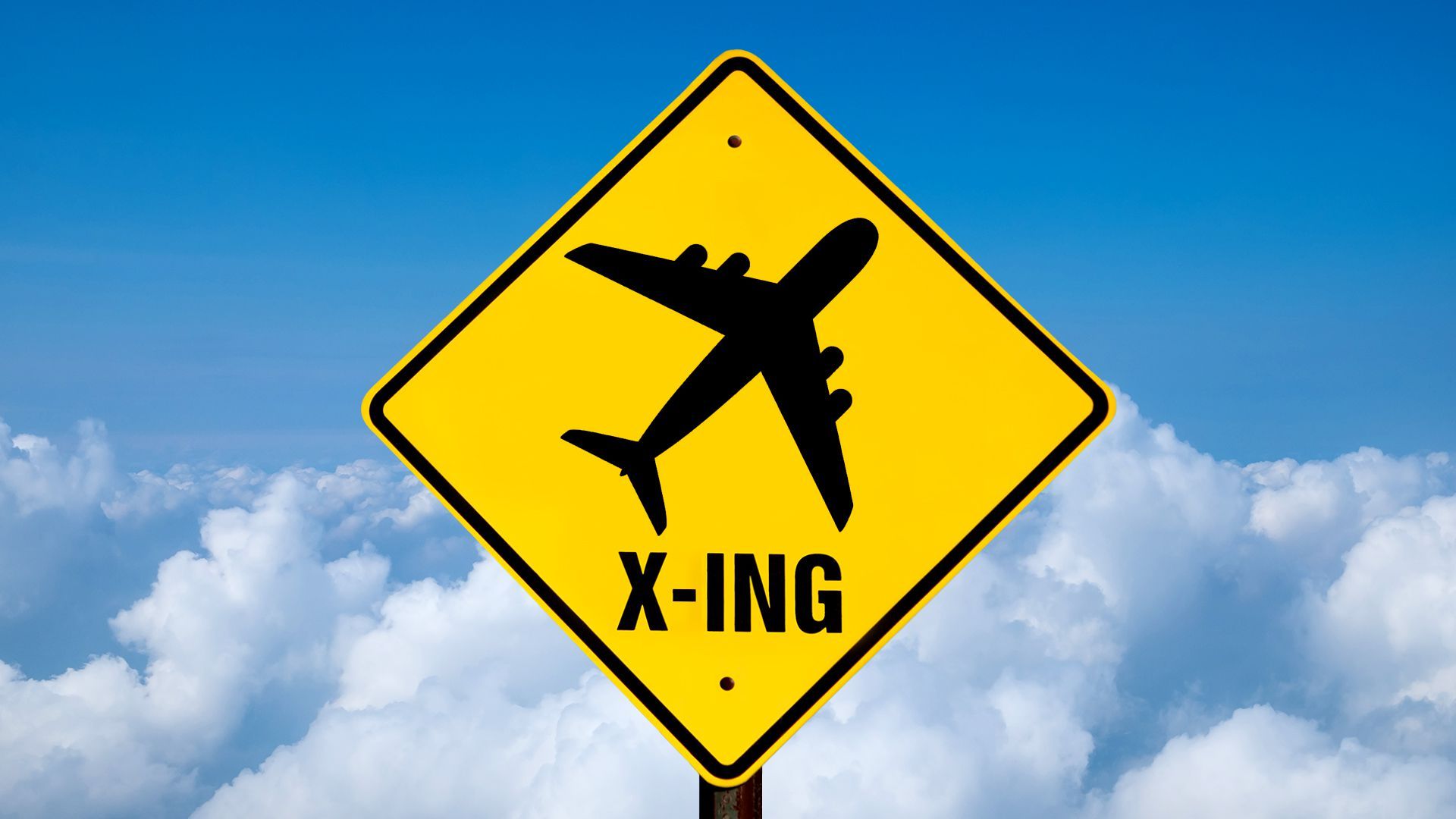 Planes used to be the only aircraft crisscrossing the sky. Now there are drones, more frequent rocket ships and — soon — flying taxis, elbowing their way into the National Airspace System.
Why it matters: Managing the congestion up above is becoming an urgent mission for America's traffic cops in the sky. While the Federal Aviation Administration has a stellar safety record when it comes to commercial aviation, its challenge is infinitely more complex today.
State of play: The FAA manages about 45,000 flights per day, including commercial airlines, cargo carriers and private planes.
At peak moments on any given day, it could be handling as many as 5,400 flights at once, an agency spokesman tells Axios.
It's fascinating to watch these flight patterns in real time on sites like flightaware.com or flightradar24.com.
But that's just the beginning.
By the numbers: There are roughly 870,000 registered drones in the U.S. — four times the number of commercial and private planes.
About 350,000 of them are used for commercial purposes like inspecting railroad tracks, bridges and pipelines; the rest are recreational drones.
Rocket launches are a regular thing now too, with spacecraft carving their way into orbit on a biweekly basis.
Within a couple of years, urban air mobility companies also will begin testing their electric air taxis in several cities.
What they're saying: "We cannot overstate how complex the airspace is today," says Tim Arel, deputy chief operating officer at the FAA's Air Traffic Organization.
Managing it all is like "a game of 3D chess," he tells Axios.
What's happening: In Europe, authorities aim to segregate drones from other types of aircraft. But in the U.S., safely integrating them into the national airspace is the goal.
But the FAA doesn't want air traffic controllers talking to every single drone operator.
"If everybody turned on a transponder, it would flood our scopes, and we wouldn't see anything in some cities," says Arel.
Instead, its plan is to establish a drone traffic management system that would complement the FAA's existing air traffic management system.
The FAA will let drone operators know where they can and cannot fly, and then it's up to them to manage their operations safely within those constraints — without contacting air traffic controllers.
Where it stands: Pieces of that puzzle are already falling into place.
Working with the drone industry, the FAA created an automated data exchange system that enables drones to safely operate in controlled airspace as long as they are at or below 400 feet.
Last December, the agency announced it would allow drones to fly at night and over people — a significant step closer to drone deliveries.
In June, the FAA activated a new space data integrator that allows it to track a rocket in near-real time so air traffic controllers don't have to reroute planes as often.
What's next: The FAA is working on new rules in the next few years that would govern drones operating over the horizon, or beyond visual line of sight, which could unlock much broader use of uncrewed aircraft.
Go deeper