French officials continue PR tear over U.S.-Australia submarine deal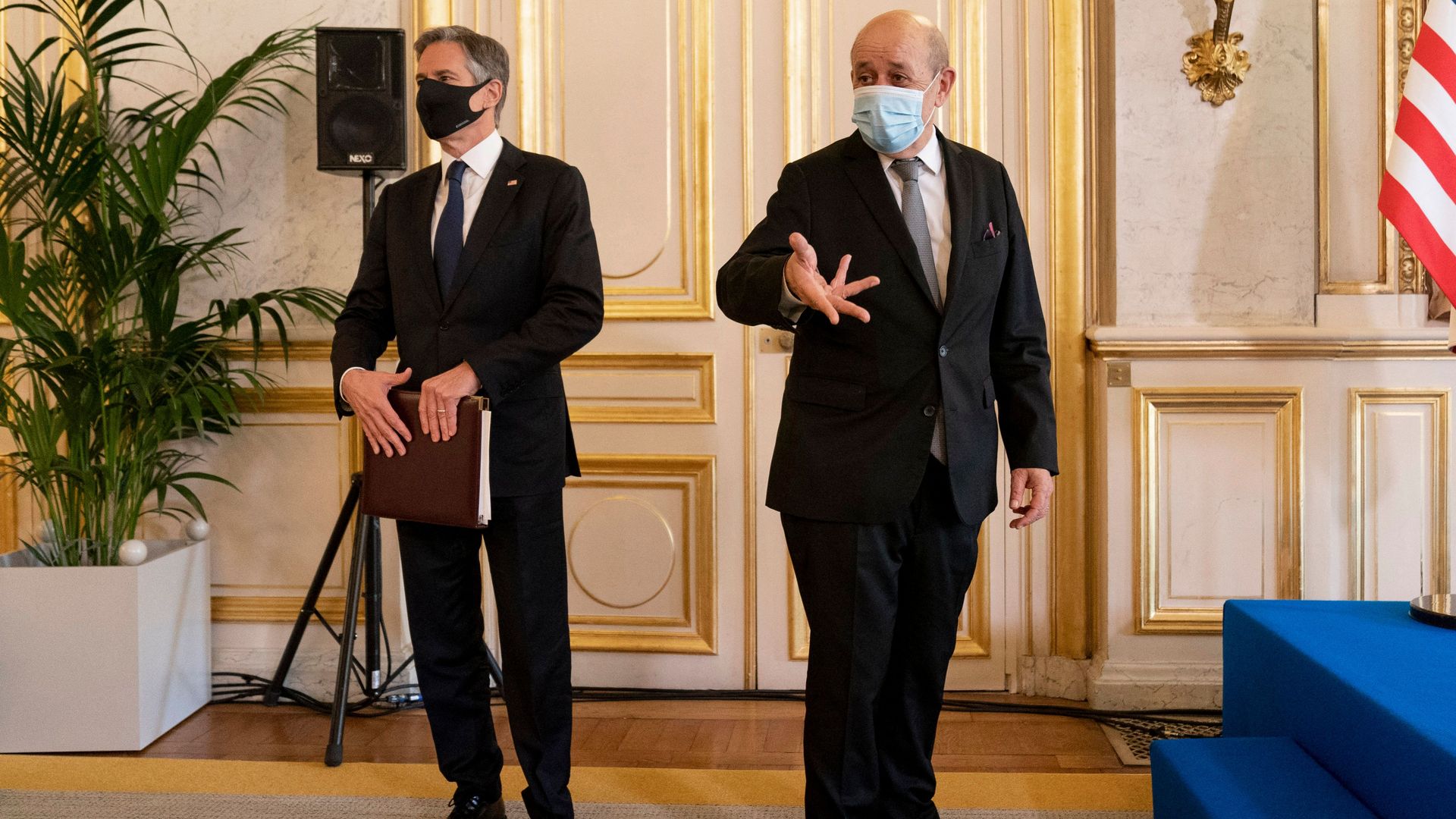 France's top diplomat on Saturday continued the country's onslaught of criticism against the United States and Australia, decrying the "duplicity, contempt and lies" surrounding a scrapped submarine order worth more than $60 billion.
Why it matters: In securing an agreement with the U.S. and U.K. to acquire nuclear submarines at the expense of its deal with France, Australia provoked what Jean-Yves Le Drian, the French foreign minister, described as a "crisis" that could threaten existing Western alliances.
Driving the news: The deal, announced Wednesday, was part of a trilateral security pact between Australia, the U.S. and the U.K. that President Biden heralded as a "historic step."
The so-called AUKUS agreement to supply Australia with at least eight nuclear submarines using American and British technology was designed to help the U.S. counter China in the Pacific.
French officials, upset by the lack of consultation by three allies, complained that they only learned of the deal hours before it was announced and said it reminded them of what "Trump used to do," per Reuters.
The country's embassy in Washington angrily canceled a long-planned gala meant to honor the U.S.-French alliance dating back to the American Revolution.
And on Friday, France took the extraordinary step of recalling its ambassadors to the U.S. and Australia.
What they're saying: Since the deal was announced, French officials have gone on a public relations tear, blasting the countries involved in both the domestic and international press.
"The fact that, for the first time in the history of relations between the United States and France, we are recalling our ambassador for consultations is a grave political act that shows the intensity of the crisis today between our two countries and also with Australia," Le Drian told France 2 television, according to a translation from Reuters. "There has been duplicity, contempt and lies — you can't play that way in an alliance."
Allies "don't treat each other with such brutality, such unpredictability, a major partner like France ... So there really is a crisis," Le Drian added, per AP. "There are reasons for us to question the strength of our alliance."
Jean-Pierre Thebault, the recalled French ambassador to Australia, told the Sydney Morning Herald that the deal was "treason in the making" and said that "it is a major breach of confidence and a very bad signal."
The bottom line: America's oldest ally remains furious over the cancellation of the deal — once described as "the contract of the century" — and has indicated it is willing to take unprecedented steps in reevaluating its relationship with the U.S.
Go deeper: Biden blindsides Europe with new AUKUS alliance on China
Go deeper