DHS to increase deportation flights to Haiti from Del Rio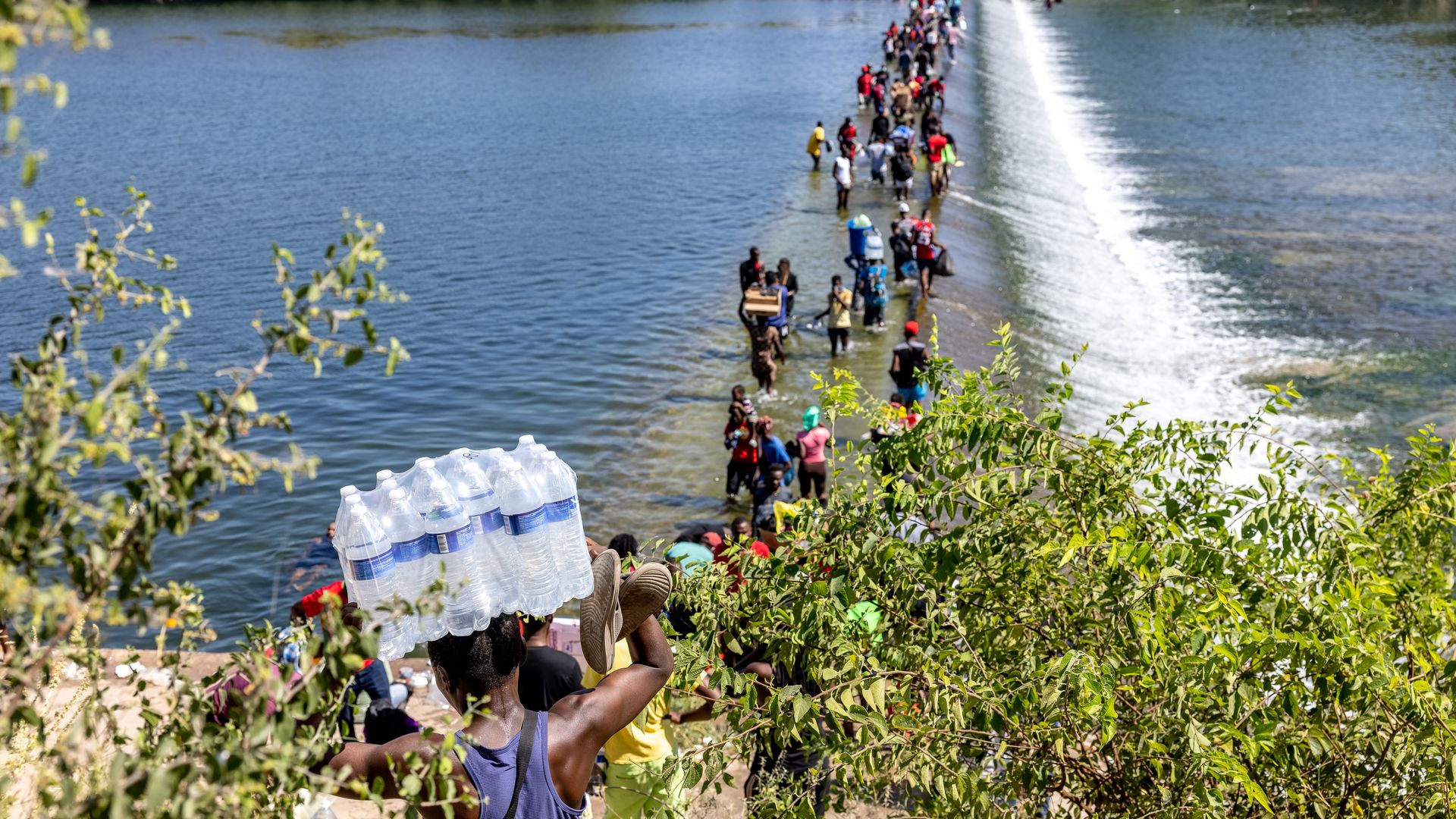 The Department of Homeland Security on Saturday announced plans to ramp up deportation flights to Haiti out of the small Texas border town Del Rio, starting as soon as Sunday.
Why it matters: Reports have emerged of more than 10,000 migrants, primarily from Haiti, crowded in a temporary camp under the international bridge in Del Rio. Hoping to find refuge in the United States, they've had to bear with filthy conditions and the scorching sun for days, per an NBC News affiliate.
Haiti has spiraled into further turmoil since the country's president was assassinated in May. In August, a 7.2-magnitude earthquake compounded the worsening crisis, leaving at least 1,941 people dead, nearly 10,000 injured and tens of thousands homeless.
State of play: A U.S. official said Friday that the Biden administration will deport Haitian migrants in "massive movements" out of the Del Rio to Haiti, AP reports.
DHS is working to secure additional transportation to "increase the capacity of removal flights to Haiti and other destinations in the hemisphere within the next 72 hours," per the agency's release.
Removal flights are going to Haiti, Mexico, Ecuador, and Northern Triangle countries, per the DHS press release.
The U.S. has been expelling thousands of Central Americans to Mexico under the Trump-era policy that denies migrants a chance for asylum. But Mexican authorities will not accept Haitians or migrants from other countries, according to AP.
The Del Rio mayor has requested resources to assist with the migrants, who have continuously streamed into the town of 35,000 in the last few days.
DHS also said Saturday that within the next 24 to 48 hours, Customs and Border Patrol will have sent 400 agents and officers to the Del Rio sector.
Additionally, CBP said on Friday that the Del Rio port of entry would temporarily close and traffic re-routed to Eagle Pass in an effort to "more effectively manage resources and ensure uninterrupted flow of trade and travel."
What they're saying: "The Biden administration has reiterated that our borders are not open, and people should not make the dangerous journey," per the DHS release.
"Individuals and families are subject to border restrictions, including expulsion.  Irregular migration poses a significant threat to the health and welfare of border communities and to the lives of migrants themselves, and should not be attempted."
Go deeper