Taliban replaces women's ministry with ministry of virtue and vice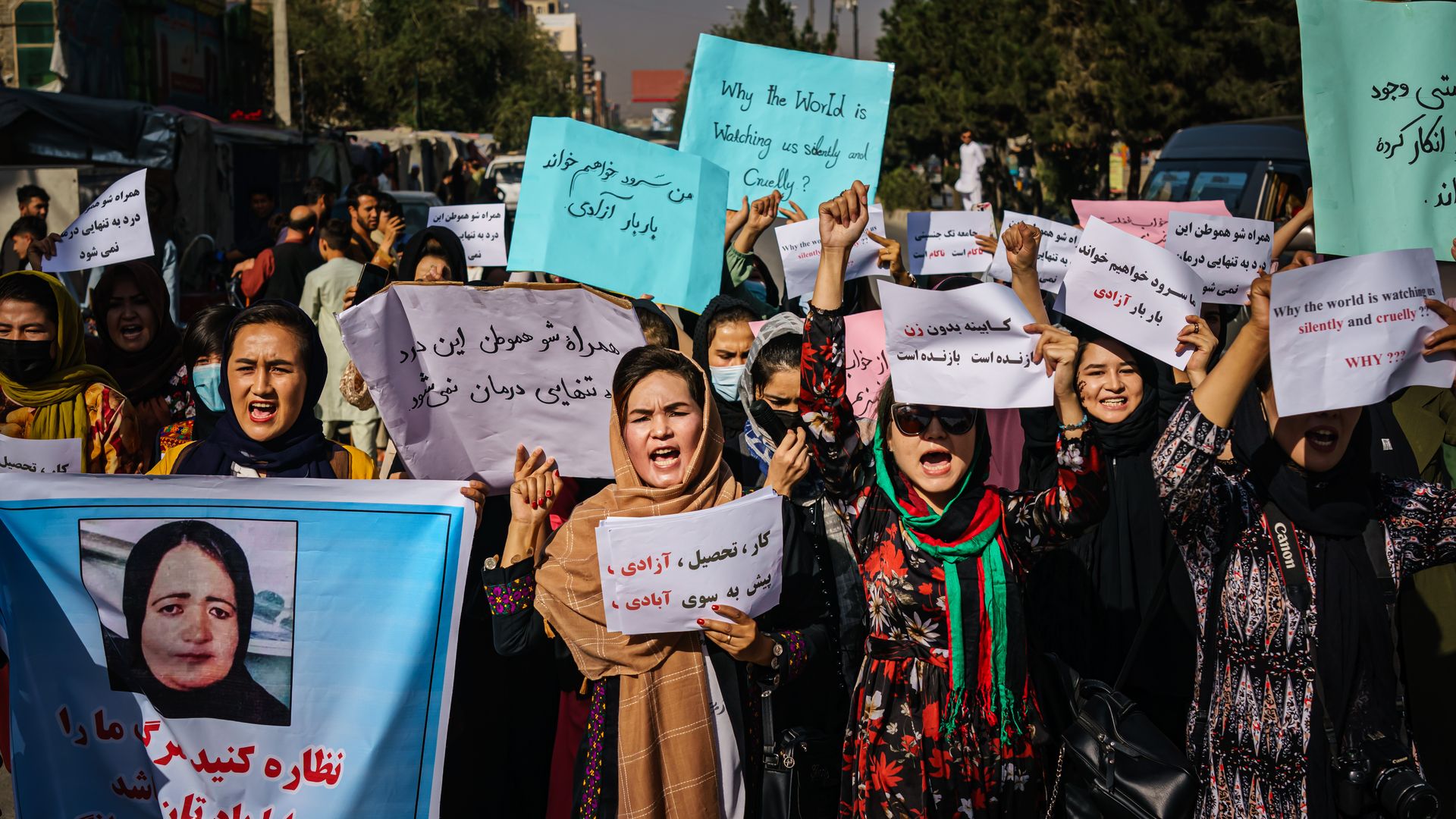 The Taliban on Friday rebranded Afghanistan's women's ministry with the "Ministries of Prayer and Guidance and the Promotion of Virtue and Prevention of Vice," Reuters reports.
Why it matters: When the Taliban was last in power, it maintained severe rules limiting girls' and women's autonomy, and barred them from education and work.
During that period, its Ministry for Promotion of Virtue and Prevention of Vice operated as the Taliban's moral police, enforcing a rigid interpretation of sharia that included a strict dress code, forced confinement, public executions and floggings.
What's happening now: Women employees had been showing up for work for several weeks, but were repeatedly told to return home and locked out of the building, per Reuters.
The Taliban has said that women will not be allowed to work in government ministries alongside men.
Though the group said women in Afghanistan can continue with their university studies, classes must now be segregated and head coverings are mandatory. The Taliban has ordered secondary school classes for boys to resume on Saturday, but made no mention of the future of girls' education in the notice, according to The Guardian.
"I am the only breadwinner in my family," a woman who said she worked in the department told Reuters. "When there is no ministry, what should an Afghan woman do?"
The big picture: Since the Taliban's declaration of victory in Afghanistan, Afghan women and girls have faced an uncertain future. Under the Taliban's control, they stand to lose hard-won rights to education, employment and everyday freedoms.
Zarifa Ghafari, Afghanistan's youngest mayor and the first female mayor of Maidan Sharh province, told iNews that the Taliban "will come for people like me and kill me."
Earlier this month, Taliban special forces used tear gas, rifle butts and metal clubs to break up a protest in Kabul led by Afghan women demanding equal rights.
The UN has called on President Biden to assist with the deteriorating situation. "[T]he country has entered a new and perilous phase, with many Afghans profoundly concerned for their human rights, particularly women, ethnic and religious communities," UN human rights chief Michelle Bachelet warned this week.
Go deeper