Swing voters oppose Texas abortion law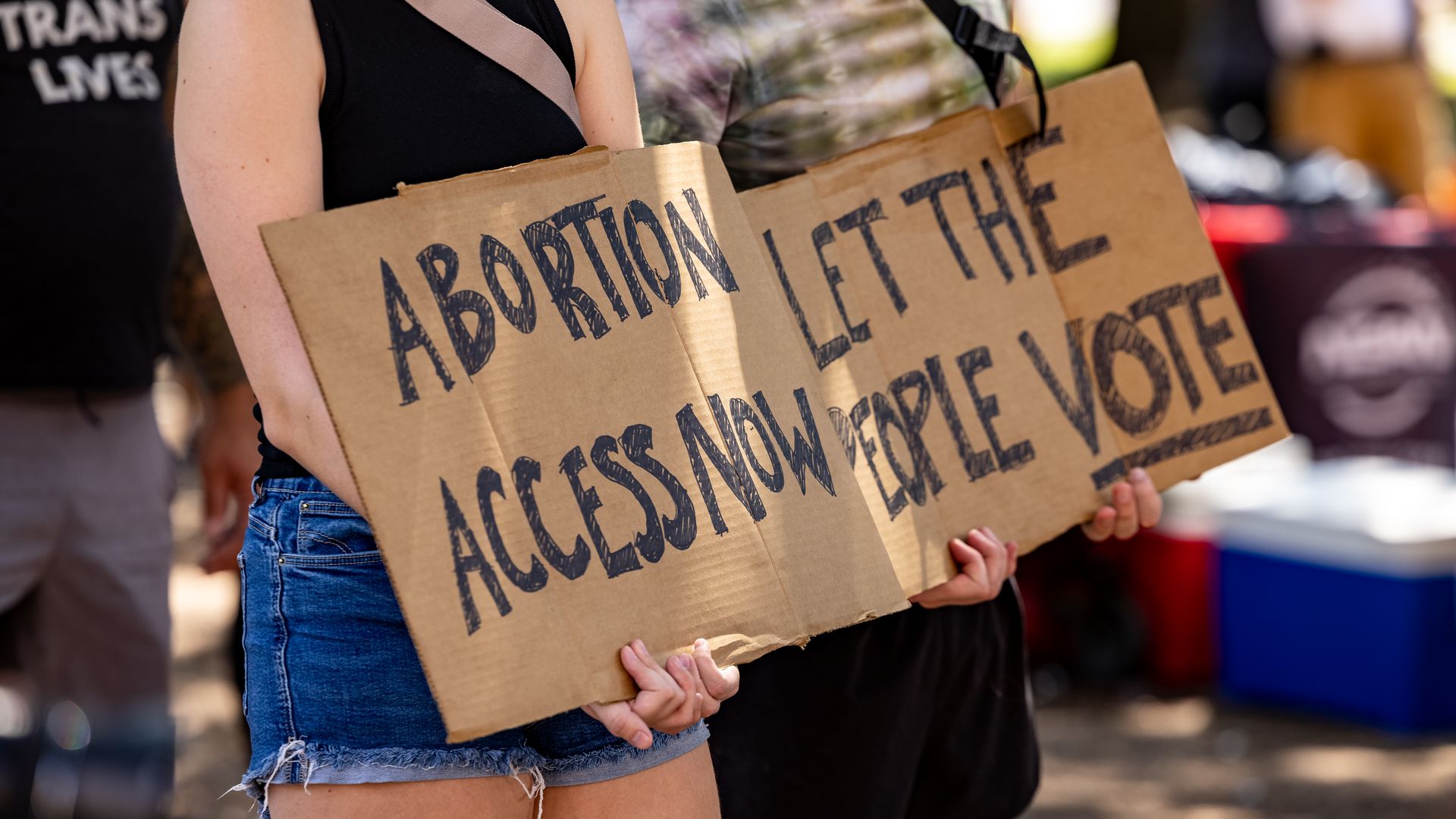 All 10 swing voters in Axios' latest focus groups — including those who described themselves as "pro-life" — said they oppose Texas' new anti-abortion law.
Why it matters: If their responses reflect larger patterns in U.S. society, this could hurt Republicans with women and independents in next year's midterm elections. The swing voters cited overreach, invasion of privacy and concerns about frivolous lawsuits jamming up the courts.
The law that went into effect this month bans abortions after six weeks of pregnancy.
It also incentivizes people to sue anyone suspected of helping a pregnant woman obtain an abortion by offering a reward of up to $10,000.
Details: Sentiments against the Texas law were some of the key takeaways from our latest Engagious/Schlesinger focus groups. The Sept. 14 sessions included 10 voters, in key swing states around the country, who backed Donald Trump in 2016 but switched to Joe Biden in 2020.
While a focus group is not a statistically significant sample like a poll, the responses show how some voters in crucial states are thinking and talking about current events.
Eight of the 10 voters said abortion is an issue they would vote on in the midterms. Nine voters said if the abortion law passed in Texas was up for debate in their state, it would be an issue that would drive their vote.
Between the lines: Many of the voters did not know the extent of the law's enforcement. Once the details were described, they listed a number of reasons why they believed its implementation was problematic.
"This is like Big Brother's watching," said Gerard A., 50, of Michigan. "You're interfering with other peoples' private lives. … You're asking us to spy on each other."
"You can't confide in anybody. … This might make somebody suicidal," said Carly L., 33, from Minnesota. "I think this is very extreme. It's actually — wow — I guess I'm just really shocked."
What they're saying: Engagious president Rich Thau, who moderated the sessions, said they underscore how pivotal voter education may be on this issue.
That portends aggressive ad campaigns on both sides.
"Democrats should worry that swing voters barely know how the Texas law works, particularly its enforcement," he said. "Republicans should worry that, once swing voters understand the law, they'll think it's too extreme."
Go deeper